5 Tips for Living Comfortably During a Remodel

1. Pack and Store Displaced Items
Most contractors will ask the homeowner to completely clear the area they will be renovating. But stuffing everything from the basement into the living room can cause a huge disruption to your lifestyle. Devise a plan for packing and storing the contents of the room out of the way before the contractors begin work. If you don't have a garage, consider renting a storage unit for a month. The cost could be worth it to not trip over your wine glasses every day after work.
When selecting a contractor be sure to ask references how clean they left the work space at the end of the day. Most will use plastic sheeting to seal the area under renovation and contain the project dust and debris. If you are doing the work yourself be disciplined about cleaning up the work site every night to maintain a safe environment and keep the entire house from becoming covered in sawdust.
A kitchen remodel can be particularly tricky as you don't have access to the appliances you use daily (sometimes for an extended period of time). Set up a mini-kitchen in another area of the house with running water. You might be surprised at how much you can make with a mini-fridge, hot plate, microwave and blender. Stock the area with paper plates and plastic ware for easy clean up. Using your outdoor grill is also a great alternative in the summer.
4. Pre-Plan Healthy Meals
Even if the kitchen isn't totally out of commission it can be challenging to cook a good meal every night while you're remodeling. Before the project begins prepare and freeze casseroles that can be reheated in the microwave. Also stock up on healthy grab-and-go fare such as fruit, nuts, peanut butter, string cheese and whole grain crackers.
5. Designate Areas for Kids and Pets
Disruption of routine can be upsetting to both children and pets. And neither should be underfoot in a construction area. A few days before the project begins set up a comfortable area away from the project for your pets with all their essentials. That way they have some time to readjust to a new den before dealing with the noise and strangers. If a kid's room is part of the renovation project turn their displacement into a fun adventure. Set up a tent for some indoor camping or make a blanket fort for their temporary home.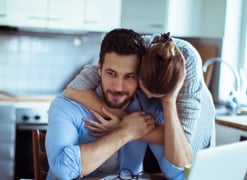 Find your low,
fixed rate

Use our Rate Calculator to find the rate and monthly payment that fits your budget.
Main

Start your application online

or give us a call.
Main

Start your application online or give us a call.