10 Things a First Time Home Buyer Should Do Before Making an Offer

There are a few defining moments in any person's life. Graduating high school, graduating college, getting your first adult job—these are just a few of the milestones that you face in your early life. For many people, the next few might be starting a family, buying a car, or perhaps buying their first home. When you compare buying a home with all of the previous milestones however, they might seem small and easy in comparison. As soon as you start the process, it is easy to become quickly overwhelmed with all of the different questions you have, and criteria to consider. So to help you out, here are 10 things that every first time home buyer should do before making an offer.

1. Research the Area
Everything starts with a little bit of research, so that is the very first thing that you should do if you are looking to buy a house. If you do not have the right direction for your research however, it can be just as useful as no research at all. Start first with finding the area into which you wish to move. When you are doing this, look into local schools, average house prices in the area, the proximity to important amenities (such as stores, mechanics, doctors, etc.), and the crime rate in that area. You can even use a search engine to search for local news in the area, to make sure there is nothing too negative that stands out.
2. Research the House
Once you find some houses that you like, the research does not stop there. You will now have to determine certain information about the property before making an offer. Here are some of the main things that you should look into:
Research the market, when is a good time to buy?

When you find a house, look at similar properties in the area and compare prices.

Check the square footage, and find out cost averages based on that size.

Find out why the current owner is selling, this could give you clues as to how flexible they will be on the price.

Try to find out how much the seller paid, especially if it was recently.

Look at trends for list price to sales price ratio.

Ask for the home's history and DOM (days on market).
3. Do a Walkthrough
You should not make an offer without first having a walkthrough. But even one walkthrough might not be enough. Many people fall into the trap of falling in love with the first property that they look at, and it warps their perspective when it comes to buying. Before you make your offer, see if you can do another walk through, and make sure that you check for anything you may have missed the first time. Look behind doors and under furniture for any potential flaws or problems.
4. Check Utilities
Your mortgage is not the only monthly bill that you will have to take care of, so make sure that you budget for more than just your regular mortgage payments. A good idea is to have the sellers give you a utility estimate that you can review before making an offer.
5. Talk to the Neighbors
Just as important as the home itself are the people with whom you will be sharing a street. Try to talk to the neighbors and see if they are people who you would like to live near. You might also want to check for neighbors who seem noisy, or perhaps have a lot of pets.
6. Get an Inspection
Once you start the process of making an offer, you will be able to get the house inspected by a professional. This is important, as you need to know of any repairs that you will have to take care of, as well as estimates for them, and any potential remodeling costs. You will also want to get the house tested for dangerous things like asbestos or meth.  Many people believe that the inspector is hired by the REA or lender, but its important to know that you can hire any inspector you want.
7. Give Yourself Options
No matter how much you love a house, sometimes it just doesn't work out. As a result, it is important not to get too attached to one property. Make sure that you have a second and third option for possible houses. It is also best not to take the first house you see, at least not without a lot of further research first.
8. Secure Financing
It is unlikely that you have enough cash to buy a house up front. As a result, securing financing is a crucial step in the process. Make sure that you have good credit, and secure a good rate for financing before making the offer. The best way to do this is to get pre-approved for credit before you shop.  This will also help you to figure out exactly how much money you have to set aside for new home costs. Use a mortgage payment calculator to get a better idea for what your mortgage payment may be.
9. Get a Lawyer
It is worth talking to an expert in real estate transactions before signing on the dotted line. First they can help to make sure that your offer is reasonable (not too high or low), and then they can help you to sort out a good contract.
10. Complete the Process
There are certain things for which you cannot prepare, such as the seller's response to your offer. Once your offer is accepted however, that is not the end of the process, rather the beginning. Make sure that you study the basics of making an offer, so that no part of the process is a surprise to you.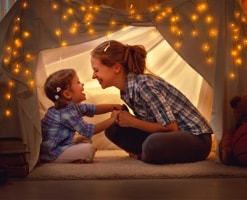 The home equity you've earned
can be used in a multitude of
ways. 
Main

Start your application online

or give us a call.
Main

Start your application online or give us a call.