Refinance a home equity loan

A home equity loan is a type of loan with many potential uses. One use that's not commonly mentioned is that you can refinance an existing home equity loan, or home equity line of credit (HELOC), or first mortgage with a new home equity loan.
When home equity loan rates are comparable to mortgage rates, or when home equity loan rates have decreased since you closed your current home equity loan or HELOC, it might make sense for you to consider refinancing using your existing equity.
Refinancing a home equity loan
While a lower rate or lower monthly payment may be an attractive option, don't forget to account for closing costs when refinancing or taking out another home equity loan. It is also important to consider how much longer refinancing your home equity loan will extend the loan's lifetime.
Before you refinance a home equity loan, be sure to understand your financial goals so that you can choose a product that best matches your needs. The following are some common reasons why you may want to consider refinancing your home equity loan:
Lock in a lower interest rate. If you can replace and/or consolidate your existing loan with a new loan that features a lower interest rate, you can lower your monthly payments or reduce the interest charges over the life of the loan.
Convert to a fixed rate. If you have an adjustable rate or variable rate home equity loan, converting to a fixed rate loan can offer more stable rates, making it easier to budget for your monthly bills.
Adjust your repayment terms. When you refinance a home equity loan, you can choose to shorten your term to pay off the loan faster (and save on interest charges) or lengthen the loan to reduce your monthly payments. In either case, be sure to calculate how much money in closing costs and interest charges it will take to pay off the loan. Generally, loans with longer terms will include more interest charges over the life of the loan, while shorter terms mean fewer interest charges.
Borrow more. If you have a new need to borrow, taking out a new home equity loan or using a cash-out refinance can pay off your existing home equity loan, and you can use the remaining cash as needed.
Refinancing a mortgage with a home equity loan
It is possible to refinance your mortgage and take out additional cash from your available home equity with one loan. The best time to refinance your mortgage using a home equity loan is when you:
Have significant equity. You will need enough equity to draw from to cover the amount of your existing mortgage if you are looking to take cash out from your equity when you refinance.
Obtained your mortgage when rates were higher. If you took out your existing mortgage when rates were higher and now you have enough equity to draw from, it might make sense to find a home equity loan with low, fixed rates to refinance. You might consider this when a lender you want to borrow from offers lower rates on home equity loans than you can find available for a traditional refinance loan.
Plan to sell your home soon. If you plan to sell in the next few years and can afford the monthly payment, you might consider refinancing with a home equity loan to set a different term length.
Some home equity loan lenders don't require cash at closing. This can represent significant savings that you can put towards paying down the principal amount. In addition, home equity loans may not require mortgage insurance and may be up to 100% tax deductible under certain circumstances. Make sure to consult with a tax advisor to see if your situation might qualify.
Cash out refinance
A cash out refinance is a type of home equity loan allows you to increase the amount of your current mortgage by refinancing the total borrowed amount into a new loan. Instead of having two mortgages, a cash out refinance loan combines the borrowed amount with the principal of your existing mortgage.
If you're looking to refinance your mortgage to get a better rate, set different loan terms or take cash out of your home equity to use for large expenses, using this type of loan to refinance might be a good option for you.
With a cash out refinance, your monthly payment will likely be higher than your original mortgage because you are borrowing a higher amount. However, this will depend on the updated interest rate and term on your new loan compared to the existing one.
When not to refinance with a home equity loan
Remember to look at all your options. While home equity loans offer potential tax benefits and cost advantages, compare those advantages and home equity loan rates against traditional refinance or cash out refinance rates. Other potential risks you should consider when refinancing with a home equity loan include:
Prepayment penalties. Paying off your existing home equity loan may incur prepayment penalties. Before you take out a new loan to pay off your home equity loan, HELOC, or mortgage, review the terms of your loan and consult the original lender to understand if prepayment penalties will be applied. If there are prepayment penalties on your original home loan, you can also ask your new lender to see if they offer ways help to pay cover any of these fees.
Additional borrowing costs. Any time you take out a loan you can expect some sort of cost to be associated with closing the deal. From appraisals to closing fees, the cost of refinancing has to pay off in what you will save with your new loan.
Closing thoughts: Home equity loan refinancing
Whether you're looking to take out a new home equity loan to refinance an existing home equity loan, HELOC, or primary mortgage, you may find that certain conditions make this a preferred option.
First among these is that you may be able to lower your home loan interest rate or extend the term length of your existing loan, both of which could lead to lower monthly payments. You may also have the opportunity to set consistent monthly payments by switching to a fixed interest rate if your current loan has an adjustable rate.
Review the terms of your existing loan before applying for a new one to make sure you won't run into any unexpected penalties.
If you want to refinance a home loan and draw additional cash from your equity, another option you can consider is a cash out refinance. Compare the benefits and risks of all your options to decide on the home equity product that's right for you.
Discover Home Loans offers home equity loans and mortgage refinance loans from $35,000 to $300,000 under 90% combined loan-to-value (CLTV). Your maximum loan amount is based on your credit score and CLTV.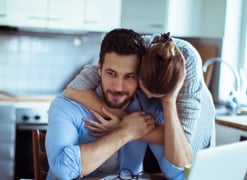 Find your low,
fixed rate

Use our Rate Calculator to find the rate and monthly payment that fits your budget.
Main

Start your application online or give us a call.