When to Refinance with a Home Equity Loan

One use of a home equity loan that is less commonly thought of is refinancing. You can refinance a first mortgage, home equity loan (HEL), or home equity line of credit (HELOC) with a new home equity loan. When home equity loan rates are comparable to mortgage rates, or when home equity loan rates have decreased since you closed your current HEL or HELOC, it might make sense for you to consider refinancing using your existing equity. In addition, some lenders, like Discover® Home Loans, do not charge origination fees or cash at closing, unlike traditional or cash-out refinancing.
Benefits of Refinancing with a Home Equity Loan
If you're looking to refinance your mortgage for a low rate, different loan terms or to get cash out of your home to use for any expenses, a home equity loan refinance may be for you. As mentioned, some HELs don't require cash at closing, which can represent significant savings, and you can put more towards the principal amount. In addition, home equity loans don't require mortgage insurance and may be up to 100% tax deductible under certain circumstances. Consult a tax advisor to see if you qualify.
The best time to refinance your mortgage using a home equity loan is when you:
Have significant equity

Obtained your original first or second mortgage when rates were higher

If you plan to sell your home in the next few years and can afford the monthly payment

Will save more overall by reducing some fixed costs
Discover Home Loans offers mortgage refinance loans from $35,000 to $300,000 and no mortgage insurance is required. Your maximum loan amount is based on your credit score and combined loan-to-value (CLTV). Usually, CLTV, which is your home equity loan plus your current mortgage balance divided by your home's value, must be under 90%.

When Not to Refinance with a Home Equity Loan
Don't forget to look at all of your options while home equity loans offer potential tax benefits and cost advantages, compare those advantages and HEL rates against traditional refinance or cash-out refinance rates.
In addition, home equity loans are not beneficial for small expenses. A 15-year home equity loan can lower your monthly costs, but using it to pay for small or short-term expenses will usually mean you pay more interest in the end.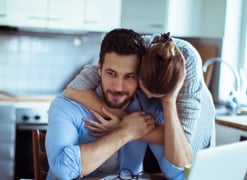 Find your low,
fixed rate

Use our Rate Calculator to find the rate and monthly payment that fits your budget.
Main

Start your application online

or give us a call.
Main

Start your application online or give us a call.