Understanding the Basics of Home Equity Loans

A home equity loan is essentially a one-time consumer loan using your home as collateral. If your home is worth more than you owe on it, you have equity, and may be able to use this equity to borrow money.
Who qualifies for a home equity loan?
What are the requirements to qualify for a home loan? You need equity in your home. Lenders want to see that you have the ability to repay the loan back, so you need adequate income, a good credit score and a history of paying your bills on time.

What can you do?
You can use this money to make home improvements, but you aren't limited to that. You can use this loan for other things, major expenses and consolidating higher-interest debt.

You can often get lower rates on a home equity loan than other types of unsecured loans or borrowing on credit cards.

You can use a home that you live in as your primary residence as collateral.
This includes single-family homes, condominiums, town homes and Planned Unit Developments.
What can't you do?
You can't get a home equity loan for more than your house is worth. In fact, your home equity loan amount plus your current mortgage balance generally must be less than 90 percent of your home's value.
You can't use investment or commercial properties, or manufactured homes to get a Discover Home Loan.
Remember, a home equity loan uses your home as collateral. Make sure you're comfortable financially with the amount you borrow and the terms of the loan. Your Discover Personal Banking Specialist can answer all your questions to help you make the right financial decisions.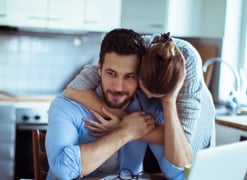 Find your low,
fixed rate

Use our Rate Calculator to find the  rate and monthly payment that  fits your budget.
Main

Start your application online

or give us a call.
Main

Start your application online or give us a call.