Using Your Home Equity to Pay for Education

For most individuals, the benefits of higher education are numerous, including more employment opportunities and a higher lifetime earning potential. However, paying the fees and tuition for these programs is not always simple. While there are several types of financial aid available to students, many students find themselves with limited options for financing the education of their choice.
Most students turn to higher education loans, but homeowners may be able to leverage their home equity to finance at least a portion of their education, or refinance their current student loans into better terms. Some characteristics of a home equity loan from Discover include:
Loans from $35,000-$200,000

Competitive fixed interest rates from 3.99%-11.99%

No application, origination, or appraisal fees, and no cash is required at closing.

No cosigner required on the Note
Financing Law School with Home Equity
Whether you are coming from the workforce or an undergrad program, you can expect to finance at least some of your law school education yourself.
A recent report by U.S. News shows that a law school student's debt is often well over $100,000. Looking at those numbers, it is not hard to see why most people must leverage some form of financing, like higher education loans, to pay for law school. Having said that, if you are a homeowner who is going back to school, or if you're looking to pay for your child's education, and you have a sufficient amount of home equity, a home equity loan can be another viable option.
Financing Medical School with Home Equity

In some cases, higher education loans cap out at a certain level.



Much like law school students, medical school students also face hefty fee and tuition requirements. In 2016, the average medical student's educational debt was $180,000.
In some cases, higher education loans cap out at a certain level, making it difficult for some students to finance their educational needs. A home equity loan can be an excellent way to pay for anything your higher education student loans do not cover. Or, home equity loans may be a good way to pay off medical school loans already incurred on less favorable terms.
Financing Your MBA with Home Equity
A master's in business administration (MBA) does not present students with quite the debt loan that medical and law school students have, though it is still significant. Average debt for 2016 MBA grads at the top 20 business schools in the country ranged anywhere from $60,000 up to $120,000, though debt load may decrease as schools decrease in ranking.
If you're getting your MBA later in life or hoping to help your children with their higher education, a home equity loan can help.
Financing your Ph.D. with Home Equity
While most Ph.D. students receive a stipend that pays for some of their living expenses, that may not be enough.
However, as a homeowner, you can not only strategically budget to reduce your overall living expenses while you are pursuing your Ph.D., you may be able to use the equity in your home to finance your education. You may also be able to use it to pay off any loans already acquired to pay for your Ph.D.
The average student loan debt for Ph.D. recipients in 2015 was $71,000. As a homeowner, you can borrow against the value of your home to pay for any fees or tuition costs that other sources of financial aid will not cover.
Higher Education is Expensive
Yes, attending a four-year university, obtaining an MBA or pursuing a doctoral, medical or law degree requires a significant financial investment. However, for most people, it is an investment that pays for itself. Moreover, your home equity can be a valuable resource to invest in yourself.
To learn if a home equity loan makes sense for you, talk to a Discover Personal Banker today at 1-855-361-3435.  Or, request a no-obligation quote online and we'll call you back.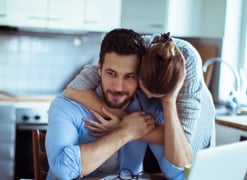 Find your low,
fixed rate

Use our Rate Calculator to find the rate and monthly payment that fits your budget.
Main

Start your application online

or give us a call.
Main

Start your application online or give us a call.