Using home equity for unexpected medical expenses

When you're struggling to determine how to pay for unexpected medical bills, consider a home equity loan from Discover® Home Loans.
You might think that home equity loans are just for home improvements and debt consolidation, but they can also be used for major expenses, including medical bills.
How a home equity loan for medical expenses works
If you have a mortgage, you are building equity in your home while you pay it off. The amount of equity you have is the difference between the market value of your home (what it could sell for) and the amount you still owe on your mortgage. For example, if the market value of your home is $300,000 and you owe $100,000 on your current mortgage, you have $200,000 in home equity.
Equity is your money, but it's tied up in your home. You can't use it to pay expenses unless you sell your house. However, you can stay in your home and access a portion of your equity using a home equity loan.
As with other loans, you need to meet certain requirements to qualify. Among other things, those requirements include your credit score, showing lenders you've been a reliable borrower in the past, and proof of steady income showing you're able to make payments in the future.
Once you have obtained your home equity loan, you will be able to pay for your major expenses as needed, whether the costs are already incurred, or you have expected payments coming. It's up to you how you use the home equity loan proceeds for your needs.
Home equity loans as low interest medical loans
Several basic features of a home equity loan make it a good choice when you need money for a medical emergency.
Low interest rates: Home equity loans are secured by your home, and because of this the interest rates are often lower than unsecured loan rates, like credit cards or personal loans.
Availability of funds: The amount you can borrow depends on your available equity and loan company limits. Discover Home Loans offers loans between $35,000 and $300,000.
Payback period options: Terms vary by lender, but with Discover Home Loans, you can get terms of 10, 15, 20 or 30 years. For example, if you borrowed $60,000 for a 20 year term at 8.99% APR, your fixed monthly payments would be $539.45.
Fixed monthly payments: Your home equity loan is established with fixed payments over the life of the loan, without adjustable rates or balloon payments.
Other Considerations: Taking out a loan always requires serious thought and consideration of your financial future. Keep in mind that a home equity loan doesn't replace your existing mortgage like a refinance would. Instead, the home equity loan adds an additional lien to your property.
The basic question you must answer is whether you will be able to afford both your existing monthly mortgage payment and the new home equity loan payment. Review your current budget and factor in your expected loan payment amount.
If you need help with this estimation or completion of a loan application, ask your lender. Be prepared to provide this information:
Personal data: name, address, Social Security Number

Employment history for the past 2 years: names, addresses and phone numbers of employers

Income for the past 2 years, with a copy of a paycheck within the last 30 days

Any debt not reported to the credit bureau, e.g. alimony and child support payments

Information about your house: address, owner, insurance
The attractive features of a home equity loan and its predictability may help you put financial worries aside so you can focus on recovering your health.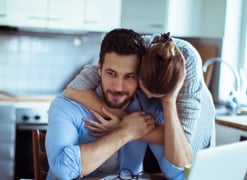 Find your low,
fixed rate

Use our Rate Calculator to find the rate and monthly payment that fits your budget.
Main

Start your application online

or give us a call.
Main

Start your application online or give us a call.