Ways to Pay for Grad School

As the economy and job markets grow more competitive, grad school becomes more and more appealing to individuals looking to set themselves apart from the crowd. While grad school is a worthwhile investment, coming up with the financial resources to pay for grad school can prove difficult. Thankfully, adults trying to figure out how to pay for grad school have multiple options when it comes to funding their higher education.
The following are three ways to pay for grad school that you may not have considered.
Leverage Your Home Equity

Leveraging your home equity can be another way to pay for grad school
Most people don't think of home equity loans as a source of funds for grad school. However, leveraging your home equity can be another way to pay for higher education if you're looking for alternatives to student loans.
A home equity loan turns the equity in your home into money for grad school by allowing you to borrow funds against your home's fair market value. That means that you could have the money that you need to finance grad school by tapping into the value of your home, minus the amount of your current mortgage. Additionally, most lenders will let you borrow up to a certain percentage of your home equity. With home equity loan from Discover, your combined loan-to-value (CLTV) ratio must remain below 90%. Your CLTV is your desired loan amount plus your mortgage balance, divided by your home value.
The best way to determine if a home equity loan is the right lending tool for you is to speak with a Personal Banker at 1-855-361-3435, who can assess your needs.
401k withdrawal for education



Did you know that the IRS allows you to withdraw money from your IRA penalty-free, so long as you are using the funds to pay for qualified educational expenses? However, you may have to pay income tax on the distributed amount.
Nevertheless, if you have 401(k) money available to you, this could be the perfect solution to use 401k to pay for graduate school. Just be sure you speak with a tax professional to ensure this is the right strategy for your personal situation. After all, you can't get back the time you lose earning interest on a sizable retirement account if it has been withdrawn.
Leverage Employee Education Programs
If you're currently employed, you may need to take a look at your benefits package. Many companies have tuition assistance programs that aren't frequently publicized. In fact, according to a survey by the International Foundation of Employee Benefits, 83% of the companies surveyed offer some form of tuition reimbursement or educational assistance.
While some companies require that you continue employment with them for a specified period in return for the funds, average tuition assistance programs can earn you $4,500 or more. Most of the time, those reimbursement funds can be excluded from your income for tax purposes. However, you need to speak with a tax professional to be sure.
Get Creative and Get the Funds You Need
Whether you leverage a combination of home equity and your 401(k), or student loans plus a home equity loan, you are not without options when it comes to paying for grad school.
Finding the money to pay for grad school can be a challenge, but with a little research and a lot of diligence, you can pool together funds from different resources to make it happen.
Good luck!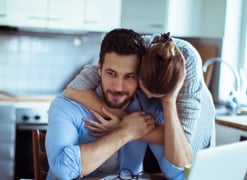 Find your low,
fixed rate

Use our Rate Calculator to find the rate and monthly payment that fits your budget.
Main

Start your application online

or give us a call.
Main

Start your application online or give us a call.