4 reasons for taking out a home equity loan

A home equity loan is an easy way for you to get money quickly with a low rate. It can allow you to payoff debts, make home improvements and finance new purchases.
For every good home equity decision, there are just as many bad decisions. Take a look at ways you can use home equity to help you stay financially secure, without the fear of losing your home.
Here are four of the best reasons to take out a loan against your home equity.
Home Improvements
Taking out a loan from your home equity can be a smart move when you're ready to plan renovations that will improve your home's value. It's also a great way to get more enjoyment out of your home.
Home improvements are a top use for a home equity loan and home equity line of credit because improvements can lead to better long-term investments. You may also be able to take advantage of increased property values, which would provide you with even more borrowing opportunities. You may also be able to deduct your interest payments at tax time if you used the funds from a home equity loan for renovations. Consult a tax advisor for more information about this opportunity.
The primary consideration when using your equity for a home improvement is to keep renovation costs within the scope of your project so that they result in an increase in your home's value.
Financing education
Home equity loans are becoming a popular option for funding education because the interest rate can sometimes be lower than student loans. You also have the potential to borrow more. This gives many families an easier way to pay education expenses for multiple family members.
It is important to note that some parents may not want to finance their kid's education if it would harm their overall financial security. Using home equity to fund education may be a good idea for some, but it can be perilous if you're approaching retirement.
Major life events or emergency expenses
A wedding, new car, dream vacation – these and many more experiences can be funded with your home equity.
On the flip side, job loss, major medical expenses and other unexpected events can get expensive quickly. If you need to pay a major expense in case of an emergency, a home equity loan may be a good source of funds.
Tapping into equity can help you pay for life events or get you back on your feet when facing unexpected expenses. A home equity loan can help you avoid running up credit cards or taking on other high-interest debt. In addition, they typically come with manageable APRs compared to unsecured loans, and some lenders, like Discover® Home Loans, don't charge application, origination, or appraisal fees, and no cash is required at closing.
Debt consolidation
Consolidating your credit cards or other loans into a single home equity loan can simplify your life and help you manage monthly bills. . A home equity loan may be a smart tool if you're looking to get your finances in order. Please know, though, that consolidation doesn't change spending habits. You might max out your credit cards again if you're not taking the time to address the underlying issue.
Consolidating debt can help you save monthly and in the long-term, but you'll want to check the math carefully, because everyone's financial situation is different.
The relative benefits of a debt consolidation loan depend on your individual circumstances and your debt payments. Interest payment savings are only possible when you make monthly payments towards a new, lower interest rate loan with an amount equal to or greater than what you previously paid towards the higher rate debt(s) being consolidated. Keep in mind, while your monthly payments will be lower, in the long term, you may pay more interest if the debt is extended over a longer period.
Choose Carefully
Your home equity is one of the largest and most valuable assets you have. Always keep in mind that your home equity belongs to you and is there for you when you need it. When considering your options, make sure to consult with advisors you trust to help you make wise financial decisions.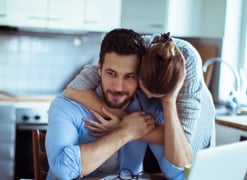 Find your low,
fixed rate

Use our Rate Calculator to find the rate and monthly payment that fits your budget.
Main

Start your application online or give us a call.