Overlooked Options to Pay for College

Finding the money to pay for college is not always easy. Most students look to educational loans to help foot the bill. However, educational loans are not the only option when it comes to finding money to pay for school. While little-known, there are a few out-of-the-box options for financing your college education that you should consider.
Finance your education using a home equity loan
Home equity loans are an excellent resource for student or parent homeowners who have limited educational loan options. A home equity loan allows you to convert the equity in your home into college tuition simply by borrowing funds against the cash value of your house.
While it varies by lender, Discover Home Loans offers loan amounts from $35,000-$200,000 with a combined loan-to-value (CLTV) ratio of less than 90 percent. Your CLTV is your desired loan amount plus your mortgage balance, divided by your home value.
Moreover, home equity Loans from Discover Home Loans offer rates starting at 3.99%*, and repayment terms of 10, 15, 20 and 30 years. In addition, Discover does not charge application, origination, or appraisal fees, and no cash is required at closing.
*Your APR will be between 3.99% and 7.99% for a loan in first lien position and 3.99% and 11.99% for a loan in second lien position. The APR is based on loan amount and a review of creditworthiness, including income and property information, at the time of application. The lowest APR is available to consumers with the best credit and other factors, including the loan term. Loan amounts available from $35,000 to $200,000.
A Discover Personal Banker can discuss your particular financial goals and needs so that you can make the best decision for your unique situation before applying for a home equity loan.


Financing your college education is not always simple, but you are not without options.
Plan ahead and save sooner using a 529 plan
The 529 plan, named after section 529 of the Internal Revenue Code, is one practical and uncomplicated way to save for college that few families leverage.

Surveys indicate that people simply don't know this investment vehicle exists, so they do not use it. If you have some time left before starting college, it is not too late to consider investing in a 529 plan.
A 529 savings plan enables participants to choose from a diverse array of investment options that usually include real estate and money market accounts. By investing in a 529 plan, you can take advantage of tax benefits offered as part of the plan while saving for college.
529 plans are state-specific, and the benefits and fees vary from state to state. However, if Florida's 529 plan is more attractive than the 529 plan offered in your home state of Texas, for example, you are free to invest in a plan offered by a different state.
Much like any investment vehicle, 529 plans can also be managed to hedge against losses due to market fluctuations or changes in the economy.

The key to leveraging the power of a 529 plan rests on planning ahead. If you have limited time to save funds for college, a 529 plan may not be a good option for you. On the other hand, if there is a significant amount of time for your investment to grow before applying it to college tuition, a 529 plan may be the best option available to you.
Financing your college tuition is feasible
Financing your college education is not always simple, but you are not without options. Do your research. Find out if there are scholarships or federal programs available to you. If not, it may be time to consider unconventional options. For some, home equity loans are the lending tools that make the most sense. For others, educational loans are the best option. But, planning ahead by saving for college tuition is always smart. Whatever the case, you can find a way to finance the education you desire.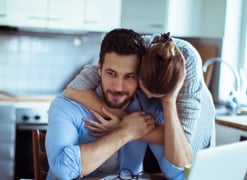 Find your low,
fixed rate

Use our Rate Calculator to find the rate and monthly payment that fits your budget.
Main

Start your application online

or give us a call.
Main

Start your application online or give us a call.