The New Tax Law: What Homeowners Need to Know

New tax season, new rules. As a homeowner, let's get right down to it: What are the changes in the tax code regarding deductions? Traditionally, buying a home meant long-awaited tax relief benefits. However now, for some homeowners, the days of writing off property taxes and mortgage interest could be over. But don't panic. It doesn't have to mean your taxes are going up. Here's a closer look at the new tax law's impact on deductions for home equity lending so you can know just what to expect.
New standard deduction
"The new tax law is completely changing the standard deduction," says Rebecca Walser, tax attorney, CFP, and president of Walser Wealth Management. "Previously, all mortgage interest charged on a mortgage up to a $1 million balance was deductible and homeowners enjoyed unlimited property tax deductions – all good reasons to itemize," she says.
However, now that the standard deduction has nearly doubled, from $12,700 to $24,000 for married joint filers and $6,350 to $12,000 for singles, it will give many more people a better break than if they itemize. According to Houselogic, the number of homeowners who will be able to deduct their mortgage interest under the new code will drop by about 56 percent. Again, this doesn't mean the remainder will have to pay more in taxes. Just that they won't necessarily get a tax deduction for having a mortgage on their home. Home equity borrowing can still be a good financial move, you just may need to consider it a little differently.
New home equity parameters
Probably the biggest change in the tax code has to do with home equity. You may still be able to deduct some amount of home equity loan interest for 2018 and going forward, but only in certain situations. "You cannot deduct interest on home equity unless it is used to buy, build, or substantially improve your home," says Paul T. Joseph, attorney and CPA at Joseph & Joseph Tax & Payroll in Williamston, MI. So parents borrowing to pay for college or those who want to consolidate their debt will no longer get the added benefit of a tax deduction, he adds. If you take out a loan to serve multiple purposes, only the portion used for remodeling or upgrading your home can be deducted. So, for instance, if you paid for medical expenses or a cruise, you can no longer deduct the interest on that debt.
New changes to allowances
Previously, home equity deductions were separate from whatever you claimed on your first mortgage. Beginning this year, married couples filing jointly can only deduct home loan interest up to a new maximum allowance of $750,000 (previously $1 million). (Most homeowners' mortgages fall under this threshold, but it's important to note that the limit also includes the combined total of loans used to acquire, build or improve your main home and a second home.)
If you have been deducting interest on debt over $750,000 and your loan(s) came about on or before December 15, 2017, 'grandfathering' rules can apply. Contact your tax professional about the specific details of your situation to determine how much debt qualifies for the interest deduction.
New state and local tax impacts
At the same time that the standard deduction is almost doubling, the new tax law also potentially reduces a homeowner's ability to claim an itemized deduction for state and local real estate property taxes.
Starting with your 2018 return, you can no longer deduct more than $10,000 for state and local property taxes (SALT) combined, or $5,000 if you are married but filing separately.
The impact of  the change varies according to where you live and will have the greatest impact on homeowners living in states with high income and property taxes (like New York and California), says Walser.
New update on energy tax credits
One area that isn't changing much, at least on a Federal level, is home energy tax credits. In early 2018, the IRS renewed residential energy-efficiency tax credits that had expired at the end of 2016, says Walser. However since state tax credits can vary, discuss this topic with your accountant.
Walser also notes that some energy credits will start shrinking. For instance, solar installation credits will drop to 26% for tax year 2020, and 22% for tax year 2022. These reductions could speed up homeowners' energy upgrade investments.
New capital gains considerations
Capital gains rules are remaining "as is" for now. But if you're thinking of selling your home, here's what you need to know: The IRS grants an exclusion on real-estate capital gains up to $500,000 for married couples filing jointly, and $250,000 for singles (or couples filing separately). However, you must have lived in the home for at least two of the last five years prior to its sale. For example, if you bought a home a few years back for $300,000 and sold it today for $900,000, you'd make a $600,000 profit. So if you're married and filing jointly, as little as $100,000 of your gain could be subject to tax.
Your next steps
Be sure to speak with a financial adviser and tax professional about the new tax law changes and how they affect you. While some borrowers will not realize a tax deduction, home equity loans offer low rates may still make them an attractive lending option. Also take a look at the Discover Home Loans calculators page as you consider the next steps in your financial journey.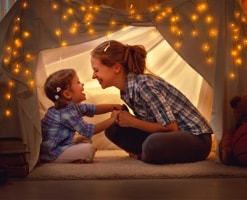 The home equity you've earned
can be used in a multitude of
ways. 
Main

Start your application online

or give us a call.
Main

Start your application online or give us a call.