Please note: Discover Home Loans offers a home equity loan product, but does not offer HELOCs. 
A home equity line of credit or HELOC is a popular solution for homeowners who want extra funds for renovation projects, debt consolidation, or other expenses.
Using the equity in their home, they can open up a revolving line of credit to be accessed as needed, similar to a credit card. Still, like any loan option, HELOCs come with their own risks and complexities. That's why it's important for homeowners to understand how HELOCs work before opening a new account.
In this guide, we'll outline what you can expect from HELOCs, pros and cons of these loans, and helpful HELOC alternatives for meeting your financial goals.
What you can expect with a HELOC
A HELOC is a line of credit that you can tap into during a predetermined draw period, often five to 10 years. A HELOC will also have a set credit limit, which can typically be up to 80–90% of your home equity.
Though it operates similar to a credit card account, a HELOC is actually considered a second mortgage, which you'll have to manage and pay in addition to your original mortgage.
After the draw period, the repayment period kicks in, which is usually 10–20 years for a HELOC. During this time, the homeowner will repay their HELOC and interest, which is usually set at a variable rate.
Pros & cons of a HELOC
HELOCs have their own unique advantages and disadvantages.
The biggest benefits of HELOCs include:
Flexibility. You only have to pay interest on the money you take out, so you can use all or some of your credit limit based on your financial needs.
Minimal closing costs. HELOCs rarely come with closing costs, though they may have additional fees, such as origination fees.
Meanwhile, the most notable drawbacks of HELOCs are:
Variable interest rates. Since interest rates can change, homeowners may be left with high or unpredictable monthly payments.
Additional charges. HELOCs may come with fees, such as annual fees, origination fees, and underwriting fees.
How do you qualify for a HELOC?
To qualify for a HELOC, you should have:
A good credit score. Many HELOC lenders set credit score minimums in the mid-600s. Improve your credit score by making credit and loan payments on time and keeping your credit utilization ratio low by paying down debt.
Home equity. The value of your home must be higher than the amount you still owe on your mortgage. This ratio is the equity you'll use to secure your HELOC. As a rule of thumb, it's good to have at least 15-20% equity in your home before taking out a home equity loan.
Low debt-to-income ratio (DTI). A DTI is your monthly home payments—including principal, taxes, and insurance—divided by your gross monthly income. Lenders commonly prefer borrowers to have a DTI of 43% or less to earn approval for a home equity product.
What can you use a HELOC for?
You can technically use a HELOC for any type of purchase or expense. Still, it's best to use a HELOC to fund home improvement projects that further build your equity. In fact, if you use your HELOC to renovate your home, you might be able deduct the interest of the loan on your taxes. Check with a tax professional.
Homeowners may also use HELOCs to pay off high-interest debts like medical bills or have emergency cash on hand in case they need it.
How do you pay back a HELOC?
HELOCs are divided into two distinct stages: the draw period and the repayment period.
Draw period
The draw period is when the homeowner can tap into the HELOC to access cash and make purchases. The draw period often lasts five to 10 years.
Repayment period
The repayment period is when the homeowner repays the loan along with interest. The repayment period is typically 10-20 years after the draw period ends.
Alternatives to a HELOC
If you're not sure that a HELOC is best for your financial needs, you can consider these helpful alternatives. Discover does not offer HELOCs but does offer both Home Equity Installment loan and cash-out refinance loans that can help tap into your equity.
Home Equity Loan
A home equity loan gives you access to a lump sum of money up front, which you then pay back in monthly installments over a set period of time, such as 30 years.
Home equity loans usually feature fixed interest rates, so the monthly payment will stay the same for the entire life of the loan—great for building a budget.
Use loan amount calculator from Discover to see how much you may be able to borrow.
Cash-out Refinance
Cash-out refinancing also gives you access to a lump sum of money, but you'll be refinancing your mortgage and lowering your interest rate at the same time.
If market rates are low, for instance, you can take this opportunity to tap into your home equity, decrease your monthly mortgage payments, and have one simple monthly bill.
Use mortgage refinance calculator from Discover to see how you might be able to lower your monthly payments.
Like home equity loans, cash-out refinances also commonly have fixed interest rates, which make them more attractive than HELOCs. And since cash-out refinancing involves replacing your original mortgage with a new one, you won't have to get a second mortgage and juggle two different accounts.
Borrow from your home's equity with a Discover Home Equity Loan
If the variable rate and complex repayment periods of a HELOC don't match your needs, consider tapping into your home equity with home equity loans from Discover.
You'll enjoy low, fixed interest rates and zero additional fees — like no application fees or appraisal fees. That means $0 down at closing. All you have to do is apply and get your loan options in minutes.
Ready to make the most of your home equity? Apply for a Discover Home Equity Loan.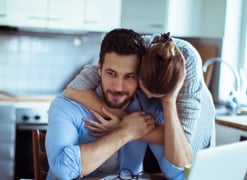 Find your low,
fixed rate

Use our Rate Calculator to find the rate and monthly payment that fits your budget.
Main

Start your application online

or give us a call.
Main

Start your application online or give us a call.