What is a home equity loan?

A home equity loan is sometimes called a second mortgage because it can be taken out as a second lien against a home in addition to the primary mortgage. A homeowner approved for this kind of loan gets a lump sum payment upon closing. Depending upon your particular financial circumstances, a home equity loan can be a favorable alternative to other types of loan products.
Before considering a home equity loan, it pays to know some basics about how a homeowner can determine, accrue, and use home equity to their best advantage.
Calculating your home equity
Home equity is the difference between the market value of your home and what you owe. For example, if the market value of your home is $200,000 and you owe $160,000 on the mortgage, you have $40,000 in home equity. For many lenders, your combined loan-to-value (CLTV) must be at or below 80 percent. CLTV is your home equity loan amount plus your existing mortgage balance, divided by your home's value. Some lenders, like Discover® Home Loans, allow you to have a CLTV under 90 percent.
Your home equity typically increases as you pay down your mortgage. Renovations, when chosen and completely wisely, can accelerate home value too. This is often why homeowners take out home equity loans.
When does using home equity make sense?

Do you need to finance an addition to your home? Are you struggling with tuition bills or high-interest rate debts? If so, a home equity loan is an alternative to dipping into retirement funds best left alone. Once you've secured the loan, you'll receive the proceeds in a lump sum and you'll begin your repayment plan.
You can use the money to pay for home renovations, consolidate higher rate debt or accomplish big life goals. To see how much you may be able to borrow, what your monthly payment would be, or whether or not your should consider consolidating debt using a home equity loan, you can consult one of our online calculators.
The key advantages of a home equity loan
Since you're pledging a valuable asset as collateral, you can typically get a more favorable interest rate on a home equity loan than you'd find on a credit card or personal loan. Like a personal loan, home equity loans also usually offer a fixed APR, fixed term and fixed monthly payments.
Although the Tax Cuts and Jobs Act of 2017 has impacted the tax deductibility of interest on home equity loans, you may still get a tax benefit if you're using the loan for home improvement. Consult your tax advisor for more information.
Ready, set, apply
You may want to create home equity loan application checklist—see a handy five-step guide from Discover—to help you understand what goes into the process and calculations, as well as what materials you'll need to prepare. Gather your paperwork and then do your research, securing quotes from several different types of lenders. In addition to comparing the APRs, consider any additional fees and costs, and customer service features.
With a little research and budget review, it's easy to determine if a home equity loan is the right financial choice.
Now that you've learned what a home equity loan entails and used some tools from Discover, you may feel ready to apply online with Discover Home Loans to see if you qualify.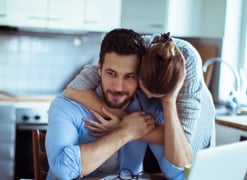 Find your low,
fixed rate

Use our Rate Calculator to find the rate and monthly payment that fits your budget.
Main

Start your application online

or give us a call.
Main

Start your application online or give us a call.