Stay Upgraded For Better Protection
Update your browser and firewalls to help:
Repair security flaws
Keep up to date with the latest protection
Detect potential phishing websites
Prevent unauthorized access to your system network
Antivirus Software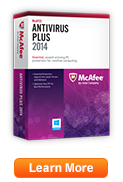 Antivirus signature files seek out viruses before they can harm your device. There are a few antivirus software products that you can take advantage of, such as McAfee® AntiVirus Plus 2014. McAfee is currently offering 6 months of free protection for Discover card customers.
Note: By downloading and installing McAfee AntiVirus Plus 2014 you agree with all McAfee terms and conditions. Discover® is not responsible for, nor do we guarantee, the content or services associated with this product. All problems, questions or concerns regarding McAfee AntiVirus Plus 2014 should be directed to service.mcafee.com. McAfee, the McAfee logo, and SiteAdvisor are trademarks or registered trademarks of McAfee, Inc. in the United States and other countries.
Mobile Device Security
Take charge of your mobile device security with these helpful guidelines:
Use an automatic screen-locking mechanism
Use password-protection
Consider using a remote-wipe program in case it's stolen or lost
Record the device's make, model and serial number
Sync your mobile device with your computer for recent security updates
Update any apps to their most recent releases
Know what specific data you are letting an app access
Bank and shop only on web addresses that have (https:) in the URL
Report fraudulent texting, calling, and voicemail scams
Fake Mobile Banking Apps
Criminals may develop and publish fake apps. They are designed to steal sensitive information. You may be using a fraudulent app if the developer or author of the application is not the company, or if the app is being promoted on a third-party site.
Need Help Now?

Contact Us
Call
1-800-DISCOVER
(1-800-347-2683)