Discover Card Help Center
What is the SCRA?

The Servicemembers' Civil Relief Act (SCRA) provides certain benefits to active duty servicemembers and their spouses/domestic partners. Eligible Discover card customers will receive the following changes to their account for the duration the servicemember is on active duty.

An interest rate of 5.9%
No late or overlimit fees
Introductory, promotional and/or balance transfer rates will be calculated at the promotional rate (if lower than 5.9%) for the duration of the offer.

This coverage lasts as long as the servicemember is on active duty and is even applied retroactively to the active duty start date. You can apply for retroactive SCRA benefits for up to 180 days after the end of active duty.

Who is eligible for benefits?

Discover provides benefits to servicemembers or their spouse/domestic partners. This benefit applies to loans made prior to active duty; however, Discover card extends coverage to all eligible customers if the servicemember is on active duty.

The servicemember must have been on or currently is on active duty in one of the below military services:

Army
Navy
Air Force
Marine Corps
Coast Guard
Reservist and members of the National Guard (minimum of 30 days active duty required)
Commissioned Officer of the Public Health Service or the National Oceanic and Atmospheric Administration (NOAA)

How do I request benefits?

There are several ways to apply for benefits.

Phone - Call 1.844.DFS.4.MIL (1.844.337.4645). If you are overseas, call 1.801.902.3100. (If your active duty time period is in the future, please make sure to provide your active duty dates).

Online – Log into your Discover account at Discover.com/scra. Not registered? Click HERE

Mail – Discover Attn: SCRA Department P.O. Box 15185 Wilmington, DE 19850-5185

Fax – Attn: SCRA Department 1.224.813.5767.

*Please note: Please include the Servicemember's FULL name, complete social security number or date of birth

What documentation is needed?

Discover will make an attempt to verify active duty by contacting the Department of Defense (DMDC). If verified, no documentation is needed. If we are unable to validate active duty, then we may request written documentation. Examples of acceptable documentation include, but are not limited to:

Military Enlistment/Reenlistment Contract
Leave and Earnings Statement (LES)
Letter from your commanding officer
Deployment or active duty orders
Permanent Change of Station (PCS) documentation
Certificate of Release or Discharge from Active Duty (DD Form 214/5 Series)

Any other documentation on military letterhead confirming your military active duty status

Questions about Payment Protection?

If the account is enrolled in Payment Protection, call 1-877-883-1959, from 9:30 - 7:30 ET, Monday -Friday to inquire about additional benefits that may apply.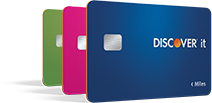 Get away faster when we match all the Miles you earn your first year.*
*See Terms. Only for new cardmembers