Credit Card Acceptance
Use your Discover card at millions of merchants globally.
Become a Discover it® Miles cardmember
before you jet
Enjoy great travel benefits and earn rewards on every purchase.
Unlimited 1.5x Miles for every dollar spent on all purchases

We'll match all Miles earned at the end of your first year1

Redeem Miles for travel purchases and fly any airline, anytime with no blackout dates2
Learn Moreabout becoming a miles discover it cardmember See All Cards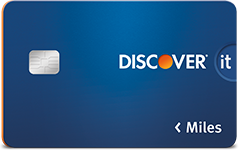 Frequently Asked Questions
Yes. You earn Cashback Bonus or Miles on purchases made with your card wherever Discover is accepted.
You can contact Customer Service when traveling outside of the U.S. by calling (country code) +1-801-902-3100. This number also appears on the back of your Discover Card.
You should always notify Discover Card opens modal dialog before traveling international. Letting us know you are traveling out of the country will help ensure uninterrupted use of your Discover Card.
Immediately contact Customer Service in the U.S. by dialing (country code) +1-801-902-3100. This number also appears on the back of your Discover Card. They will assist you in replacing your lost or stolen card.
Discover Match®: No purchase minimums. After the first 12 consecutive billing periods that your new account is open, we will match all the Miles you've earned and apply them to your account in the following one or two billing periods. If your account is closed or no longer in the Miles reward program at the time we calculate your potential award, your Miles will not be matched. You've earned Miles rewards when they have posted to your account by the end of the 12th consecutive billing period. This promotional offer may not be offered in the future. This exclusive offer is available only to new cardmembers.
Redeem Miles: Starting at 1 Mile, you can redeem for cash as a electronic deposit to your bank account or for a credit for Travel Purchases on your statement made within in last 180 days. Travel Purchases include airline tickets, hotel rooms, car rentals, travel agents, online travel sites and commuter transportation. Redemption may not be available for approximately 24-48 hours if your card is reported lost or stolen. See Miles Terms and Conditions for details.