A Second Layer Of Defense
Log in more securely with Discover card's Enhanced Account Verification. This helps us further verify your identity before accessing your Discover card account. Enhanced Account Verification may be used when you attempt to log in to your account from an unfamiliar device or if you're performing certain activities such as updating your profile, switching or changing your browser settings, deleting your cookies, or modifying software settings.
We've kept it simple by using a verification code that is sent to you via the method you choose.
How it works:
Log in.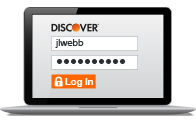 You'll be momentarily redirected to our Enhanced Account Verification page to confirm your identity.
Choose how to receive
your code.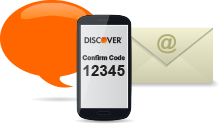 Select to receive the code via text, phone call, or email.
Enter your code.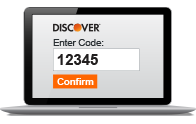 Resume your planned Discover card account activity knowing that your identity has been verified.
View our Enhanced Account Verification FAQs
Need Help Now?

Contact Us
Call
1-800-DISCOVER
(1-800-347-2683)