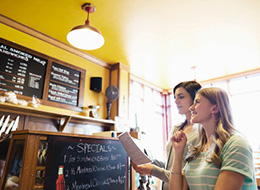 Online banking has made it more convenient for people to make deposits, transfer funds and pay their bills; it's also easier to open an account online as well. Most banks have multiple types of accounts you can open, including checking accounts, but you may wonder how to open an account online, and what features to look for? Here are some helpful tips on how to choose the right online checking account for you.
Choosing the Right Bank
In deciding where to open an online checking account, there are several checking account features you may want to consider.
No Minimum Balance Requirement

Some banks will charge you a fee if your checking account falls below a specific dollar amount. Look for a bank that requires no minimum balance after your initial deposit.
Readily Available ATMs

Make sure the bank you select for your online checking account provides ATM access in convenient locations and does not charge you fees for using your debit card at another bank's ATM.
Flexible Options For Making Deposits

Most online banks accept deposits by mail, wire transfer or direct deposit. But, one of the most convenient ways to deposit money is via a mobile banking app – where you can snap a photo of a check to make a deposit – you may be surprised how much time this can save you.
Paper Checks

While many banking actions have moved online, you still may need to write the occasional check. If this is important to you, make sure you select a bank that offers checks. Alternatively, you could use online bill pay and have your bank mail a check for you.
Security & Peace of Mind

Verify that your funds on deposit are FDIC (Federal Deposit Insurance Corporation) insured to the maximum allowed by law. Also, ask your bank how it secures private information and data as part of its online banking services.
Find out what features each online checking account offers, what rewards would apply, and what fees you would incur if you go below the minimum balance – if one is required. Not all accounts are for everyone, so consult with your bank to determine which option is best for you. Because most online banks are just that, online, you always have the option of contacting them over the phone, via email or chatting online with a representative.
Opening an Online Checking Account
Once you've chosen an institution and the type of online checking account that's suitable for you, you're only minutes away from opening an account. Most online banks have simplified their applications which can be completed in a few simple steps, as long as you have the following information:
U.S. Physical Address (no P.O. Boxes)
Social Security Number
Email address and phone number
Bank routing and account numbers
Funding the account is also easy. Discover Bank, for example, requires an initial minimum deposit of $25, which can be transferred directly from an account at a different bank. Once funded, you can start using your newly opened online checking account.
If you ordered a debit card as well as checks, they should arrive in the mail shortly after the account has been opened. In the meantime, you can still use your online checking account to transfer funds and pay bills online.
Online banks allow you freedom from long lines at a traditional bank and offer large ATM networks. You can bank like you would with a traditional bank , but you're no longer bound by their four walls. Some accounts even come with cash back rewards. When you open a checking account online, you will see that it offers all the convenience and benefits without any of the sacrifices. Welcome to the world of online checking!
Discover Bank, Member FDIC