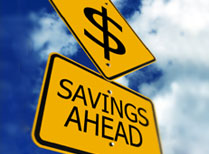 Why you save will largely determine how you save. Certain types of savings accounts are better than others for short- mid- and long-term goals. If you want to "park" money for an emergency fund or save for a near-term purchase like a down-payment on a new car, a Discover Online Savings Account can deliver what you want: a great savings rate, convenient access online with our mobile banking app, and encryption technology that safeguards your peace of mind.
Higher yields
Since online banks such as Discover Bank have limited brick-and-mortar buildings to maintain, their overhead expenses are much lower – so their rates are generally much higher. Online Savings Accounts may have fewer fees; coupled with interest rates that are compounded daily, your money can grow bigger and faster. The Discover Online Savings Account for example, imposes no fees for account maintenance or routine online ACH money transfers, making it easy to fund your account online from an existing bank account. What's more, there is no minimum deposit to open.
Convenient access
When you want to transfer funds between accounts or just check up on your money, what could be easier than simply going online or picking up the phone? You've got comfortable surroundings (your own computer or mobile device), convenient hours (your schedule, not your bank's) and at Discover, if you need help, you can talk to a U.S.-based Banking Specialist 24 hours a day, 7 days a week.
Discover
In addition to Online Savings, Discover Bank also offers other types of accounts designed to help address the growth and safety of your savings. Our Money Market Account, for example, offers high yields and easy access to your money1, while our full range of CDs can help you save for the future. Open an account online in minutes or call our 24-hour U.S-based Customer Service at 1-800-347-7000.
The article and information provided herein are for informational purposes only and are not intended as a substitute for professional advice.
1Federal law limits the number of certain types of withdrawals and transfers from a Money Market Account to a combined total of six per calendar month per account. There is no limit on the number of withdrawals by ATM or by Official Check mailed to you. If you exceed these transaction limitations during any calendar month we may assess an Excessive Withdrawal Fee or refuse to pay each transaction in excess of the limitations. If you exceed these limits on more than an occasional basis, we reserve the right to close your account.
Discover Bank, Member FDIC