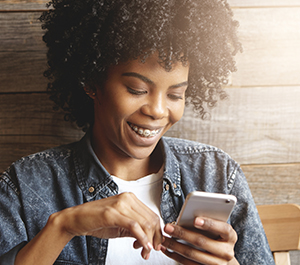 Maggie Germano, CEO and founder of Maggie Germano Financial Coaching in Washington, D.C., switched to an online savings account several years ago.
"I had been using a brick-and-mortar bank my whole life, and didn't have much to show for it," Germano says. The interest from her branch-based savings account was accruing ever so slowly, and an occasional fee would wipe everything out.
Knowing that online accounts may have a higher interest rate than traditional savings accounts, Germano looked into online-only accounts as a way to boost her savings income. She's now an advocate for online banking and recommends her clients make the switch as well.
"They can have fewer fees and more interest returns," she says. "It's definitely the way to go."
Opening an online savings account is a little different than walking into a bank branch to open an account, but the entire application can be quick and easy to complete. Phew. If this is your first go and you're unsure of how to open an online savings account, the following five steps can help guide you through the process:
Fill out the application. The application may ask for personal identifying and contact information, including your name, date of birth, address, phone number, email address and tax identification number (such as a Social Security number).
Choose your account type. When opening a savings account online, you may have the option of an individual account or a joint account. If you choose a joint account, (perhaps you want to share one with a family member), you'll need to enter the personal information of each account holder. Research the implications of opening a joint account, as the agreement could open up each account holder to new financial risks.
Designate beneficiaries. If you open a savings account online, you can also choose who will receive the money from your account in the event you pass away. Justin Chidester, owner of Wealth Mode Financial Planning in Logan, Utah, says, "the default choice for a beneficiary is usually a spouse or partner." He also says that with joint accounts, the account may automatically transfer to the joint account holder.
Fund the account. If the savings account has a minimum deposit requirement, you'll need to deposit at least that much money by initiating a bank transfer, sending or depositing a check or using a wire transfer. Not all banks require a minimum deposit, and with those that do, you may be able to fund the account after you complete your application.
Set up your login information. If you haven't already done so, you'll need to create a username and password for your account. To help keep your personal information secure, try to choose a long password that has a mix of letters, numbers and special characters, and that you don't use for other accounts.
If you have questions about how to open an online savings account, you may be able to call, chat or email a bank's representative for help.
Comparing online savings accounts
Before you open a savings account online, you may want to shop around to compare multiple account options and features. Here are several things to evaluate when deciding which bank account to choose:
FDIC insurance. You may come across these four letters when opening a savings account online, but what do they really mean? Translation: The Federal Deposit Insurance Corporation (FDIC), a government agency, will reimburse depositors up to $250,000 or the maximum allowed by law if an FDIC-insured bank fails. Ask the bank or use the FDIC's BankFind tool to ensure your money will be protected by FDIC insurance, and you won't need to worry about a potential financial disaster wiping out your savings.
Minimum opening deposit. You may be required to deposit at least a certain amount of money to open a savings account online. You won't necessarily need to keep that money in your account after it's open, but the requirement could still be a nuisance and limit your options.
Monthly maintenance or account fees. You may have to pay a monthly maintenance or account fee if you don't meet activity or funding requirements, such as an average daily balance or several direct deposits each month. However, Chidester says online accounts are often the exception. "With most online savings accounts, it doesn't matter if you have $1 or $100,000, they won't charge a fee for not maintaining a minimum balance," he says. "You won't find arbitrary 'maintenance' fees either because your online account is low maintenance." That's good news, because bank fees can eat into your savings and negate your earnings.
Annual percentage yield (APY). If you're looking to open a savings account online, you may have a short- or long-term savings goal in mind. Think emergency fund, home down payment or a trip abroad. Germano actually has multiple online savings accounts, one for each goal. Keep a close eye on the APY of different accounts to see which could give you the most interest earnings—the higher the interest rate, the more money you'll be able to put toward your goals.
Potential fees. Savings accounts could have other types of activity-based fees, such as a fee for ordering a bank check, sending or receiving a wire transfer or fees for insufficient funds. Considering how you might use your account, and the potential fees, could help you decide which account works best for you.
If you're interested in opening a savings account online, you might want to take a look at the banks' websites and mobile apps. With no bank branches, you'll want to make sure you're comfortable accessing your account electronically and on-the-go.
Depositing and withdrawing money from your account
After you open a savings account online, there can be several ways to deposit money into your new account. You may be able to transfer the funds from a different checking or savings account, mail a check to the bank or have your paycheck directly deposited into the account (chat with your employer about direct deposit, if you don't already have it set up). You can also use some banks' mobile apps to take a picture of a check and deposit your funds.
Withdrawing money from an online savings account can be done in similar ways. You may be able to transfer the funds to a checking account or different savings account with the same bank, or to an account at an outside bank. Some online banks let you request a bank check. You could also use a wire transfer to withdraw money, but you may have to pay a fee each time you do. Keep in mind that there may be limitations on the number of withdrawals you can conduct each month. Federal law limits the number of certain types of withdrawals and transfers from an online savings account to a combined total of six per calendar month per account.
Opening a savings account online to reach your financial goals
Opening a savings account online can be a great move for your short- or long-term financial goals. Not only are the accounts easy to open, it's simple to log in and review your account information and initiate transfers between accounts.
"Determined savers like being able to look at their account balances to remind themselves of their savings goals," Chidester says. He adds that, "especially with online savings accounts, once you accrue a bit more money, it's nice to see interest payments roll in and be reminded of that benefit you're reaping." Online savings accounts may also have fewer or lower fees, so you won't need to worry as much about expenses eating into your savings and holding you back.
In fact, with their lack of fees and no or low balance requirements, Chidester recommends his clients create multiple online savings accounts and give each one a specific goal.
"It can be psychologically discomforting to take $50 out of an account marked 'vacation' to splurge on a night out," he says. "On the other hand, in the heat of the moment, it's not so hard to take $50 out of unmarked, ambiguous savings."
Before you think about how to open an online savings account, you may want to compare different offerings and features. While the application process may be similar among most banks, the potential benefits and expenses can vary, and you want to find an account that can best help you accomplish your goals.
Discover Bank, Member FDIC