8 Budget-Friendly Winter Activities to Beat the Cold-Weather Blues
These affordable winter activities can help you have maximum fun with minimal budget.
Winter days are perfect for staying warm and toasty curled up by the fire. But spending all of your time at home could leave you feeling a little stir-crazy and craving longer days and more sunshine.
Fortunately, there are plenty of opportunities to enjoy the great outdoors (and make the most of that indoor time) when the temperature drops. The challenge is finding affordable winter activities.
"Winter is a tricky time for budgeting because it starts during the busy holiday season," says shopping and trends expert Sara Skirboll. Between buying gifts, attending (or hosting) holiday parties and traveling to see friends and family, your budget may already be stretched.
Colder months can also bring unexpected expenses, Skirboll says. For example, you may spend more time (and money) at the doctor's office if you're fighting the flu or a winter bug, or you may need to spend money on getting your car and home prepped for winter weather. And, of course, your utility bills may be higher during the coldest of months.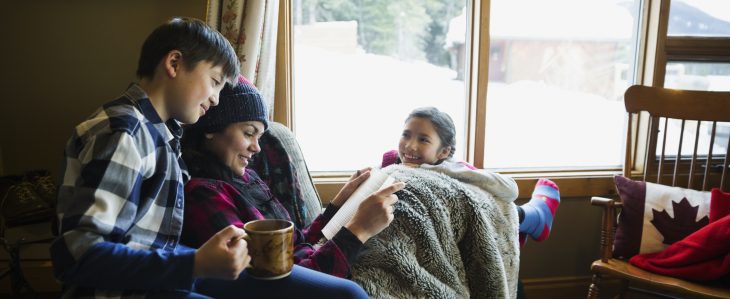 "What are some affordable winter activities that we can do?" is a great question to consider as you balance your winter budget. While you explore cheap things to do during the winter, consider giving these budget-friendly winter activities a try:
1. Have a snow day
The most affordable winter activities are sometimes ones you can enjoy in your own backyard. There are plenty of snow-centric ways to spend a winter weekend. Anyone up for some sledding, tubing, building a snow fort or having an epic snowball fight? Even shoveling snow with the kids or your significant other can be a fun budget-friendly winter activity—simply turn it into a challenge to see who can clear a path the fastest.
2. Swap the ski resort for a national park
Maybe you love skiing, but not ski resort prices. The solution when you need cheap things to do during the winter? Take advantage of public parks, says Erin K. Kirkland, author of an Alaska travel blog.
Kirkland's winter travels with her family routinely include stops at national parks. Places like Yosemite National Park and Glacier National Park feature a more rugged landscape for skiers, but the entry fees can be much lower than what you'd pay at your traditional winter resort. Plus, you can do more than just ski while you're there.
"We ski in, then play in the snow, cook our food over a wood stove and stay up late to watch the northern lights," Kirkland says.
3. Visit the zoo or aquarium
Zoos and aquariums tend to see more traffic in the spring and summer months. If you want to avoid the crowds, winter is a great time to check them out. You can save even more on this affordable winter activity if your local zoo or aquarium offers discounted admission prices during the off-season. Some employers may even offer low- or no-cost admission days in partnership with local museums.
"Look for days when activities might be discounted, and be sure to triple check for coupons and discount codes before making any purchases."
4. Host a potluck
A potluck get-together can easily warm up cold winter days. Micah Klug, owner of a lifestyle blog, says one of her family's favorite budget-friendly winter activities is hosting hot cocoa parties with neighbors and friends.
Klug's family warms up the hot chocolate in a slow cooker, and "everyone else brings their favorite toppings," she says. The cost is minimal, but the fun factor is high.
If you're opting for a potluck dinner as a cheap thing to do during the winter, Skirboll suggests sticking with low-cost dishes you can make in a large batch, such as chili and cornbread. Freeze the extras for your next potluck event to save even more money.
5. Try a holiday craft fair or winter festival
Visiting a holiday craft fair or winter festival can be one of the best affordable winter activities if admission is free or minimal. You can take in the holiday sights and sounds and enjoy some cold-weather snacks, especially if free samples are on tap. If you think you may do a little shopping, set a firm budget beforehand so you're not tempted to overspend.
6. Enjoy the sparkle of holiday lights
While there's always that one neighbor who leaves the holiday decorations up until Easter, most people put theirs away as soon as the new year rolls around. If you need cheap things to do during the winter, make sure to get in an evening or two cruising your neighborhood to check out the holiday light show before it's gone for the year. Don't forget to check local listings to see if any establishments put on special displays for the public. Some zoos and botanical gardens, for example, have holiday displays and events for free or low-cost admission.
7. Feed the birds
When snow is covering the ground and trees, your feathered friends may have a harder time finding food. A bag of bird seed only costs a few dollars, and scattering it in your local park is a leisurely way to spend an afternoon and a cheap thing to do during the winter while giving Mother Nature a hand.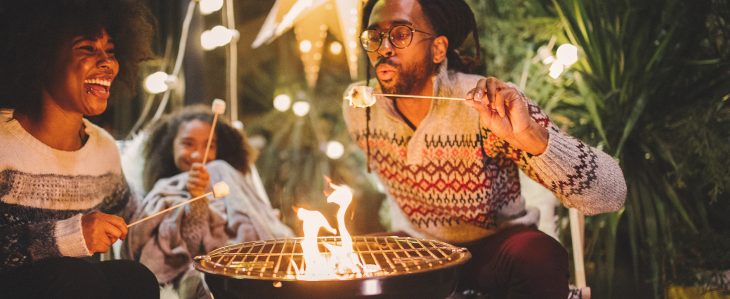 8. Have a bonfire night
Who doesn't love gathering around a fire and roasting marshmallows as an affordable winter activity? If you've got room in the backyard to set up a fire pit, you can host a bonfire with friends and family. Encourage guests to bring hot dogs, marshmallows and chestnuts to roast, and keep some hot apple cider or cocoa on hand to help beat the chill.
Budget for winter activities and use apps to save
Deciding in advance what you want to spend on winter fun can make choosing budget-friendly winter activities even easier.
Lifestyle blogger Klug, for example, says she and her family plan for each winter season's activities up to a year in advance. Planning her family's spending ahead of time helps her determine how much she'll be able to save over the season. She then earmarks that savings to help pay for holiday gifts.
"Winter is a tricky time for budgeting because it starts during the busy holiday season."
Review your regular budget and any extra spending for winter shopping, meals, entertainment and travel. Then, determine how much you can set aside for winter activities each month. And don't pay full price if you don't have to.
If any of your outdoor plans require special equipment, such as skis or ice skates, "rent or trade, don't buy," Kirkland says.
Finally, use coupon and deal apps to find opportunities to enjoy budget-friendly winter activities or earn cash back when you spend. You can pair these discounts with a rewards checking account or rewards credit card to double dip on cash rewards. With Discover Cashback Debit, for example, you can earn 1% cash back on up to $3,000 in monthly debit card purchases.1
"Never leave money on the table when you can take advantage of savings," shopping and trends expert Skirboll says. "Look for days when activities might be discounted, and be sure to triple check for coupons and discount codes before making any purchases."
1 ATM transactions, the purchase of money orders or other cash equivalents, cash over portions of point-of-sale transactions, Peer-to-Peer (P2P) payments (such as Apple Pay Cash), and loan payments or account funding made with your debit card are not eligible for cash back rewards. In addition, purchases made using third-party payment accounts (services such as Venmo® and PayPal®, who also provide P2P payments) may not be eligible for cash back rewards. Apple, the Apple logo and Apple Pay are trademarks of Apple Inc., registered in the U.S. and other countries. Venmo and PayPal are registered trademarks of PayPal, Inc.