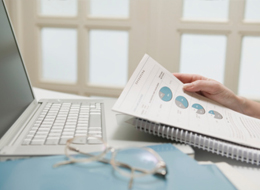 Bad things happen (and often when we least expect it). And it's not always the big bumps that catch us off our financial guard. Sometimes it's the little things – like lightning blowing out the refrigerator or that unexpected trip to the emergency room.
While we know to gather up batteries and bottled water in the face of a natural disaster, how many of us take the equally important steps to prepare to financially weather an emergency? With a Discover Bank Online Savings Account, you have easy access to the tools you'll need to deal with all types of unexpected expenses.
Start a rainy day fund
Experts recommend having an emergency fund equal to three to four months of your annual household income, typically in the form of a high yield savings account, such as a Discover Online Savings Account. Try to set aside an additional 20% more if your family relies on just one income. With that in mind, remember that the Discover Online Savings Account makes it fast and easy to set up an automatic savings plan
You can even have a percentage of your paycheck directly deposited into your Discover Online Savings Account on a regular basis. You can also set up automatic free online transfers into your account from your checking account. If you're saving with a purpose, you're less likely to tap the money if it's tucked away in a specially designated emergency account.
Discover
Whether you're putting money aside for a rainy day or saving up for something special, Discover's Online Savings Account pays a great rate and offers convenient access to your funds. We also offers a full range of CDs and IRA CDs with terms from 3 months to 10 years as well as Money Market Accounts that may be ideal for rounding out your overall savings strategy. Open a Discover account online in minutes or call our 24-hour U.S-based Customer Service at 1-800-347-7000.
The article and information provided herein are for informational purposes only and are not intended as a substitute for professional advice.
Discover Bank, Member FDIC