Family Budget Basics: Gather Around the Table to Make a Plan That Works
Wondering how to make a family budget that sticks? Check out these tips from personal finance pros to create a plan today.
Groceries. Gas. Maybe even cable if you haven't cut the cord yet. You're probably already familiar with the expenses that make a household budget, but have you thought about building a family budget?
A family budget can get everyone in your household on the same page when it comes to money. It isn't about pinching pennies or building a bigger bank account balance. Instead, a family budget unifies everyone around common goals that are possible to achieve through strategic spending and saving.
Before diving into the details of planning a family budget, let's start with the basics. Here's how the experts define a family budget:
What is a family budget?
A family budget is a game plan for your family's money. Your plan identifies where and how your money comes and goes by focusing on income and expenses. Importantly, it also reflects your family's goals and values by how you spend and save.
Jen Smith, personal finance writer and creator of Modern Frugality, says a family budget can be a simplified version of what you do when you make your household budget. For example, it may only include line items that have a direct impact on the kids, as opposed to including every single expense, Smith says.
"While it's important to start talking about budgets and money with kids, you have to simplify it to a level they'll understand and won't be overwhelmed," she says. The results will be worth it, she adds. "Planning a family budget with your kids will help them learn the importance of earning money, how to spend it, and what happens when it runs out."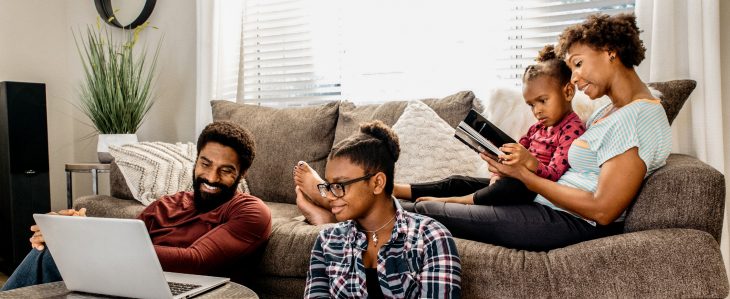 How to make a family budget and stick to it
Your next question might be: How do you make a family budget? Smith and Kevin Payne, creator of financial blog Family Money Adventure, provide the following tips to help you plan a family budget:
Invite everyone, from toddlers to teens
If you've already gotten comfortable with how to make a household budget, you might be tempted to take over and do all the heavy lifting yourself. Not so fast!
Planning a family budget should be a family affair. After all, "kids are a part of the family," Payne says. "That doesn't mean every money decision is a family decision, but kids feel a sense of ownership and responsibility when you include them in money discussions."
Creating a budget together boosts everyone's buy-in, which gives your budget real staying power.
And everyone truly means everyone—from your little ones just learning their time tables to teens with their own checking accounts and cars. Research has shown how important it is to have money conversations with your family. In fact, a study by Brigham Young University researchers reveals that toddlers and young children are already forming money habits, values and attitudes.
Talking about money doesn't have to always be serious, Payne says. You can even make a game out of it: "For example, if you're out shopping, make your kids guess the grocery bill amount when checking out," he suggests. These everyday interactions get your little ones comfortable with talking about money—laying the groundwork for your family budget meetings.
Clear away any distractions and offer incentives
To make your family budget meeting a success, choose a time where no one is stressed or distracted by competing priorities, whether that's work or after-school sports. When planning a family budget, consider having family members leave their smartphones or other devices in another room to keep distractions at bay, Smith suggests.
"Planning a family budget with your kids will help them learn the importance of earning money, how to spend it, and what happens when it runs out."
Struggling to convince kids to participate? Smith has an idea: "If it affects their allowance, they'll get involved," she says. In other words, tell them they won't receive their allowance unless they participate in the budget meeting. "You shouldn't necessarily force them to budget their own money, but they'll at least pick up on the importance of budgeting as it relates to earning income," she adds.
Break down your family budget categories
Once you've gathered around the table, it's time to dive in and start planning your family budget. Begin by sketching out the major categories to be included in your budget.
Remember that you want your budget to fit your family and your specific needs. Your family budget will likely be based on four main categories, which are spelled out below. However, since each family is unique, your budget breakdown should reflect that.
Fixed expenses
These recur monthly and may include rent, phone bills, daycare or monthly subscriptions. You can bring the kids into conversations about these types of expenses, Payne suggests. For example, you may ask, "How much do you think our house costs?" They may not guess anywhere near the correct amount, but the conversation will help build their financial awareness.
Variable expenses
As the name implies, these fluctuate from month to month and can include groceries, utilities, entertainment or class field trips. It's essential to help kids understand the basics of your family's expenses, both fixed and variable, Payne says. "It gives them a more complete understanding of how much it costs to keep a roof over your head, put food on the table every day, and pay for all of the luxuries we tend to take for granted," he says.
Debt
This can include credit card debt, student loans or any other debt you're carrying. Parents often hide their financial shortcomings or realities from their children, Smith says, but that does them a disservice. Instead, consider talking through an aspect of your debt during your family budget meeting. "Share why it's there, how you're paying it off and why it's important to do so," she says.
Savings
This may include your family's emergency fund, other savings accounts and retirement accounts such as 401(k)s or IRAs. This is a critical one for kids to understand, Payne says. Use your family budget meeting to talk through why your family is putting away money today to support yourselves in the future, he suggests.
These four categories will make up the bulk of your budget. Rather than feeling restrictive, having these expenses broken down on paper may in fact be freeing, Payne says. "When you make a plan with your money based on what you value, you don't get as caught up in what you might be missing out on," he says.
Crunch the numbers to see what fits
After you finish planning your family budget and you have your budget categories and subcategories, it's time to figure out if you can fund them all. Whether you take notes on a whiteboard, on paper or electronically, you should be prepared to refine your initial list.
"Prioritize the list, and then go through it and assign a dollar amount to each activity," Smith says.
Beyond these four major categories, you may have additional spending areas. That could be on things like birthday parties, Christmas, back-to-school shopping, vacations and more. You may want to make each of these a separate goal. With multiple savings accounts, you can save in chunks throughout the year to build up to each goal.
As you add up your expenses, you may find you're falling short in a certain area. For example, if you don't have the funds to take the vacation you want, you may decide to cut back on your entertainment budget, Payne suggests. Asking everyone to cut back their entertainment spending by a relatively small amount, such as $10 a month, can go a long way towards your goal. You can set aside the funds in a special savings bucket to save for a family vacation on a budget.
You might find that having more predictable expenses each month will streamline the process of making a household budget. Budget billing can be a way to ensure you pay the same amount for your utility bills each month, no matter whether you have the heat cranking or the A/C on high. Learn about how budget billing works to see if it's a good option for your family.
Across your major spending categories and beyond, this process is all about taking time to ensure your family budget reflects your values and priorities.
Pick a budgeting system that works for your family
No two families' finances look the same. That's why it's important to make a household budget that accurately reflects where your money comes and goes.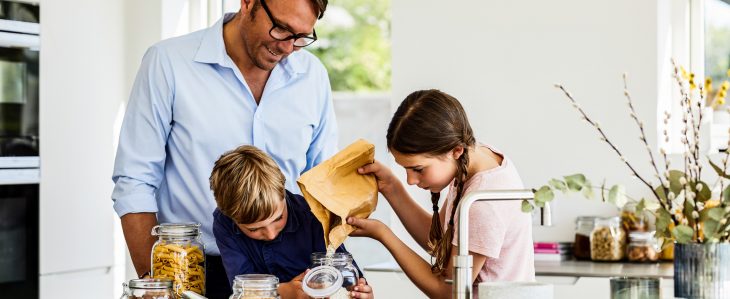 Smith prefers a zero-based budget. How does a zero-based budget work? Essentially, you allocate every penny of your budget by directing it to certain categories, including spending, saving and investing. "It's what we've used since beginning our financial independence journey, and it's worked for us," Smith says. Many people like zero-based budgeting because it shows them where every dollar is going, which helps them spend more purposefully.
Other people use an envelope system. In this system, you withdraw the amount you've budgeted for each of your variable spending categories each month. That money goes into a separate envelope for each category. Your goal? Spend only up to the amount you've saved in each envelope each month.
This can be particularly helpful with family budgeting, especially with young children who rely on cash instead of debit or credit cards. Each child can be given their own envelope, or you might decide to share envelopes based on categories.
Take your budget for a spin
After you create your family budget and pick a budgeting system, it's time to test it out. Track your spending for a month so your family can see where your money is going and if it matches the game plan you created together, Payne suggests.
Some families choose to track their spending manually in a notebook or spreadsheet. "You might also check out some of the different apps that track and categorize your spending for you," Payne says. Many of the best checking accounts for busy families allow you to easily sync your account with online budgeting tools. These spending insights can help you reevaluate your budget at the end of each month.
This is also a great time to revisit your prioritized list of budget categories to make sure you're putting your money where your goals are.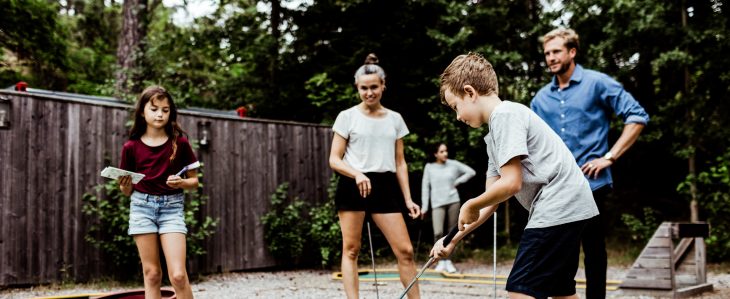 How do you cut expenses on a family budget?
Once you've finished planning your family budget and your budget is in place, you might find you're overspending in certain categories. You can then decide as a family if you want to reprioritize or cut certain expenses, Smith says. "This can be a great motivator for kids to earn extra money for things the budget can't hold or do their part in lowering costs associated with things like energy consumption, food waste and so on."
Remember: Slashing expenses does not have to mean cutting out fun. Whether you're making an art project with materials you found in the recycling bin or embarking on a staycation, with a little creativity you can find plenty of ways to keep your kids busy on a budget.
And don't forget about everyday ways to cut costs. For example, you may want to research family meal ideas on a budget to trim down your grocery bills.
In addition to reducing expenses, you may look at ways for your family to bring in extra money. For example, older children and teens might choose to contribute to the entertainment category, their phone bill or other categories with earnings from chores or part-time jobs.
Start saving—and thriving—with a family budget today
If you think you are only planning a family budget once, think again. Your budget is a living document that should grow with your family. Continue discussing your budget each month as a family, reviewing successes and identifying future areas of focus.
To help, you can explore these money-saving tips for families. Then, challenge your family members (and yourself!) to continue optimizing your family budget as you work toward your goals.