3 DIY Projects to Save Money on Home Improvements
Sprucing up your home doesn't have to break the bank. Instead of hiring a pro, roll up your sleeves and try these DIY projects to save money.
If you're a homeowner, housing costs probably eat up a big chunk of your budget each month. From mortgage payments to home insurance to property taxes, you're locked into a lot of bills. But there is one area where you can cut costs, provided you're willing to put in a little elbow grease: maintenance and improvements.
Annual maintenance and upkeep costs the average homeowner anywhere from 2% to 5% of the purchase price of the home, says home expert Dan DiClerico.
"To put some hard numbers to that, if it's a $300,000 house, it's anywhere between $6,000 and $15,000."
Luckily, if you know how to DIY to save money, you can trim those costs down.
The impact of DIY vs. pro projects on your pocketbook
According to NerdWallet's Home Improvement Report, homeowners spend far less money when they tackle projects on their own as opposed to hiring a professional to do the work.
What are you paying for when you hire a pro? DiClerico estimates that labor costs account for one-third to half of the total price tag for most professional improvement jobs. Considering that the NerdWallet study above reports that 80% of homeowners feel professionals are charging too much for labor and materials, it's clear these bills can really add up.
Avoid costly hiccups when taking on DIY projects to save money by thinking through your expenses. Before you start your project, tally up your projected costs so you'll have an idea of how much you should budget for home repairs.
With potential savings in mind, you're probably wondering: Which home DIY projects can save me the most money? Keep reading for tips from seasoned fixer-uppers on how to stretch your home maintenance dollars.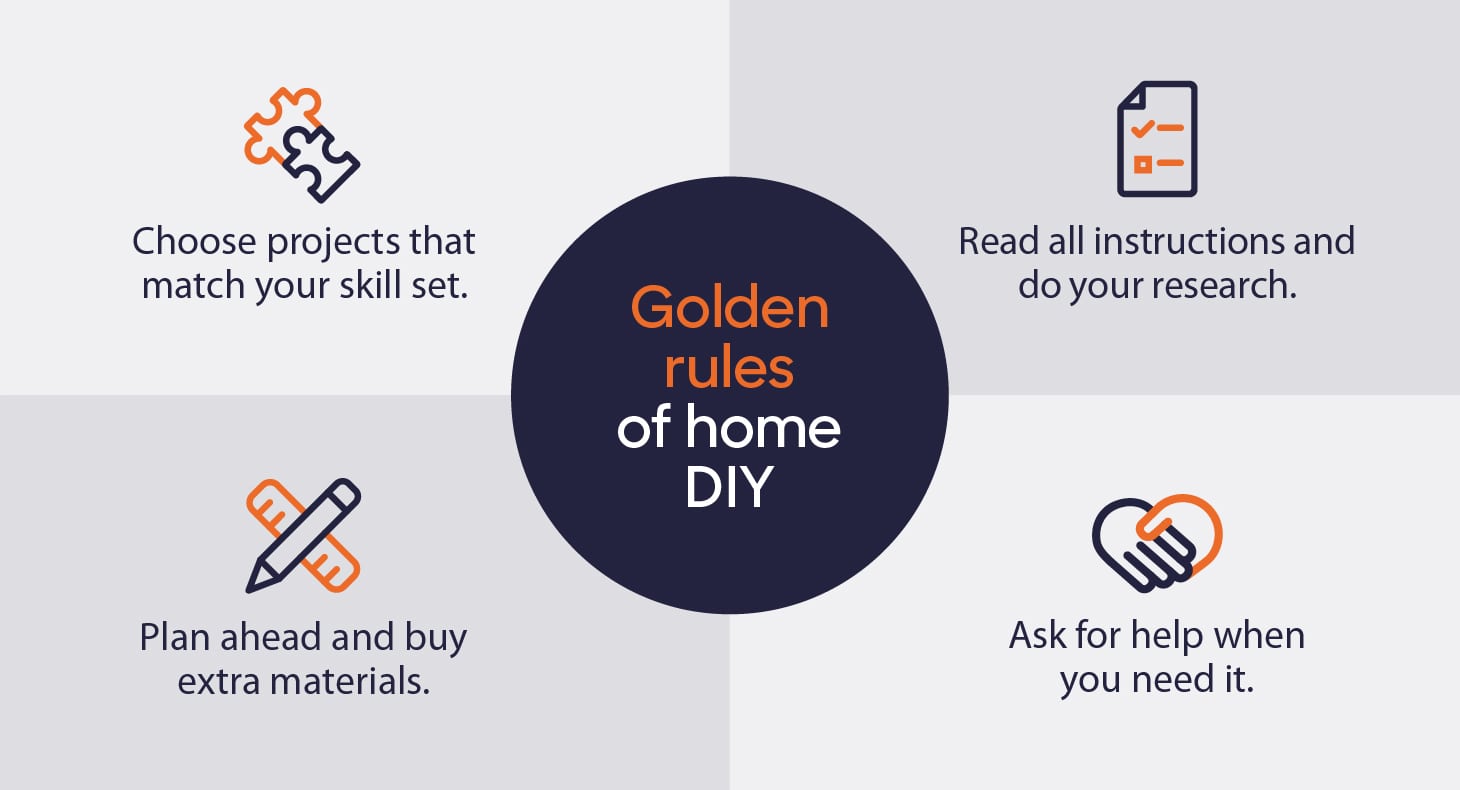 3 projects perfect for beginner, intermediate or advanced DIYers
Whether you've never picked up a hammer (beginner), have successfully dabbled in DIY (intermediate) or consider yourself an unofficial home improvement pro (advanced), doing it yourself is not only a great way to save money around the house, it can also be fun.
If you're interested in revamping your home, here are three DIY projects to save money recommended by DiClerico, along with the potential savings from each one:
1. Freshen up your walls with a new coat of paint
Project breakdown:
Skill level: Beginner
Total professional cost: $500 per room; $1,800 for interior of house
Total DIY cost: $200 per room; $500 for interior of house
Overall savings: $300 per room; $1,300 for interior of house
"Painting is always going to be the best DIY project to save money, especially for beginners," DiClerico says. "It doesn't require a ton of tools and materials, the skill level is fairly low, and it can very quickly and easily transform the entire look and feel of a room or even the entire home."
If you do it yourself, DiClerico says it likely wouldn't cost more than $500 for materials to paint your entire house. This total assumes you're starting without a single paintbrush or drop cloth and investing in high-quality paint.
But while choosing DIY can save you money, going it alone could open the door for rookie mistakes, like paint drips, roller marks or an uneven wall, says DiClerico.
To avoid an amateur paint job, he suggests handling surface prep the way a pro would and taking your time. "Painting takes more time than some of us realize," he adds.
2. Add closet organizers to bring order to chaos
Project breakdown:
Skill level: Intermediate
Total professional cost: $1,700 to $4,500
Total DIY cost: $500 to $700
Overall savings: $1,200 to $3,800
Finding that you're spending more time at home these days? It could be the perfect opportunity to do some upgrades, like changing that flickering lightbulb in your bathroom or planning a home office. Now may also be the time to take a better look at your closets if they are overflowing, DiClerico says.
Closet organizers range from store-bought, prefabricated systems that you can assemble at home to fully custom units to store clothing, shoes or accessories.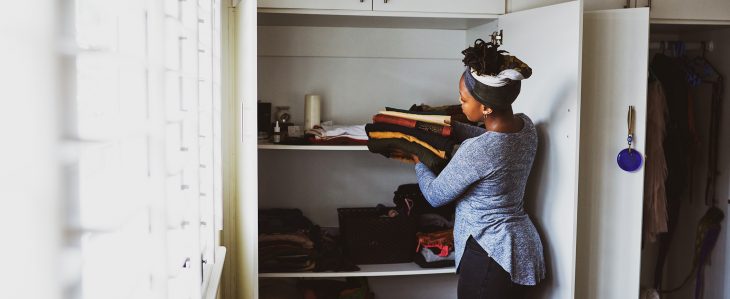 Buying prefab closet organizers and hiring a professional to install them would cost on average about $1,700, DiClerico says, but that cost skyrockets to almost $4,500 for a custom unit. If you go DIY to save money, you're looking at about $500 to $700 per closet for all the materials needed. But keep in mind that this project isn't for beginners.
"This project requires more of an intermediate skill level," DiClerico says. "You certainly need a power drill, a level and more specialized tools. A lot of people may have those handy, but you're still drilling into walls, and you need to be catching studs and making sure that the organizer system is going to hold the weight."
3. Install vinyl or laminate flooring for a new look
Project breakdown:
Skill level: Advanced
Total professional cost: $2,200
Total DIY cost: $1,200
Overall savings: $1,000
Brainstorming more ways to save money around the house? Your next target might be right under your feet. Installing new vinyl or laminate floors is a great way to both refresh the look and increase the value of your home, DiClerico says—especially if your current floor is starting to show wear and tear.
"It's definitely a lot harder than painting a wall, but if you go with a vinyl or a laminate, what we call resilient flooring, they're much easier to install than a hardwood floor or a tile floor," DiClerico says. "If you've got an old, beat-up floor in the house, putting in new floor is going to really improve the look of your home."
To pay a pro to install vinyl or laminate flooring, you're looking at around $2,200. If you want to DIY to save money, it will cost about $1,200, assuming a project area between 200 and 300 square feet (about the size of a large kitchen with an eating area, or a modest-size kitchen plus a couple of bathrooms).
"This project requires knives, saws, adhesives and hand-rollers, and these more specialized tools—like nail sets and a rubber mallet—that the average person is not going to have sitting in their junk drawer or down in the basement," DiClerico says. "It's also probably going to take a couple of weekends because there's a lot of cutting and precise measuring that goes into it."
Whether you pick one of these projects or all three, you'll benefit from serious cost savings, plus the pride that comes from doing a job with your own hands.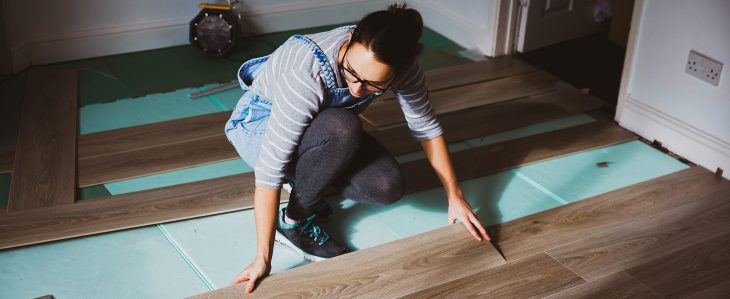 Keep in mind: You don't have to do it all yourself
It's not all or nothing when it comes to tackling DIY projects to save money. Some homeowners opt to share the workload with a professional to keep a lid on costs while ensuring the job's done right, DiClerico says.
For example, say you hire a contractor to install new kitchen cabinets. One way to save money around the house is to tear down the old cabinets before they arrive. Similarly, if you're getting new carpet installed, you could pull up the existing carpet.
This kind of light demolition is perfect if you're a beginner who knows how to prepare for a remodel and are looking for ways to DIY to save money.
But know your limits, DiClerico says. "Steer clear of taking a sledgehammer to that wall between the dining room and the kitchen," he says. "Unless you're an architect, you probably won't be able to tell if it's a load-bearing wall or a non-load-bearing wall, and you could do serious damage to your home's structure if you start knocking down walls without knowing what you're doing."
If collaborating with the pros is the best choice for you and your homeowner budget, DiClerico stresses the importance of communicating your plan with your paid professional before you pick up a single tool.
"Let them know, 'Hey, my budget's kind of tight. Can you work with me? What if I do some of the demo work? What if I take care of the painting?'" he says. "You could negotiate 10% to 20% off the total project cost by doing those parts of the project yourself."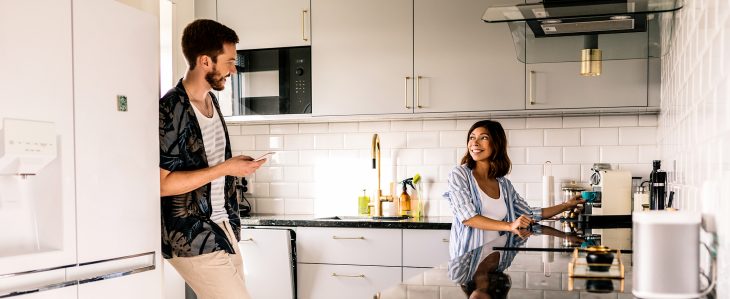 DIY do's and don'ts to save money on home improvements
Whether you don a pair of overalls and do the job yourself as a way to save money around the house or meet a pro halfway, avoid these DIY mistakes to keep from falling into a money pit or putting yourself at risk:
DO: Avoid anything that is unsafe
Whether it's replacing a roof, handling electrical work, cutting down trees or trimming high branches, dangerous tasks or repairs should be left to trained professionals who know how to assess and handle the risks, says NerdWallet's home and mortgage expert Holden Lewis.
"If it's something that scares you, don't try it," Lewis says. Without the proper professional equipment or expertise, you could seriously injure yourself (or others), he adds.
DO: Buy more than you need and measure twice
Before you buy any supplies, think through your project from start to finish, DiClerico suggests. "A lot of mistakes are made in the ordering of materials, so you really, really need to plan the project thoroughly."
Then, order 20% more materials than you expect you'll need, DiClerico adds. Mistakes are inevitable, so this will help you account for potential issues, like accidentally cutting a board too short and needing to do it over. That said, try to remember the old "measure twice, cut once" rule as you work. That can help prevent errors along the way.
DON'T: Overestimate your skill level
When Lewis moved into his home, it came with tile floors. However, upon closer examination, he noticed that something wasn't quite right.
"When you put tile on the ground, you space them with these little cross-shaped pieces of plastic, then you put the mortar down and take the plastic spacers out," Lewis says. "Well, these people never took the spacers out, so we had all these little tiny cross-shaped spacers in between the tiles."
In this case and so many others, details matter when you DIY to save money. While all the other steps were completed, forgetting one step can lead to bigger issues and costly repairs in the future.
DON'T: Skip the instructions, especially if you're a first-time DIYer
For DiClerico's former colleague, this was a lesson learned the hard way while working with an oil-based stain for the first time. He left his oil-soaked rags in a pile while he went to the store. "He came back, and the rags were on fire," DiClerico says.
Had his colleague read the full instructions and done a little research, he would have known that oil-based stains can spontaneously catch fire. "Fortunately, they weren't sitting on his porch and didn't burn his house down, but he very easily could have."
To avoid dangerous mistakes as you complete your DIY project to save money, do your research, read the directions—and reread them. "I wouldn't just watch a couple of tutorials and leave it at that," DiClerico adds. "Everybody makes mistakes but doing as much homework as possible to avoid as many of those mistakes as possible is important."
Ready to improve your home and save some money?
After this crash course in DIY ways to save money around the house, you can confidently (and safely) begin your next home improvement project—without drips, rips or disasters. But remember: Just because you can do it yourself, it doesn't always mean you should.
Now that you have explored these three DIY projects to save money, read up on the home repairs you should never do yourself before starting your next project.