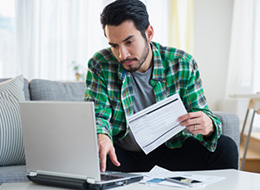 Until recently, people primarily used cash or wrote checks to pay their bills. They'd put checks in an envelope, place a stamp on it and send it away for processing – which could take up to a week. Today, more people are paying their bills online. There are many ways to make payments online, but one of the most convenient ways is to use a payment system through your bank, like bill pay.
Why Use Online Bill Pay?
Online bill pay through your checking account offers benefits you can't get with other payment methods. First, you can set up payments for all of your bills from one place instead of managing your payments on multiple sites. You can keep due dates straight and ensure that everything is paid on time. Other advantages include:
Avoiding overdraft charges – payment won't be sent if the funds aren't available
Seeing all pending payments ahead of time
Protecting your private information instead of entering bank account numbers on other websites
Ability to change the payment date or amount as needed without having to call or access another website
Setting up automatic payments for regular monthly expenses like auto insurance or your cable bill
It's also easier to keep track of your balance with online banking instead of wondering when payments will post or when checks will process and be subtracted from your account.
How to Benefit with Online Bill Pay
Having online bill pay with your bank account is always beneficial, but if you want to take full advantage of all it has to offer, then use it on a regular basis. To get the most out of bill pay, you need to know how to manage your payments.
First, you need the contact information for all the companies you want to send payments to and add them as payees. Many companies are already in the bank's systems to make it easier for you to access the information you need. Most banks can even send out paper checks to payees that do not accept ACH payments. All you need is the name, address and phone number of the payee and your account number.
Schedule the payment for each payee on or before the due date. Make sure you know your bank's policy on when the payment will be received by the payee so that you aren't charged a late fee. If the payment is for the same amount each month, and on the same day, establish a repeating payment so you never have to worry about paying a bill on time.
When you use online bill pay for all of your payees and set up payments automatically, you can spend less time paying bills and managing your budget. You also have a record for all of your payments if there is ever a question or problem.
Paying your bills has never been easier than with online payment services. Choosing to use online bill pay to manage your finances saves time, money and stress because you can monitor your payments and your balance from a single location. With all of the advantages of online bill pay, it's no wonder why writing checks or sending cash in envelopes is becoming a thing of the past.
Discover Bank, Member FDIC