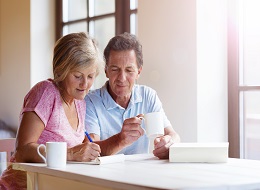 Saving for retirement requires planning and thoughtful consideration. Unfortunately, many individuals make savings oversights at a younger age that affect them as they get older. Here are three miscalculations people sometimes make when saving for retirement.
1. Not understanding how much to save.
According to the 2015 EBRI Retirement Confidence Survey, less than 50% of workers have tried to calculate how much money they need to save for a comfortable retirement. Of those that did, 39% guessed how much they would need rather than using any sort of system to accurately estimate how much they would need.
2. Not saving via an IRA or 401(k).
People give various reasons for why they are not saving for retirement. With any task, the hardest thing is often getting started.
The first task is opening an Individual Retirement Account (IRA) or 401(k). This is because IRAs and 401(k)s have specific tax advantages for saving for retirement.
If you are saving for retirement without using an IRA, 401(k), or similar accounts you are missing out on significant tax savings.
3. Not saving enough money.
The 2015 EBRI Retirement Confidence Survey also cites that 40% of workers think they will need less than $500,000 to live comfortably in retirement. With these low expectations, it is worrisome that the same survey finds that 64% of workers think they are behind in planning.
In reality, retirees wanting to live comfortably should have at least a million dollars saved. According to an estimate by the AARP and Morningstar, for an annual income of $40,000 a year a retiree will need to have saved nearly $1.2 million by the time they retire.
With Americans saving less compared to what they need, many people expect to work a few extra years to make up the difference. In reality though, 50% of retired people report that they retired earlier than they expected. When low savings and an early retirement combine, this results in people not having as much saved up as they had hoped.
These findings mean that many individuals have to rely on Social Security far more than they expected. Gallup's 2015 Social Security survey found that while 36% of workers expect Social Security to be a major source of income, 59% of those who are retired say it is a major source of income — that is a huge difference between expectations and reality.
Educating yourself on how much to save for retirement can't wait. Take the time now to learn about saving for retirement, your future self will thank you.
Discover Bank, Member FDIC