Things to consider when choosing an online bank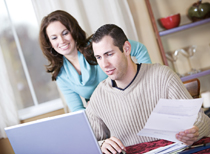 More and more households are using the Internet. In fact, a whopping 88 million households across the country are now online-and about 80% of these online households do their banking on the Internet.
Last year alone, more than two million American households began banking online-bringing the total to 69.7 million households who conduct banking transactions online. Among the benefits of banking online-the ability to make transactions 24/7 and have financial information available when you need it.
Online banks can offer the best deals.
Online banks typically have few or no branches and can offer better rates than the traditional brick-and-mortar banks. Because online banks don't have the overhead costs of big banks with multiple locations, they can pass along their savings to you, offering rates above the national average-and low fees or no fees for many services.
Standard deposit account types (CDs, Money Market Accounts and other savings accounts) can be found through online banks. Consumers are attracted by the security, high yields and FDIC insurance protection offered by online bank deposit accounts, according to financial resource FinWeb.com.
Online banks offer high-tech services.
Online-only banking has become popular with consumers who want convenient banking, a safe place to put their money-and competitive interest rates.
With online banking you can make electronic deposits and withdrawals, pay bills, check account balances, move money between accounts-virtually everything you'd have to stand in line to do at a traditional bank, you can do effortlessly with online banking.
Online banks can provide greater convenience and control:
24/7 account access to your account activity and funds transfer requests
Real-time, customizable account alerts-including alerts when a transaction has been made or you have a low balance
The ability to make online bill payments
Online calculators to help you prodelop and monitor your savings goals
A downloadable archive of past transactions which you can sort by date, payee or other categories
Online bank savings accounts offer high yield and low risk.
If you're interested in competitive interest rates plus FDIC security, consider interest-bearing online bank deposit accounts such as savings, CDs and Money Market Accounts. Some of the best interest rates are often found through online bank sites, rather than through traditional banks.
It's important to note that the FDIC's expanded insurance for deposits is currently $250,000 per depositor per deposit category. On January 1, 2014, without certain retirement accounts, the standard insurance amount will return to $100,000 per depositor, according to the FDIC.gov Web site.
Online banks offer cutting-edge security.
One of the biggest concerns for first-time online customers is safety. The safest online banks have sophisticated Web sites with multiple safeguards and firewalls, intrusion-detection monitoring and fraud alerts.
Web browsers use Secure Socket Layer (SSL) protocol for secure transmissions. SSL encryption uses different encryption and decryption keys the more number of bits in the key the stronger the encryption. The highest Internet standard uses 128-bit encryption of your personal information and online transactions.
Online financial transactions can actually be safer than paper because information is encrypted, according to research by Javelin Strategy & Research. Thieves more commonly obtain personal data through low-tech methods like "dumpster diving" and stolen physical property.
Compare online banking ratings, services and fees.
Many online sites, such as Bankrate, FiLife, MyBankTracker and the Gomez Internet Banker Scorecard let you compare a bank's online performance, fees, functionality, ease of use, services and resources, and security. You can also click on the Bank Find feature at the FDIC.gov Web site to find out specific information about a bank.
When comparing online banks, find out what charges there may be for check writing, customer service calls, a low balance penalty, bill pay fees, overdrafts, ATM surcharges, transfers to outside banks and monthly maintenance fee.
Some other factors to consider when searching for an online bank:
When you're checking out top online banks, there are a few more things to consider, beyond finding the best annual percentage yield (APY) and low fee or no fee services:
The best online experience, user-friendly functionality and ability to link accounts
The full range of products offered (checking, savings, CDs, Money Market Accounts, IRAs, loans, etc.)
Terms, conditions and minimum balances are for each type of account
Easy access to your money (debit card, ACH transfer, check writing,
number of ATM locations)
Customer service support
Discover believes that consumers should be armed with the information they need to help them make informed financial decisions.
Discover Bank has been FDIC insured since January 1, 1934. We're ranked among Bankrate.com's Top Tier for consistently high yields. Find out more.
TIP: American consumers could earn $30-$50 billion in additional interest each year by shifting the more than $1 trillion they now keep in low-yielding savings accounts into higher-rate savings vehicles that are just as safe, according to the Consumer Federation of America.
Legal Disclaimer: The articles and information provided herein are for informational purposes only and are not intended as a substitute for professional advice.
The Federal Deposit Insurance Corporation (FDIC) is an independent agency of the United States government. The FDIC protects depositors against the loss of insured deposits if an FDIC-insured bank fails. The FDIC insures deposits at FDIC member banks, including checking, NOW and savings accounts, Money Market Accounts and certificates of deposit (CDs), up to the applicable limits. FDIC deposit insurance has temporarily increased from $100,000 to $250,000 per depositor, per deposit category, through December 31, 2013.
Back to Saving Solutions
Back to Top