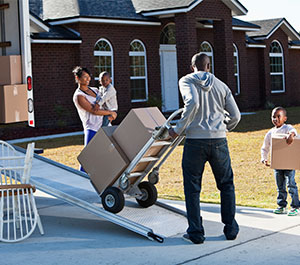 Do you foresee a move in your not-so-distant future? If so, you'll need to start thinking about your budget now. Without a plan for spending, a move can be a pain in the neck—and the wallet.
Finding ways to save money when you are moving is no easy task, but it's doable if you know where to start. Before you begin packing up boxes, check out these expert tips for moving on a budget:
1. Declutter and donate
When looking for ways to save money on your move, start by asking yourself what you can get rid of. Fewer shoes in the closet means fewer shoes to relocate.
Rob Caiello, vice president of marketing at Atlanta-based Allconnect.com, a one-stop shop for setting up home utilities, says one of the best ways to de-stress during a move is by tossing or donating items you don't need or use anymore.
"Take the time to go room by room and evaluate the items you absolutely need, versus those you can live without," Caiello says.
Decluttering before it's time to pack not only trims down your moving load, but it also offers another potential benefit—a tax deduction.
The IRS allows you to deduct charitable donations worth up to 50 percent of your adjusted gross income when contributing to most nonprofits. Just remember to get a receipt from the organization to which you're donating to show what you've given.
2. Get packing materials on the cheap
You can't live without boxes, packing tape and packaging material during a move, but you don't have to spend big bucks on them. Getting boxes for free is a relatively simple way to save money when you are moving.
Oksana Tunikova, content manager with San Francisco-based Rentberry, which connects landlords and tenants seeking long-term rentals, says to search online for packing supplies to save money when you are moving.
"You can use websites like The Freecycle Network or U-Haul Box Exchange to get some used boxes for free or low cost," Tunikova says. You can also give UsedCardboardBoxes.com a try.
Craigslist and local Facebook bargain groups are also good places to scout out free boxes, in addition to the usual spots like grocery or liquor stores.
Tunikova reminds movers to look for supplies at home whenever possible as a way to save money on your move.
"Remember that your clothes, pillows or zip-top bags can do the same job as professional packing materials at no cost," she says.
Another tip for moving on a budget is to use food storage containers for packing smaller items or breakables and stowing clothing in suitcases or laundry baskets. The more creative you can get about using things around the house, the less you'll have to spend on boxes.
3. Run the numbers on professional movers
Hiring a moving company removes the burden of getting your stuff from Point A to Point B, but it can put a strain on your wallet. Understanding the costs is one of the most important tips for moving on a budget.
Caiello reminds movers to compare all of their options when it comes to hiring professionals.
"Most moving companies offer free quotes based on the criteria of your move, so be sure to get at least four quotes before picking a mover."
One important caveat if you need to save money when you are moving and you're thinking of hiring pros: "Verify whether the movers are paid by the hour or based on your load," Caiello says.
If you have few things to move or you're only going a short distance, hourly movers may be cost-effective and a simple way to save money on your move. On the other hand, paying a flat rate based on the load might make sense if you have a lot of items or the move is long distance. Bonus: If you go with the pros, ask if they offer any freebies like packing tape, boxes or other moving materials.
4. Run the numbers on moving yourself
If you're going to do the heavy lifting yourself, you still need to be mindful of finding ways to save money on your move.
"Most people assume renting a truck is the cheapest way to move, but there are plenty of scenarios where that's not the case," says Ryan Carrigan, co-founder of moveBuddha, a moving quote comparison site based in Athens, Georgia.
For example, if you're renting a truck, do you know how much space you need? Opt for too small a truck and you may spend more on gas if you have to make several trips. Go too big and you're paying for space you don't need.
A storage unit is another cost to consider if you need to park your belongings temporarily before moving into your new place. If you're plotting a cross-country move, you'll also have to determine if you need to ship certain items, which could increase your moving budget.
Carrigan offers another way to save money on your move: Shop around.
"Most truck rental and storage companies have price matching policies, so it's always worth price hunting," he says.
5. Check your calendar
One thing that can significantly affect the cost of a move is when you schedule it.
Carrigan says moving between October and April is typically 20 to 30 percent cheaper compared to the summer months, when moving season is in full swing. The time of month you decide to move also matters if you're renting a truck or hiring movers.
"Since most rental leases roll over at the end of the month, moving mid-month could get you a cheaper rate," Carrigan says. Movers tend to have fewer reservations at this time, versus the beginning or end of the month, so you may be able to score a deal on your rate and save money when you are moving.
Rates also tend to be higher on the weekend, which makes booking a move during the week more appealing for the budget if your schedule is flexible.
Tunikova says being an early bird is another way to save money when you are moving, while also helping to avoid last-minute panic.
"Start a month or two ahead with decluttering and calculating your moving budget," she says. "Then, you can move on to transferring your utilities, packing your essentials and booking a moving company or rental truck."
Keep it simple
There's a lot that goes into the moving process, but finding ways to save money on your move doesn't have to be a time-consuming chore. Some common sense—and a little creativity—may be all that's required. These tips for moving on a budget are designed to help you keep more money in your pocket and your sanity intact during the transition.
Discover Bank, Member FDIC