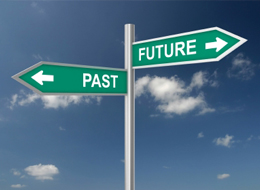 Whether you're planning to retire in a couple years or a couple decades, the one plan you should consider right now is a tax-deferred Individual Retirement Account (IRA). And for many retirement savers, a Discover IRA Certificate of Deposit (CD) may be just the right solution. An IRA is vital to your financial future – a form of "retirement insurance." Financial planners believe you should start contributing to an IRA as early as possible in your career, then maximize your contributions each year. Discover IRA CDs make that easy to do. For example, you can rollover assets to a Discover IRA CD from an old workplace retirement account or another IRA. You also have your choice of contributing to either a Traditional IRA or Roth IRA.
If your company offers a retirement plan like a 401(k), you should contribute as much as possible to that as well to take advantage of any matching funds.
It's Never Too Late To Start Saving
First, decide at what age you'd like to retire – then determine how much money you'll need each month to maintain your lifestyle. Online IRA savings calculators can help you figure out how much money you'll need to live comfortably. Then, just start saving! The easiest way is to have money taken out of your paycheck or bank account and deposited directly into your company's 401(k) plan and/or into an IRA CD. You can open a Discover IRA CD with as little as $2,500; we offer flexible terms ranging from 3 months to 10 years, and all deposits are FDIC-insured to the maximum amount allowed by law.
There are two types of IRA CDs: Traditional and Roth. Which one you select depends on your age, income and if you're enrolled in your employer's plan.
Traditional IRA CDs
There are two major advantages to a Traditional IRA. First, it's funded with pre-tax dollars to reduce your overall taxable income, in other words, you pay fewer taxes today. Second, the funds in your Traditional IRA grow tax-free until you withdraw them. You can begin withdrawing funds without penalty at age 59. If you withdraw funds before then, you may be subject to a 10% tax penalty on the withdrawn amount.
After age 70, you are subject to the Required Minimum Distribution (RMD) rule, and you must start withdrawing funds from your traditional IRA.
How much you can contribute
If you are under the age of 70, and your annual adjusted gross income (AGI) is less than $60,000 if you're single (or $96,000 or less if you're married and filing jointly), every year you can invest up to $5,500 into a Traditional IRA (up to $6,500 if you're age 50 or older).If your employer does not offer a Traditional IRA, you may contribute up to $5,500 each tax year (up to $6,500 if you're age 50 or older), regardless of your income. In either situation, consider the benefits of opening a Discover Traditional IRA CD.
Roth IRA CDs
Unlike a Traditional IRA, a Roth IRA is funded with after-tax income. And under current IRS rules, your contributions grow tax-free forever. Many financial planners counsel their clients to open a Roth IRA if they expect clients to fall within the same tax rate after they retire or when they are ready to make withdrawals.
One advantage of a Roth IRA is that that you're allowed to withdraw earnings from your account tax-free if you are 59 or older and have held the account for at least five years. If you withdraw funds before you're 59, your earnings may be subject to income tax and a 10% penalty. Another benefit long-term investors enjoy is that Roth IRAs do not have the Required Minimum Distribution (RMD) rule that Traditional IRAs do. You are not required to withdraw earnings after age 70-you can let your account grow tax-free. That's why many people find a Discover Roth IRA CD so attractive.
How much you can contribute
You can open a Roth IRA CD as long as your earned income – not income from dividends, royalties or capital gains – are within the IRS-specified amounts. For example, if your 2015 income was between $118,000 and $131,000 as an individual (or between $183,000 and $193,000 if you're married and filing jointly), you can contribute up to $5,500 to a Roth IRA (up to $6,500 if you're age 50 or over).
If you're single and your income is below the $114,000 threshold, you're allowed the maximum contribution. If you're married and filing jointly and your income is below the $181,000 threshold, you and your spouse are each entitled to the maximum allowable contribution.
Roth IRA Conversions
Current tax law allows you to convert a Traditional IRA to a Roth IRA regardless of your income and tax-filing status. While you'll have to pay income tax when you convert your tax-deductible, tax-deferred Traditional IRA to a Roth IRA, the assets in your new Roth IRA will then grow tax-free forever.
As you can see, Discover's IRA CDs offer a wide range of potential advantages for retirement saving, regardless of your current time frame or tax priorities. Thanks to their competitive rates, guaranteed returns, flexibility, and tax-advantaged benefits, Discover IRA CDs may provide one of the most convenient routes to future financial security.
Discover
In addition to offering IRA CDs to help you grow your retirement savings, Discover also offers an Online Savings Account to help you with your short-term savings goals and a full range of CDs to help you save for the future. Open an account online in minutes or call our 24-hour U.S.-based Customer Service at 1-800-347-7000.
The article and information provided herein are for informational purposes only and are not intended as a substitute for professional advice. Please consult your tax advisor with respect to information contained in this article and how it relates to you.
Discover Bank, Member FDIC