6 Ideas for Budget-Friendly Summer Fun
Beat the heat—and the boredom—with unique and frugal summer fun for the whole family.
Welcome summer! Kids are ready to jump in the pool, play outside (and sleep in!), while parents are eager for barbecue dinners and easy-going evenings on the patio. Taking advantage of warm temperatures, outdoor activities and time together as a family may seem affordable, but what happens a week later when the boredom sets in and concerts, amusement parks and road trips are the main requests? Summer can be a respite, but also a financial conundrum if you're trying to find inexpensive summer activities to keep your family entertained.
According to a NerdWallet and Harris Poll survey, families tend to ramp up spending when warm weather hits. Parents of kids ages 3 to 17 plan to spend an average of $471 per child on summer activities (think summer camp, youth sports and movies). The majority of parents with children younger than 18—more than 80 percent—also plan to take a summer vacation, spending an average of $2,256. But you don't have to be part of these statistics to enjoy summer. Instead, utilize some budget-friendly summer activities without the spend.
Whether you have little kids, big kids or some adult time to spend, you might be asking, "What are some budget-friendly summer activities for the family?" Here are six ideas:
Parents of kids ages 3 to 17 plan to spend an average of $471 per child on summer activities.
1. Turn passions into summer projects
Let's face it, when it comes to summer and kids, free time can eventually turn into boredom. For budget-friendly summer activities, try positioning summertime as an opportunity to pursue different, out-of-the-box interests, hobbies or projects that there isn't time for during the school year.
"Help your kid identify a passion project for the summer," says Cherie Lowe, personal finance author, blogger and creator of the site Queen of Free. For example, a child who loves history at school might enjoy building a medieval castle from cardboard recycling as a budget-friendly summer activity. For budding artists, try mimicking the masters in an outdoor window painting contest at your home. Bonus: Once the masterpiece is complete, you can have fun washing off the paint and get sparkling clean windows in the process!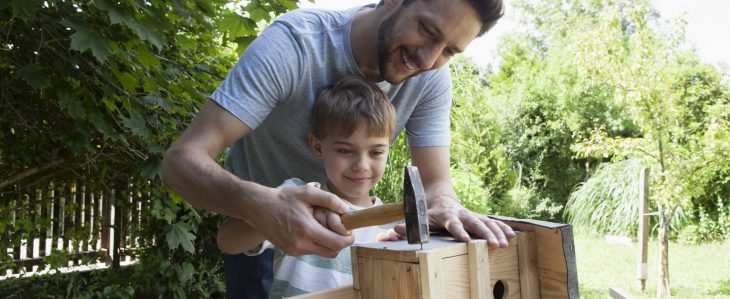 To get ideas for a project that can bring budget-friendly summer fun, Lowe suggests looking for library books, finding online videos, using social media or talking to friends who could be subject matter experts on a chosen area of interest.
If it's super hot and your family has a passion for water and DIY projects, look for water-based inexpensive summer activities to cool down. One fun example: "Build your own sprinkler," Lowe says. "For about $10 you can buy PVC pipe to construct an elaborate sprinkler for the backyard. We've done this and added to it each year," Lowe says.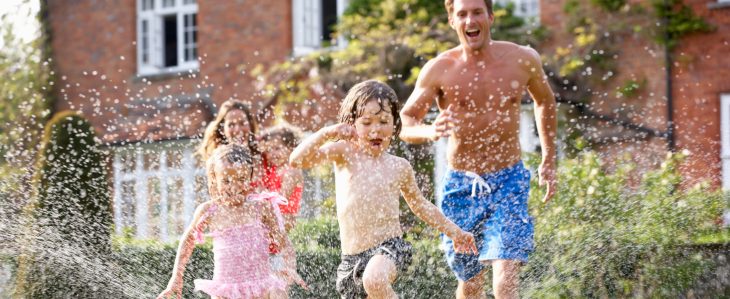 2. Tap into area parks
Sunshine and warm weather encourage people of all ages to get outdoors, and as Kumiko Love of frugal living lifestyle site The Budget Mom points out, local parks are an excellent resource for free or inexpensive summer activities. They also might be closer and more convenient than larger state or national parks. "Make sure to give your city parks department a call to see what events are happening near you," Love says. Park websites also list events and activities.
To take advantage of what your local parks have to offer—from festivals to races to aquatics—create a "parks plan" to guide your budget-friendly summer fun, says Queen of Free's Lowe. "Set up a bucket list of parks you'd like to play at this summer within a 30-minute drive. Check each park off of your list as you go."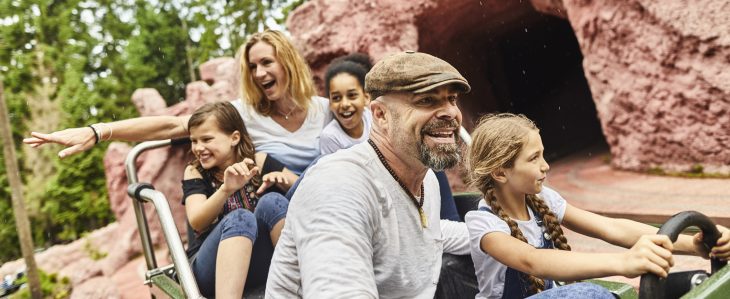 To avoid budget-busting food on your park visits, pack a cooler, says Kristin Larsen, personal finance blogger and owner of money management site Believe in a Budget. "Many facilities have public grills, picnic tables and bathrooms, so it's easy to spend an entire day out with the family for a low cost," Larsen says.
If a park does have a cost associated with it, look for discounts on admission. Some offer free admission days, and you may be able to score deals based on the age of your children.
3. Host themed potlucks with family and friends
Yours isn't the only family trying to come up with budget-friendly summer fun. You might be tempted to eat out more during the summer months, but this could be a good season to cut down on restaurants and be a frugal foodie.
Enter the potluck: Planning communal outdoor gatherings with neighbors, friends and family and sharing in food and games can be an inexpensive summer activity that takes the place of eating at expensive restaurants or going to an event that costs money to socialize.
"We have a small group of families that meets together every Friday night during the summer," Lowe says. "We share a meal, and the kids both older and younger play while the adults discuss a book or play games."
Make your summer potluck dinners even more memorable by planning them around free neighborhood events, celebrations or recreational backyard sports tournaments. You could also create theme nights such as "eating around the world," where everyone brings dishes from different countries.
"We have a small group of families that meets together every Friday night during the summer. We share a meal, and the kids both older and younger play while the adults discuss a book or play games."
4. Have fun with a cause
Summer doesn't have to be about self-entertainment. Families can also find gratification and budget-friendly summer fun by volunteering their time. Choose a cause or activity that suits your family's interests, ages and lifestyle. For example, nonprofit building or renovation projects or volunteering at a community garden can be inspiring, memorable and skill-building.
"One of the things that my son and I do is volunteer at the local animal shelter," says Love, The Budget Mom. "Nothing brings you more happiness than being around a pup in need. We always leave with smiles on our faces and more memories to cherish as mother and son."
5. Build healthy habits with fitness experiences
Families with children of all ages can enjoy budget-friendly summer activities and get fit at the same time. Choose outdoor sports and physical fitness routines that don't require a big investment in equipment, such as participating in group hikes on local trails, exploring new neighborhoods with self-guided walking tours or starting a family exercise tradition, like running a local 5K.
Queen of Free's Lowe and her daughter started running together during the summer of 2018. "In 2018 we ran 200 miles during the months of June and July," Lowe says. "This made us be intentional about exercising almost every day of the summer." Another perk, says Lowe, "other than our shoes—and [the enrollment fee for] a 5k or two—we didn't spend any money, just time together—which is more valuable."
6. Save with summer movie plans
When thinking of inexpensive summer activities, don't forget to include some quiet ideas for days when the weather doesn't cooperate, or when you're tired after a long day outdoors. Movies can make a great budget-friendly summer activity, and taking advantage of summer specials to save on ticket prices and concession-stand items can make it more cost-effective.
Another way to have budget-friendly summer fun is to look for free movie showings. "Movies in the park are a great, free way for a family to see a movie in their local neighborhood or community," Larsen says. Check your local social media community events pages or local city or regional websites for information—and don't forget to pack a blanket, snacks and bug spray.
Don't bust your budget for summer family fun
Summer activities don't need to cost an arm and a leg to be boredom-busting, fun or educational, but in the carefree days of summer, it's easy to spend money you weren't planning on. Instead of pulling out your wallet to cover last-minute summer fun, plan ahead. With these ideas—and a little imagination—you can schedule a whole season of budget-friendly summer fun that will best suit you and your family.