Your Retirement: Setting Long-Term Savings Goals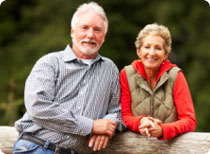 You've worked for more than 20 years and you're looking to retire in the next 20, but you're worried about the struggling economy, fluctuating stock market and your shrinking investments-especially your 401(k). What should you do? Financial planners caution there's one thing you shouldn't do: Pull money out of your tax-deferred retirement accounts.
Financial experts say taking money out of tax-deferred retirement accounts like a 401(k) or an Individual Retirement Account (IRA) will cost you dearly—both in taxes and other penalties. But they also say enough people are doing it to make it a frightening trend.
"More workers who are 45 and older have stopped putting money into 401(k)s and IRAs and are making withdrawals, which is extremely concerning," says Laura Mattia, CFP, a wealth management principal with Baron Financial Group in Fairlawn, NJ. "At 45, you're not planning to access that cash for another 20 to 25 years. If you take the money out now, you don't give the market a chance to rebound, and you'll lose a significant part of your investment."
So, what should you do? Continue to contribute to your tax-deductible retirement accounts. If you're uncomfortable with stocks and mutual funds, consider buying certificates of deposit (CDs) in an IRA account.
How Much Should You Save For Your Retirement? Check Discover Bank's IRA Calculator
Workers often use tools like calculators like Discover Bank's IRA Calculator to determine how much money they need to save to live a comfortable retirement. Especially in light of the changing economy, you may find it valuable to update your long term savings goals.
Most workers have experienced a setback in their retirement plans, due to the wild swings in the stock market. Going forward, you may have to save a larger percentage of your income to help achieve your original goals. Planners say your age will be the biggest factor in determining what your new retirement savings goals should be, and how much you need to put away.
"If you're just starting to save and you're in your 40s, you'll need to save 15 percent of your annual income," says Brent Kessel, CFP, author of "It's Not About the Money" and co-founder of Abacus Wealth Partners. "And if you're in your 50s and just starting to save for retirement, start saving 20 percent of your annual income."
"At 45, 50 and 55, the essence is figuring out what they want to achieve," Mattia says. "We're not telling them to change their goals, but they might need to plan differently to reach them."
It's Never Too Late To Start Saving
Mattia asks her clients two things: at what age they want to retire and how much spending money they anticipate needing each month to live. Then she works with clients to create a plan to meet those goals, or helps clients adjust them in case they are not realistic.
"Their goal may be to retire at 60 and have $8,000 a month to spend," Mattia says. "I [try to] find out if 60 is a hard number. How about 62 or 64? Then I'll ask if they really need $8,000 in spending. Usually there's a range they're willing to work within."
Besides cutting back on spending, the easiest way to reach these goals is to have money taken out of your paycheck or checking account and deposit it automatically into your company's 401(k), a Roth IRA or an FDIC-insured high yield deposit account.
Discover Bank's AutoSavers Plan makes it possible to deposit money into a high yield money market account weekly, bi-weekly, or monthly to put you on the right track toward saving.
Where You Should Put Your Retirement Funds
While you'll probably want to have at least some of your money in the stock market, you may want to put a large portion in FDIC-insured assets at a bank, such as CDs, money market accounts and IRAs. These are extremely safe investments that generally offer good returns.
Currently, the FDIC insures up to $250,000 per person, per bank, per deposit category. (But certain assets held in an IRA will be insured up to $500,000 per person.) For current insurance limits on savings accounts, money market accounts, IRAs and CDs, check out www.fdic.gov.
If you're looking to add CDs to your portfolio, Discover Bank offers CDs in a wide variety of term lengths, from three months to 10 years. With a fixed-rate CD, you won't have to worry about how your investment is performing.
Life Changes May Reset Your Long Term Retirement Goals
You may find that the amount of money you need for retirement has increased and so you may need to find a way to earn more income or delay your retirement until you're eligible for other benefits, such as Medicare. Don't worry—you'll have plenty of company.
"People are working longer," Kessel says, "but not just for financial reasons. We've seen that people get depressed if they don't contribute to society in some way. The best thing to do is find a post-retirement career—a job that will make you happy even into your 80's—be it selling real estate part-time or working at your local beach club."
When it comes to saving for retirement, Discover Bank offers IRA CDs, both traditional and Roth. Many of these accounts can be opened online at DiscoverBank.com or by calling toll-free via 24-hour Customer Service at 1-800-347-7000.
Back to Saving Solutions
Back to Top