What are high yield CD and money market accounts?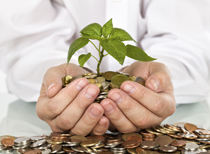 Learn the basics of CD and Money Market Accounts
Lately, anyone who's been watching the stock market or reading the headlines may be asking themselves, "So where's the safest place for me to save my money?"
Stashing your cash in your Serta mattress may seem like the simplest and safest solution. But the money in your mattress isn't protected by the Federal Deposit Insurance Corporation1
(FDIC)-the way that bank deposit accounts are.
FDIC-insured bank deposit accounts are a safe way to protect your assets-while you grow your savings. And there are some great rates and high-yield accounts out there to help maximize your savings.
Whether your financial strategy is primarily a savings account you opened in high school-or you're rebalancing a high-risk portfolio-FDIC insured bank deposit accounts can be an important part of your overall financial savings planning. What types of bank accounts are FDIC insured?
There are 4 types of bank deposit accounts.
If you're looking for low risk and high yield investments, checking, savings, Money market deposit accounts and CDs are popular types of FDIC-insured bank deposit accounts.
These bank deposit accounts are insured for up to $250,0002 for each depositor per institution.
Non-FDIC insured investment accounts include mutual funds, annuities, life insurance policies, stocks and bonds. These investments have generally higher risk than traditional deposit products-which means you could lose some of the money you invested or not gain as much profit as you expected, states the FDIC.
First, start with a goal in mind.
Have an investment strategy
It's important to have a clear understanding of what you are saving for. The shorter your investment horizon, the more liquid the investment should be.
Will you need ready access to your funds and move funds quickly? Then a shorter term CD may suit you best. Consider a 6-month CD or 12-month bank CD that you can quickly convert to cash.
If you're saving for a car or that dream vacation, you may want to leave these funds untouched for a few years. In that case, putting your money in a 2-year certificate of deposit makes sense.
If you're able to lock in your money for a longer time-a 5-year bank CD with a higher yield and longer term may suit you best.
If your goal is to save for retirement consider a longer term CD offering the highest interest rate, such as a 7-year CD or a 10-year IRA retirement CD. You can find high yield investments for both Roth IRA CDs as well as Traditional IRA CDs.
Your investment strategy will depend on your goal, the length of time you hold your investments and where you put your money. Once you are clear on what you're saving for and how soon you will need your money, you'll have a better idea of what types of investments are best for you.
Figure out how much you need to save to reach your goal and how much you can save each month toward that amount. "Laddering" your CDs can help you optimize both cash liquidity and interest. For example, you may consider putting part of your funds in a 6-month CD, another amount in 12-month CD, a 2-year CD, 3-year CD, 4-year CD and finally a 5-year CD. In effect, laddering your investment from short to long term. As time goes by and your CDs mature, you then reinvest them in a longer-term, high yield CD.
Understand the basics of Money Market Accounts
Higher rates for higher balances
According to Bankaholic.com, "Money Market Accounts are great ways to invest money for the short-term. If you need a quick turnaround, these are stable ways to secure a return on your investment."
Money Market Accounts (not to be confused with money market funds) are simple, flexible and secure. Most money market accounts provide higher interest rates than a savings account-with greater access to your funds than a CD.
Money Market Accounts will earn about twice the interest of a savings account, according to Bankrate.com4. A minimum balance is usually required, which may be more than a savings account requires.
A Money Market Account works like a checking account with a variable rate. When you need cash, you can quickly transfer funds without penalty. You can access your money using a bank debit card, check, wire transfer, online transfer of funds-and even arrange free bill payment from your money market account.
You can deposit money as you're able and can also set up automatic transfers to your money market account from a checking or savings account.
If you only need to dip into your account a few times a month, a Money Market Account with a competitive rate may be the best investment for you.
Money Market Accounts are a simple way to save. Best of all, there's no market risk-the money you deposit will never decrease in value.
Know how Certificate of Deposits (CDs) work
Rates increase as the term length increases
A CD is a low-risk bank deposit account with fixed interest rates that increase the longer the term of the CD. You purchase a CD for a specified length of time-from three months to several years-and the bank guarantees you a fixed return. These returns are usually substantially more than what you could earn with a checking or savings account.
The bank pays you interest periodically and when you redeem your CD you receive your principal plus accrued interest. If you need a dependable return on your money, but don't need to tap into your money for a specific period of time, consider a certificate of deposit.
Make sure you understand the terms-and the penalties for withdrawing your money before the CD maturity date.
Look for the best bank ratings
Find a safe haven for your money
In addition to looking at the low risk and high returns of bank deposit accounts, check out the bank rating. Moody's, S&P and Bankrate.com offer ratings of a bank's financial strength and performance. Look for the best bank rating available (AAA rated or 5 star), which indicates a strong bank that's a safe haven for your money.
Now that you have a basic understanding of two types of FDIC-insured bank deposit accounts, you're ready to put your money to work for you in a high yield deposit account with a top rated bank.
Money Market and CD bank deposit accounts are a very simple-and very secure way-to save. Be sure you know the different types of accounts available, the pros and cons of each type, how easily you can access your funds in case you have cash flow problems (the liquidity), and the terms and fees involved.
Some other questions to consider when shopping for Money Market or CD accounts:
What types of bank deposits accounts are offered?
Where can I get the best rates?
How long do I want to invest this money?
What are the transaction limits?
When is the interest credited?
What are the terms?
What services are offered?
What is the minimum investment/balance?
How easy is it for me to bank there?
Discover believes that consumers should be armed with the information they need to help them make informed financial decisions.
Learn more about Discover Bank FDIC insured online bank deposit accounts, including high yield CD and Money Market Accounts.
TIP: Most people who open a financial account online are having that experience for the very first time. If you're just starting out, get information on how to budget in tough times and find helpful tips on saving for today, tomorrow and beyond.
TIP: FDIC-insured deposit accounts include: Checking and Money Market Accounts, savings accounts including passbook accounts and Certificates of Deposit (CDs).
Non FDIC insured investments include mutual funds (stock, bond or money market mutual funds), annuities, stocks, bonds and Treasury securities. Source: FDIC.gov
Legal Disclaimer: The articles and information provided herein are for informational purposes only and are not intended as a substitute for professional advice.
Back to Saving Solutions
Back to Top