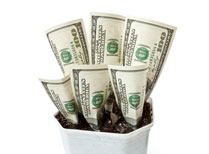 With today's uncertain economy and erratic stock market, many savers are flocking to open Money Market Accounts. FDIC insurance is one big reason why. Money Market Accounts are eligible for FDIC insurance to the maximum allowed by law – protection not available for stocks, bonds or Money Market Mutual Funds
What sets Discover Money Market Accounts apart from the competition? Highly competitive rates for starters. Discover Money Market Accounts also offer easy access via checks, online banking, or with a debit card at over 60,000 ATMS, through the Allpoint® and MoneyPass® networks1. You can open your Discover Money Market account with as little as $2,500, and your savings are always FDIC insured up to the maximum amount allowed by law.
The basics of Money Market Accounts
Money Market Accounts (not to be confused with Money Market funds, which are not FDIC insured and are subject to market fluctuations) are simple, flexible and secure. Because they fill a niche between a standard savings account and a Certificate of Deposit (CD), Money Market Accounts give you the best of both worlds by offering high yields with greater access to your money. As a result, Money Market Accounts can be attractive to consumers who only need to dip into their reserves a couple times a month. They're also an excellent place to set aside money for an emergency fund.
When you need cash, you can quickly transfer funds online, though typically you are limited to a certain number of transactions each month1. With Discover's Money Market Account, you can access your funds by check, debit card, online or ATM (subject to certain monthly transaction limits1). You can even arrange for no-fee online ACH transfers and bill pay from your account. You can also make automatic ACH transfers to your account from a checking or savings account.
A safe haven for your money
Finding the best place to save is just as important as finding the best interest rates. Moody's, Bankrate.com and S&P assess the financial strength and performance of hundreds of banks. Look for the best bank rating available (AAA-rated or 5-star), which indicates a secure place for your money.
When considering opening a new account, always ask:
Where can I get the best money market rates?
How many transactions can I make each month?
When is the interest credited?
What are the terms and fees?
What services are offered?
What is the minimum opening deposit and minimum balance required?
Discover
At Discover, we're confident that a Discover Money Market Account will provide you with the best answer to each of the questions above. You should also check out our full range of Discover CDs available online to help you save for the future, as well as our Online Savings Account which can help you with your short term goals. With Discover's wide array of diverse and competitive accounts, you'll find saving solutions you need right here. Open an account online in minutes or call our 24-hour U.S-based Customer Service at 1-800-347-7000.
Discover Bank, Member FDIC
The article and information provided herein are for informational purposes only and are not intended as a substitute for professional advice.
 1Federal law limits the number of certain types of withdrawals and transfers from a Money Market Account to a combined total of six per calendar month per account. There is no limit on the number of withdrawals by ATM or by Official Check mailed to you. If you exceed these transaction limitations during any calendar month we may assess an Excessive Withdrawal Fee or refuse to pay each transaction in excess of the limitations. If you exceed these limits on more than an occasional basis, we reserve the right to close your account.