Money Market Deposit Account Basics:
A Good Way to Save Today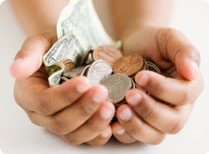 Safe, secure and conservative, money market accounts (MMAs) are proving to be an investment bright spot that can help you save more confidently in today's volatile economy, say financial experts.
"With a sinking and volatile stock market, you're seeing many consumers flock to money market deposit accounts," says David Barr, a spokesman for the Federal Deposit Insurance Corp. in Washington. This is largely due to FDIC insurance currently covering depositors up to $250,000. That is a protection that is not generally available to holders of stocks, bonds or money market mutual funds.
"If you are now afraid of the stock market, and you don't have the money to lose, a money market deposit account is what you should consider," says Deborah Pavelka, a professor of accounting at Roosevelt University in Chicago.
Discover Money Market Accounts: Learn How They Fit into Your Financial World
In general, MMAs restrict the number of withdrawals, experts explain. "But what they don't have is the maturity date of a [certificate of deposit]," Barr adds.
An MMA, when linked to a checking account at your current bank, can help you earn more interest on funds that would normally sit in low- or no-interest checking accounts. When you need cash in your checking account, you can transfer from one account to the other. If you're banking online, transferring funds is as easy as logging in online.
Because they fill a niche between a standard savings deposit account and a certificate of deposit (CD), most MMAs offer interest rates that are slightly higher than a savings account but with greater access to your funds than a CD would offer.
"So you have a product that offers a higher interest rate than a savings account but more flexibility than a CD," Barr says.
As a result, an MMA can be extremely attractive to those consumers who may only need to dip into their reserves a couple times a month, experts add. Overall, it is a simple and secure way to invest your funds.
Discover Money Market Accounts: The Best Account for You
"The deposit rates today [on MMAs] are very competitive," Barr says.
Some of the best rates are available from online banks that pass on savings to customers from their smaller brick-and-mortar operations. Many online money market accounts also offer perks, such as check-writing privileges, debit cards and fewer fees, Pavelka says.
Discover Bank offers interest rates that are consistently above the national average, with fee-free higher rates for higher balances and daily (versus monthly) compounding. Discover Bank also allows fee-free ACH transfers, automatic bill pay, ATM withdrawals, the option to have a debit card and even person-to-person transfers.
"A money market deposit account can serve as a holding tank for your money while you wait for the stock market to stabilize," Pavelka says. "But depending on the perks, a money market deposit account can also serve as your primary checking account."
Discover Money Market Accounts: Rely on FDIC Insurance Protection
MMAs offer the advantage of FDIC insurance, Barr says. With the passing of federal bailout legislation by Congress in fall 2008, individual MMAs are now protected up to $250,000 while joint accounts are covered to twice that amount.

"These accounts can offer significant insurance levels and my suggestion is that consumers visit the FDIC Web site (www.fdic.gov) to see how much protection can be available for joint accounts," Pavelka says. The site provides consumers with the most current FDIC insurance limits and demonstrates how joint accounts and accounts with named beneficiaries enjoy higher coverage levels.
Discover Money Market Accounts: Choose Great Interest Rates, Easy Access To Your Funds and Low or No Fees
While some consumers may be driven to the best rates an MMA offers, others may be interested in convenience, such as a variety of withdrawal methods and live customer service. Barr advises, "Also, look for any fees that may be attached to a money market deposit account."
Discover Bank offers a convenient online application as well as 24-hour Customer Service to allow you to open an account in minutes. (Call toll-free 1-800-347-7000 for assistance.)
Back to Saving Solutions
Back to Top