Top 3 reasons to refinance

You see advertisements urging you to refinance or you hear friends talking about the great deal they got. Should you refinance? Homeowners in general have three main reasons to make this decision.
1.  Refinance to Reduce Monthly Payments
Talk with your mortgage lender about your goals and situation. In general, if rates have declined and the reduced payment from the lower rate offsets the costs of refinancing within three years, it is beneficial for you.
Shop around to make sure your current mortgage lender's offer is competitive and that you get the lowest qualifying rate you are eligible for. Compare fees and closing costs, as they can vary widely among lenders. These include such things as origination fees, application fees, appraisal fees, title search and discount points charged to buy down the rate.
You may be able to find what is described as a "no-cost refinance," which is a loan that does not charge you these fees or the lender pays for them. In that case, make sure you are not sacrificing a lower rate for these fee waivers. Because closing costs often add up to 1.5 percent to your loan, you usually won't save money by refinancing to shorten the length of your loan. If that is your objective, you are better off making additional principal payments.
Refinancing your mortgage to a 30-year loan can increase your cash flow by reducing monthly payments. Although it may increase total interest costs over the life of the mortgage, current affordability can be a very important consideration.
If you have an adjustable-rate mortgage (ARM) and you plan to live in your house for several years beyond your first adjustment, refinancing to a fixed-rate loan will lock in your rate, avoiding potentially higher interest rates and payments in the long run, particularly in today's low-rate environment. If you have a fixed-rate loan and plan to move within a few years, this may a good time to switch from a fixed to adjustable to lower your monthly payment, if you can get a lower interest rate. Use the mortgage refinance calculator from Discover® Home Loans to see how you can benefit by refinancing to any of our loan products.
2.  Cash-Out Refinancing
The second major reason to refinance is to utilize some of your equity for other purposes. In a cash-out refinance like one with Discover Home Loans your new mortgage is greater than your current mortgage and you receive the difference in cash.
If you have a second mortgage, you can roll it into the first. If your loan-to-value (LTV) ratio is still less than 80%, you typically can save money because the rate for a second mortgage is usually quite a bit higher than a first mortgage. If your ratio exceeds 80%, you could have the added expense of Private Mortgage Insurance (PMI). Calculate whether you will get any savings by rolling the second mortgage into your refinance, or work with a mortgage banker who can walk you through the math.
You could also use this cash to restructure other debts, paying off high-interest rate credit card or other debt with the lower rate of your new mortgage. This can be a practical way to finance major items, such as family vacation, wedding expenses or home improvements, with the lowest interest rate that you qualify for.
The key is to crunch the numbers to make sure you can afford the refinancing costs and the new mortgage payment. Your lender can help with this assessment.
3.  Events Beyond Your Control
The third major reason to refinance is to handle an event you can't control, such as a death or serious injury. Think of the equity in your house as a non-liquid savings account to be used in case of an emergency. You can tap into it by refinancing. You may end up having a larger principal and a longer payoff, but home loan credit is generally much lower in cost than other credit you may use to get through short-term issues.
When it comes to refinancing, every situation is a little different. Talk with your mortgage lender to see if refinancing makes sense for you.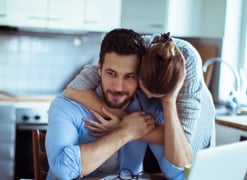 Find your low,
fixed rate

Use our Rate Calculator to find the rate and monthly payment that fits your budget.
Main

Start your application online

or give us a call.
Main

Start your application online or give us a call.