How to get approved for a home equity line of credit (HELOC)

Please note: Discover® Home Loans offers a home equity loan product, but does not offer HELOCs. 
A famous rock band once sang, "Time Waits for No One." And, it's true. The clock is ticking and you need to landscape the yard, replace that leaky roof, or pay for your child's college education. To get the ball rolling, one option is using a home equity line of credit, or HELOC, which is an ongoing line of credit that lets you borrow money against the value of your home.
If you're wondering about how to get a HELOC, there are certain factors that can influence whether or not you will be successful at securing one. While Discover Home Loans does not offer HELOCs, the requirements for a home equity loan from Discover Home Loans are very similar. To give yourself the best chance for approval for a HELOC or a home equity loan, make sure you have the following guidelines in place:
1. More than 15-20% equity in your home
Before you can borrow against your home's equity, you need to have some equity. If you're focused on how get a home equity line of credit, that number must be at least 15 percent of the home's market value. Home equity is the portion of your property that you own versus the portion the bank still has a mortgage lien.
To calculate your home equity, find your home's current market value, then subtract your mortgage balance. The number you get is the total amount of equity you have in your home. So if your house is worth $350,000 and you owe $285,000 on it, you have $65,000 in equity. That's 19 percent of the market value—so you have 19 percent equity— which means you may qualify for a Home Equity Line of Credit (HELOC).
Some lenders, like Discover Home Loans, offer home equity loans for less than 90 percent combined loan-to-value (CLTV), depending on your credit score. CLTV differs from the formula above in that it includes all mortgages and liens on your property, not just the primary mortgage. This means that your total mortgage amount including all liens and the new loan must be below 90 percent of your home's value. However, it's often a good idea to keep your CLTV at 80 percent or less. 
2. Debt-to-income ratio below 43%
Your debt-to-income (DTI) ratio compares your monthly income to your debt payments. It's a measure of how much of your paycheck is going toward your house payment, credit cards, car payment, student loans and other debt. The lower your DTI, the less risky you look to lenders.
The 28/36 Rule is a bit of personal finance wisdom that means you should never let your DTI get higher than 36%, with no more than 28% of that debt going towards servicing your mortgage. In many cases, 43% is the highest debt to income ratio that you can have and obtain a mortgage. Calculating your DTI is an important part of how to get a home equity line of credit.
Here's how you do it:
Total of Monthly Debt Payments ÷ Gross Monthly Income = DTI
Multiply the number you get from that equation by 100 to make it a percentage. The lower it is, the better, because it means you haven't piled up too many debts. The higher the number, the more precarious your financial situation, because you have less wiggle room for unexpected expenses.


When researching how to qualify for a HELOC, the higher your credit score, the more financially trustworthy lenders typically consider you to be
3. Credit score above 700
Your credit score is generally a number between 300 and 850 that's tells lenders how likely you are to repay debt. In general, a credit score of 700 or higher is preferred. With Discover Home Loans—where your rate is fixed and you get your money in a lump sum— a minimum score of 620 is needed.
When researching how to get a HELOC, the higher your credit score, the more financially trustworthy lenders typically consider you to be. And in some cases, the higher the score, the lower the interest rate you'll pay on your HELOC. Credit scores are based on many variables including your payment history, total amount owed, length of credit history, types of credit accounts and new credit accounts.
Here's what credit score ranges typically mean:
Excellent

: 800 to 850

Very good

: 740 to 799

Good

: 670 to 739

Fair

: 580 to 669

Poor

: Under 580
4. Documents for HELOC application
Of course, there will be paperwork. You'll fill out an application that asks for estimated property value, the amount of credit line you're requesting, employment and income information, and information about other debts you have like car loans, student loans, credit cards and any other financial obligations. You'll sometimes need to gather documents, including:
Pay stubs

: Most recent, showing 30-day and year-to-date (YTD) earnings

W-2s

: Two most recent documents from your employer

K-1s

: From partnerships, LLC or S Corporation, if you're self-employed

Tax returns

: If you are employed, lenders will want to see the most recent year's tax returns. If you are self-employed or on a pension, they'll want two years' worth of returns including all schedules. Some lenders will accept copies from you, but others may want you to fill out IRS form 4506-T, a request for a transcript of a tax return, so they can get them straight from the IRS.

Bank and investment statements

: If you are relying on Social Security, retirement or pension benefits to pay your HELOC, you'll need bank and investment statements showing the amounts being deposited in your account on a regular basis.

Mortgage statement

: Your lender will need to see how much you owe on your house so they can determine the equity that's in it.
Proof of homeowners, hazard and flood insurance

: This can be a policy or certificate of coverage, declarations page, insurance binder or payment receipt. If you own a property that's serving as collateral in an area designated as a flood zone by the Federal Emergency Management Agency (FEMA), you'll need proof of flood insurance.

Home appraisal

: Your lender will usually order an appraisal of your home and use that along with your mortgage statement to decide the maximum amount of your HELOC. 
Discover Home Loans provides a very simple checklist for what is needed during the application process when applying for a home equity loan. 
So what are you waiting for? These guidelines can show you how to get a HELOC from your lender that will let you use your home's equity to improve your life—whether by going back to school for your master's degree or putting a pool in the backyard. 
Discover offers low, fixed-rate home lending from $35,000 to $300,000, with flexible 10, 15, 20 or 30 year terms, no fees and no cash required at closing.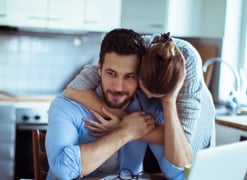 Find your low,
fixed rate

Use our Rate Calculator to find the rate and monthly payment that fits your budget.
Main

Start your application online

or give us a call.
Main

Start your application online or give us a call.