4 Signs that You Should Refinance Your Home Mortgage Loan

When you refinance your home's mortgage, you replace your existing mortgage with a new one. So, why refinance? Sometimes, refinancing your mortgage loan can save you some money. But that doesn't mean it's right for everybody. Keep reading to learn more about when it may make sense to refinance your home mortgage loan and how you may benefit from doing so. 
4 signs that your current mortgage loan would benefit from refinancing
Here are some signs that may indicate you should refinance your current mortgage loan.
1. Mortgage Interest Rates Have Gone Down
Thanks to factors like the U.S. Federal Reserve, inflation, and the economy, mortgage rates fluctuate. If mortgage rates have gone down from what they were when you took out your original mortgage, refinancing to a lower interest rate might save you money in interest charges and monthly payments and even offer some additional cash back.
2. Your Home Has Increased in Value
If you've done some major home improvements or the properties in your area have gone up in value, you may want to refinance, especially if you have high-interest debt you'd like to consolidate. If your home's assessed value increases, your home equity likely rises, which gives you more borrowing power.
3. Your Credit or Income Has Improved.
Your credit score and income play a vital role in your mortgage interest rate. Therefore, if you've improved your credit or increased your income since you locked in your mortgage, refinancing may help you land a lower rate.
4. You Have an Adjustable Rate Mortgage (ARM) and Mortgage Interest Rates Are Going Up.
An ARM and increasing mortgage rates are not a good combination as they can significantly increase the overall cost of your home as rates move higher. If you're in this situation, you may want to refinance and transfer to a fixed-rate mortgage.
Benefits of Refinancing Your Mortgage
While there are many benefits of refinancing your mortgage, the most noteworthy ones include the following: 
Refinancing to Secure a Lower Interest Rate 
The higher your interest rate is, the more you'll pay for your home in the long run. If you're able to reduce your interest rate by at least 1%, refinancing might be a wise move. It can save you a great deal of cash on the overall amount that is spent on your home. 
A Mortgage Refinance with Discover Home Loans® offers loan options from $35,000 to $200,000 starting at 3.99% APR*.
Refinancing to Change Your Loan's Term
The term of your loan is the time period over which you make monthly installments to repay the loan. By extending your term through refinancing, you can lower your remaining monthly payments (although you may have to repay your mortgage for longer than your original term). Likewise, if you shorten your term, your monthly payments may go up, but your interest rate could save you money over the life of your loan and you will shorten the time it takes to fully own your own home.
Refinancing to Convert to an Adjustable-Rate or Fixed-Rate Mortgage
Sometimes, it makes sense to convert to an ARM or fixed-rate mortgage. Here are some instances where it does. 
Adjustable Rate
An ARM is a home loan with an interest rate that changes multiple times over the term of the loan. In most cases, an ARM begins with a fixed interest rate for five or seven years and then becomes variable and adjusts from time to time, based on market conditions. If you plan on paying off your mortgage very quickly or want to sell your home in a few years, converting to an ARM may be a smart choice to let you lock in a lower initial interest rate. 
Fixed Rate
With a fixed rate mortgage, the interest rate stays the same for the entire term of the loan. If you don't like the idea of your interest rate fluctuating because you may not be able to keep up with increasing interest payments, converting to a fixed rate mortgage might be a good option. It can make it easier for you to set your monthly budget and provide you the peace of mind of knowing your interest payments won't ever go up. 
Refinance to Pay-off Debt
There's no denying that high-interest debt can take a serious toll on your finances and mental health. You can refinance to cash out home equity and pay off various debts with a low interest rate. A few examples of the types of debts you may want to refinance using home equity include: 
Credit Card Debt
Refinancing using your home equity may allow you to receive some cash back from the loan, which you can put towards paying off your high interest credit card debt, saving you a lot of money in credit card interest. 
Student Loan Debt 
Student loan debt is now the second largest consumer debt category, totaling more than $1.5 trillion. If you're facing student loan debt, you may be able to pay off your student debt through a home equity loan or cash out refinance. The debt you take on through the new loan can include longer terms to reduce your monthly payments—but be sure to compare the interest rates of your student loans against your refinanced loan, as you don't want to increase your interest charges over the life of the debt.

Energy efficient improvements like adding solar panels to your home may make sense
    Refinance for Home Improvement
If you refinance your home mortgage loan and use your home equity to pay for home improvements, you may be eligible for a tax deduction. As you improve your home, you also invest in your home's equity, driving its assessed value higher. Here are some home improvements you may want to consider.
Remodeling
Is your kitchen long past its prime? Or, are you longing for a modern master bath? If so, a remodeling project paid for with your home equity may be a good option. 
Home Additions
If you believe your home is too small or you're itching for a sunroom or any other type of room, a home addition funded with your home equity may be worth it. 
Energy Efficient Improvements
Do you wish your electricity bills were smaller? Energy efficient improvements like adding solar panels to your home may make sense. You can use your home equity to cover them. 
Risks of Refinancing Your Mortgage
While refinancing your mortgage does come with a variety of benefits, there are some risks you should be aware of including:
Closing Costs and Fees
When you refinance your mortgage, you can expect your lender to tack on closing costs as well as other costs like application fees and loan processing fees. 
Unlike many traditional refinance lenders, Discover Home Loans® offers a mortgage refinance that has zero origination fees, zero application fees, zero appraisal fees, and zero charges at closing. With refinance closing costs typically costing between 2% and 5% of the total loan, this can save you thousands.
Stretching Out Your Home Loan
If you have a 30-year mortgage and refinance to a new 30-year loan, you'll postpone the day you own your home. Therefore, it's better to refinance into a loan with a term that is similar to how much time you have left on your original home loan, where you try to take advantage of lower interest rates to earn savings against the original loan.
*Fixed rates starting at 3.99% APR
The lowest APR is available to borrowers requesting at least $80,000 with the best credit and other factors. The APR will be between 3.99% and 7.99% for first liens and 3.99% and 11.99% for second liens based on loan amount and a review of credit-worthiness, including income and property information, at the time of application. Loan amounts available from $35,000 to $200,000.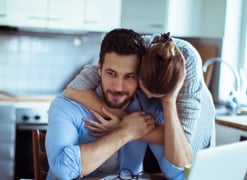 Find your low,
fixed rate

Use our Rate Calculator to find the rate and monthly payment that fits your budget.
Main

Start your application online

or give us a call.
Main

Start your application online or give us a call.