It may seem like there are a million things to think about when moving. But like anything else, if you're organized and think ahead, you can make the process a lot easier. Use these checklists to keep your move on track and prevent any important items from slipping through the cracks.
Prior to Moving Day



Decide if you will be handling your own packing and moving or contracting with a professional service.
Contact the post office to file change of address notification.
Notify all utilities and service providers of your upcoming move (e.g., gas, electric, water, telephone, trash disposal, cable/satellite, Internet, landscapers, newspaper delivery, etc.).
Arrange for any special care needed for small children or pets on moving day.
Coordinate with local trash disposal service for bulk item pick-ups or a special dumpster for items you won't be taking with you.
Transfer medication prescriptions to a pharmacy closer to your new home.
Register children at new schools if necessary.
Contact all of your insurers and inform them of your move.

Arrange for a cleaning crew to come in after you move.
On Moving Day



Mark each box on the top and sides to indicate contents and the room in which they should be placed at your new home. (Boxes usually are stacked on top of each other so you want information on the sides to be visible.)
Mark boxes that you want immediate access to at your new home (e.g., bed linens, towels) and make sure they are the last boxes to be loaded into the truck.
Keep possession of all valuables (cash, jewelry, antiques, valuable artwork, important documents etc.) and take them with you in a private car if possible.
Verify that all utilities have been disconnected at the appropriate time.
Lock the doors and windows.
Arrange for the old house keys and garage door opener to be provided to the new occupants.
Take one last look around (including checking closets and cabinets) to make sure you haven't left anything behind.
Leave your contact information with the new occupants so they can forward any mail, packages, etc., that are shipped to your old address.
After Moving In
Contact your new municipality to see if they have new resident guides available or if they require residents to display municipal vehicle stickers.
Update your contact information on your driver's license.
Provide your new address to all financial service providers (banks, credit card companies, credit unions, etc.) as well as magazine and newspaper subscriptions.
Register to vote at your new address.
Order new checks.
Familiarize yourself with the locations of grocery and drug stores, hospitals, police and fire stations–any place you plan to visit frequently or may need to find in an emergency.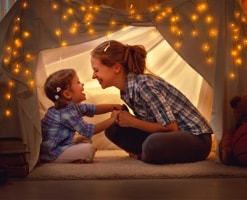 The home equity you've earned
can be used in a multitude of
ways. 
Main

Start your application online

or give us a call.
Main

Start your application online or give us a call.