Benefits of Meeting the Neighbors

Moving your household may have an impact on your family. You're faced with finding a home in a new neighborhood, packing all your possessions and adjusting to the new environment. Even if you move within the same city, you may still face adjustments.
Choosing a neighborhood that is a good fit for your family may be one of the more important life decisions you will make. It can impact the schools your children will attend, the social networks you engage in and the number of hours you'll spend each year in your commute to work.
Regardless of your family structure and specific needs, the neighborhood you choose may impact your overall quality of life and your day-to-day and long-term satisfaction.
Get Familiar with the Neighborhood
When selecting a new home, the Internet is a huge asset. Data on sale prices, floor plans, schools and general location information is easily accessible. You can also view pictures and videos of potential properties online.
However, the Internet is limited to a two-dimensional perspective. Even with 3D web neighborhood images, it may be impossible to get an accurate feel for a potential neighborhood. There is no substitute for a hands-on approach. You may want to walk or drive around the area to give yourself a three-dimensional look at the community you're considering. 
Spending time in the new neighborhood gives you a helpful perspective. Do you notice long-term road construction, barking dogs, a nearby airport or other factors that might impact your quality of life? Are people painting, planting flowers or working on other home projects, indicating pride in home ownership that will also maintain home resale values? These clues may support assessing whether the neighborhood is a good fit for your lifestyle needs.
Why Meet the Neighbors Before Buying a Home?
A Realtor may help locate communities near your work, school and other important destinations. Your initial impression of these areas may help narrow down possible neighborhoods.
After selecting a few locations that appeal to you, one suggestion is to make a physical inspection. Exploring the neighborhood from sidewalk level allows you to observe features you may not notice from a car.
Walk along several of the streets at different times of the day.  If it's cold, drive around in your car.  Are people walking their dogs?  See if neighbors are outside during daytime hours and homes are lit up in the evening.
Determine whether your observations match the type of neighborhood you are looking for. Does it seem that most of the people are retired? Are there many children playing or riding bikes? Walk the routes you and your family would take if you lived in the neighborhood, such as to the bus stop, school, stores or activity center, to be sure you're comfortable with the surrounding area.
If people are outside, introduce yourself. Conversations may give you a sense of what the neighbors are like and what they think about the area. Current residents can provide relevant and honest recommendations since they understand the importance of the decision to buy a home in a new neighborhood.
If you see a sign for an upcoming homeowners' meeting or neighborhood gathering, consider attending. Look for community Facebook groups. These venues may offer a sense of what is important to the neighbors based on issues they discuss.
Meeting a few neighbors and spending time in a prospective locale is part of the due diligence that may help build your confidence in your decision on a specific neighborhood. Could you see these people as members of your future support system?
When you buy a home, you're not just getting what's contained within the boundary of your property and the walls of your house, you're buying a slice of the people, activities and culture of your new neighborhood.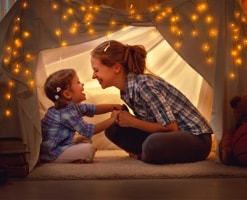 The home equity you've earned
can be used in a multitude of
ways. 
Main

Start your application online

or give us a call.
Main

Start your application online or give us a call.