How to Use Your Home Equity Wisely

Homeownership has the advantage of potentially building equity over time, as the mortgage balance is paid down and the home may appreciate in market value. For some homeowners, a high level of home equity offers a chance to live in a home with no mortgage, substantially reducing monthly expenses during retirement. It can also be a way to improve your cash on hand for the things you want to do, and improve your overall standard of living during your working years.
A Discover Home Loan Offers Five Potential Advantages:
The interest may be tax deductible

. Depending upon how a borrower uses the loan, the mortgage interest on a home equity loan may be tax deductible, reducing the cost of borrowing. Consult a tax adviser to determine if you qualify.

Low interest rates

. Loans secured by your home generally offer a lower interest rate than unsecured loan options.

Fixed rate over the term of the loan

. Knowing the impact on cash flow each month will help you stay within your budget and make on time payments.

Repayment terms to meet your needs.

Many homeowners want to pay off the borrowed amount in a short period of time. You can decide what monthly payment fits your budget and set a time period from 10 to 30 years to meet your budget requirements. For example, if you borrowed $60,000 for a 20 year term at 8.99% APR, your fixed monthly payments would be $539.45.

No application fees or origination fees

. With no application fees, origination fees, or cash required at closing, this may provide a very cost effective alternative to other lending options.
Having easy access to cash through your home equity can provide opportunities that you would not otherwise receive.
Characteristics of the Home Equity Loan
Uses home as security for the loan, giving you low interest rates

Loan is paid off when the home is sold or the loan term is complete

Funds can be used for any financial need
Effective Uses for Home Equity Loan
Making home improvements: This is one of the most common uses for a home equity loan. Projects that will add value to your home can be an excellent investment. These might include expensive maintenance items, like replacing a roof or HVAC system. Other common renovations include upgrading a kitchen or bathroom, adding a new room, finishing a basement or updating appliances.
These upgrades will make your home more comfortable, add value, and be more attractive to potential buyers when it comes time to sell.
Paying off high interest debt: With typically lower rates than unsecured loans, a debt consolidation loan using your home equity may be more attractive than paying higher rate credit card balances. When using a home equity loan to consolidate debt, you are essentially transferring the balance. This may save you thousands of dollars in interest over the life of the balance, depending on your debt, the new loan term and each individual loan scenario. Being disciplined and not accruing additional debt while paying off the existing balance can improve your overall financial health. The set payment and fixed interest rate can help you pay of the debt much faster than you would with only minimum balance payments on the credit cards.
Covering college expenses: Undergraduate and graduate program costs continue to rise, leaving families looking for additional resources to pay for higher education for their children. Competitive interest rates and no fees at closing may make a home equity loan a good option.
Paying for a major expense or life event: Whether you need funds for the wedding of a lifetime, that new car you always wanted, or an unexpected bill, a home equity loan can be a good source for many major expenses or life events.  You can generally borrow more than other methods of financing, and the rates and fees are competitive.
Deciding if a Home Equity Loan is Right for You
Secured loan. Whenever you access the equity in your home, you use your home as the collateral, so there is some risk if you are unable to repay the loan. The value of the home guarantees the loan, enabling you to take advantage of low interest rates. Ensure you will have a steady income and good budgeting practices to pay off the loan over the course of the loan term.
Long-term repayment options. In general, it is best to try to match the length of the loan to the life of its use. Sometimes this is not possible and keeping payments low is the most important thing. With a home equity loan, you have the option to repay the loan up to 30 years, which will keep monthly payments low but may increase the total interest over the life of the loan. However, if you spend the money on short-term needs, you don't want to be paying for these 15 years later. If you use your equity loan to purchase a vehicle, for example, consider keeping the term in the 7-10 year range so the loan is paid off before you replace the vehicle.
Long-term goals. Taking out a loan will affect your cash flow for the duration of the loan term. Will you be expanding your family, retiring or have other significant changes to your life during this period of time? Considering long term life changes may mean pushing the loan out further to allow more fluctuation in your budget needs. It may also encourage you to pay the loan off faster, freeing up more cash for impending financial needs. Home equity loans from Discover do not have pre-payment penalties which means you can double up on payments without any additional costs.
How much do you need? Once you decide a home equity loan might be a good financial solution, Discover Home Loans has created a simple home equity payment calculator to help you determine how much your monthly rate and payment may be based on your desired loan amount.
A home equity loan can improve cash flow and help you achieve your financial goals. Talk with a Personal Banker today at 1-855-361-3435. They will guide you through every step of the way.
Whether you are in need of home improvements, debt consolidation or major expenses, call today to see if a Discover Home Loan is the best option.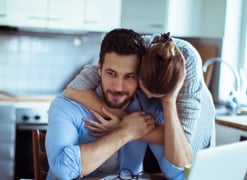 Find your low,
fixed rate

Use our Rate Calculator to find the  rate and monthly payment that  fits your budget.
Main

Start your application online

or give us a call.
Main

Start your application online or give us a call.