How Much Should Your Down Payment Be?
You must make several key decisions when financing a home purchase; the size of your down payment is one of the most important. When determining the amount to put down, there's a tradeoff involved: The larger your down payment, the lower your loan amount and monthly payment. Your down payment amount is also impacted by the loan program used and your available cash.
Traditional lending programs provide three tiers of down payment options. An FHA loan permits the lowest down payment, with a minimum of 3.5% of the purchase price. Loans sold to Fannie Mae and Freddie Mac require a minimum 5% down payment.  A conventional loan requires a 20% down payment in order to avoid Private Mortgage Insurance (PMI). This insurance is purchased by the borrower to reduce the risk to the lender. The PMI can add over $100 to your monthly payment. If, as a borrower, you put 20% toward a home purchase, PMI is not required.
Your base mortgage payment will include principal and interest, but also may include an escrow amount, additional funds collected monthly to cover property taxes and insurance. When taxes and insurance are due, the mortgage company pays these bills for you. If the escrow is not included in the mortgage, you will be responsible to pay the taxes and insurance directly.
Buyer assistance programs may be available for borrowers who qualify. These programs reduce the down payment requirement, sometimes to as little as $1,000. Most of the available programs are geographically based, varying from state to state. Generally, loan qualifications are not relaxed and eligibility is broad, and requires you to receive loan counseling from a qualified counselor.
Some narrower assistance programs are based on employment for trades like teachers, firefighters, first responders and police. Qualifications for these programs vary by region, so check with your Realtor or lender on the possibilities for your situation and needs.
The Veterans Administration (VA) also offers a buyer assistance home loan program, which allows veterans to purchase homes with 100% financing (no down payment necessary). Qualifications vary depending on time served, prior program use and the price of the home.
Your credit score may impact down payment requirements and borrower eligibility for programs. To receive an FHA loan, a borrower must have a minimum credit score of 580 or possibly greater depending on lender requirements. Fannie Mae and Freddie Mac require a minimum credit score of 620. There will also be a separate qualification for PMI if you are putting less than 20% down. For a conventional mortgage with a 20% down payment, a credit score of 620 is required. Find out your credit score early in your home buying process so that you will know your eligibility for the different loans.
When you make an offer on a home, you'll pay an earnest deposit included with the purchase contract. Earnest money is generally a refundable deposit, usually between $1,000 and $5,000, which is separate from the down payment but credited toward the down payment at time of purchase. You, as buyer, then have a certain period of time to complete financing, inspections, appraisals and other due diligence on the property. You have the option to cancel the contract if reports are unsatisfactory, in which case the earnest money is returned. If your bid is accepted, the earnest money applies toward your purchase.
When there are more buyers than sellers in the market, having a larger down payment or deposit can increase the value of an offer and may be the deciding factor in whether your contract is accepted over other bidders. Working with the Realtor and lender prior to submitting a contract will provide the insight needed to make a strong offer. The lender can assist with the prequalification process and determine which loan program you qualify for, which impacts your down payment requirements. 
Carefully consider your down payment options. Remember that keeping more cash at the start of your home buying process means you may be paying more later for extra insurance (PMI). Make an informed choice to best serve your personal needs.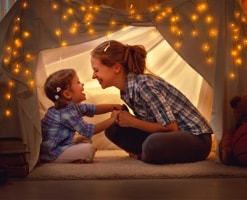 The home equity you've earned
can be used in a multitude of
ways. 
Main

Start your application online

or give us a call.
Main

Start your application online or give us a call.