Homebuying Made Simple: 7 Basic Steps

When you first look into buying a home, it may seem like a difficult and complicated process. By understanding what to expect, you can keep the confusion and hassle to a minimum. Here is a breakdown of common steps to home buying, from just thinking about buying a home to becoming a homeowner.
Step #1 – Get Prequalified or Preapproved
Before starting your home search, find a mortgage company and get prequalified. Prequalification allows you to determine how much you may qualify for when house-hunting. Compare at least a couple of lending companies that have a dedicated home purchase division, as they will be more knowledgeable about the latest products and regulations.
Even better, ask the lender to help you get preapproved, which means you are even farther in the process and have provided the necessary documentation.
Step #2 – Begin Your Home Search
Start looking online for active listings and find a realtor to begin your home search. During this stage, you will visit properties, attend open houses and compare potential homes with your approved loan amount.
Step #3 – Focus on the Down Payment
In the best-case scenario, you have been saving to buy a home "someday" and already have the cash on hand to meet your desired loan terms. If you haven't yet saved a down payment, get started right away. Consolidate debts and spend your money wisely to lessen your risk to lenders and have a larger down payment. Work with your lender to determine a realistic savings timeline.
Step #4 – Place an Offer
When you find a home you like, your next step is to make an offer. Having a prequalification will increase the chances of a seller accepting your offer. If you go a step farther and get preapproved, include the letter of pre-approval with your offer.
Step #5 – Work Your Mortgage Company
If your offer is accepted by the seller and earnest money provided, it becomes a contract. At this point, you need to tell your mortgage company about the contract and pending closing date. If you are only prequalified or pre-approved, this is when you will formally apply for your loan approval. You will need to provide documentation of your income, assets and liabilities (debts), and have the home appraised. Your mortgage lender will provide the specific information requirements.
Step #6 – Get an Inspection
Once you have an active contract, you will need to get an inspection to determine the condition of the property. If you are working with a real estate agent, he or she will probably assist you with this part. At the same time, your lender will schedule the appraisal to determine the property value.
Step #7 – Closing
When all other tasks have been completed, the final step is meeting with your lender and agent to sign the paperwork that officially makes you the owner of the property. Remember that buying a house is an emotional transaction as well as a financial one. It is important to complete your preapproval early in the process before you start looking at homes. It can be very disappointing to learn after you've fallen in love with a specific home that it is beyond your budget.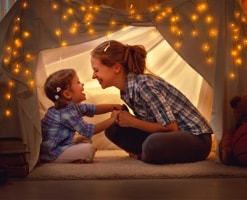 The home equity you've earned
can be used in a multitude of
ways. 
It really doesn't take much time for preapproval. Gather all of your documentation and speak with a lender. Once you are preapproved, it can make the rest of the process go much smoother and easier.
Main

Start your application online

or give us a call.
Main

Start your application online or give us a call.