Home Selling Tips and Suggestions

How to efficiently sell your house and get the best price
Selling a house is a competition, and you are up against all of the other homes for sale in your area. To shorten the time it takes to sell your home and get the best price possible, you need to help your house stand out from the crowd. Here are four steps you can take to improve the marketability of your home and attract potential buyers.
1. Select a real estate agent to help you sell your home.
Real estate agents can provide you with invaluable marketing resources that can get your house sold. Their knowledge of effective sales tactics, negotiating skills, and familiarity with the neighborhood around your house can be extremely valuable. In addition, they know how to best advertise your house to a wide audience of potential buyers and other real estate agents.
2. Work with your real estate agent to come up with a realistic listing price based on comparable homes in your neighborhood.
Before you set the asking price for your home, visit a number of other homes in your area that are listed in the price range you are considering. Be honest with yourself and try to objectively decide if a buyer would choose your home over the others that are available for a similar price. If the answer is no, you may need to consider listing your house at a lower price or investing in home improvements that will justify your desired asking price.
3. Take an active role in marketing your home.
Your real estate agent will develop a marketing plan for selling your home that includes tactics such as open houses, placing ads on Web sites and passing out flyers. But you can also take an active role in marketing your house. You and/or your real estate agent should consider creating a booklet that highlights some of the interesting things about your house and neighborhood that might not be obvious to a prospective buyer (e.g., quality of the school districts, proximity to shopping centers and public transportation, safety of your neighborhood). The booklet doesn't need to be fancy – just a few sheets of paper with some photos and information – and it can make a big difference in helping make a positive impression on home buyers.
4. Make your home more appealing.
Give your house curb appeal.

Mow the lawn, plant new flowers, and trim hedges and bushes. 
Keep the sidewalk clear, and spray down sidewalks and the exterior of your house with a hose or a pressure washer. 

Paint weathered window trim, doors and fences. 
Spruce up the interior.

Wash windows. 
Vacuum carpets frequently and wax floors. 
Dust furniture (and don't forget ceiling fan blades and light fixtures). 
Touch up nicks and scratches in the paint; repaint rooms that look faded or outdated in a neutral color 
Strip faded, outdated or "theme" wallpaper and repaint in a neutral color 
Put new caulking around tubs, showers, and sinks. 
Polish chrome faucets. 

Put air fresheners in damp, musty areas (including any area that has pet odors). 
Make minor repairs.
Patch up holes in walls and fix cracked floors or counter tiles. 
Repair leaky faucets. 
Fix doors, closets, and drawers that don't open and close properly. Replace light switches that don't work. 

Tip: When the home inspection is performed for a prospective buyer, they will probably ask for these repairs to be made anyway, so you might as well do them ahead of time when it can help make your house as attractive as possible.
Eliminate clutter.
Remove unnecessary pieces of furniture to make rooms look bigger. 
Remove everything from kitchen counters to make counter space look bigger. 
Remove anything that blocks clear passage through hallways.
Box up any clothes or shoes lying on closet floors. 
Rent a storage unit to hold items that may be creating clutter.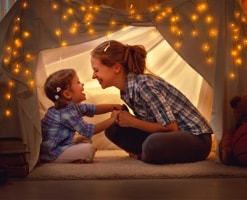 The home equity you've earned
can be used in a multitude of
ways. 
Main

Start your application online

or give us a call.
Main

Start your application online or give us a call.