Understanding HELOC Costs & Fees
Please note: Discover® Home Loans offers a home equity loan product, but does not offer HELOCs.
If you are considering a home equity line of credit (HELOC) to help pay for home repairs, consolidate debt, or achieve other financial goals, it's important to view the full picture of HELOC costs.
For instance, many people ask, "does a home equity line of credit have closing costs?" and are surprised to hear the answer. Just like taking out a mortgage to buy a new home, there can be certain costs involved with obtaining a home equity loan or a home equity line of credit. Some of these costs might seem a bit mysterious. But if you dig into the details and compare lenders, you can get a better idea of how much a HELOC or home equity loan really costs.
As you evaluate your options for which home equity lending option is right for you, make sure you are aware of any HELOC closing costs as well as other fees that are assessed to you as part of your loan. Not all lenders charge the same fees or require the same home equity line of credit closing costs. Costs and fees also often depend on which type of home equity product you choose.
There are a few different types of HELOC costs related to setting up your home equity line of credit.
HELOC closing costs
Many people think that closing costs are only for primary mortgages that are typically used to purchase a home. However, most HELOCs require closing costs as well.
Closing costs for a HELOC are often a bit lower than the costs of closing a primary mortgage, but the average closing costs for a home equity loan or line of credit (depending on the lender and the loan product) can add up to between 2 percent and 5 percent of the total loan cost.
Home equity line of credit closing costs often include such charges as origination fees, underwriting fees, loan recording fees and other administrative expenses. Setting up a HELOC or other loan product can be a complex process for the lender, and closing costs help pay for the services of the various experts who:
Evaluate the borrower's creditworthiness.

Make sure there is enough available home equity to borrow against.

Assess the other relevant information about the loan application to approve (or deny, or modify) the requested loan amount and finalize an acceptable agreement with the borrower.
Depending on your lender, the costs of closing your HELOC might include specific fees such as:
Application/origination fee: Some lenders charge a fee to cover the costs of opening your application and bringing you into the system as a customer.
Notary fee: Lenders in some states charge a special fee to get your loan paperwork verified and notarized by a notary public.
Title search: This fee is to help the lender confirm that you have rightful ownership of the property title and make sure there are no issues with the title, such as unpaid taxes, assessments, or easements.
Appraisal fee: This fee pays a real estate expert to assess the current market value of your home. This assessed value is then used to calculate how much you can borrow from your equity with your HELOC.
Credit report fee: Lenders need to run a credit check as part of crunching the numbers before they can approve your application or issue a loan, and some may charge a fee for this service.
Attorney/document prep fees: Before a home equity loan or HELOC is final, it needs to be reviewed by an attorney or financial document preparation ("doc prep") specialist. These professional service fees are often included in closing costs.
Recording fee: This is a small payment made to the local taxing authority where your home is located, such as the county recorder or other local official, to record the new lien against your home.
As you evaluate your options, keep in mind that not all lenders charge the same closing costs. Some lenders will waive certain fees as part of a special offer. Other lenders will include the closing costs into the total balance of your loan, so you don't have to pay cash out of pocket.

There are a few different types of HELOC costs related to setting up your home equity line of credit.
Ongoing HELOC costs and fees
Along with the upfront closing costs that are charged to you as part of the process of getting approved and finalizing your loan, many lenders also charge other fees. Some of these fees are unique to HELOCs, because a line of credit is a different type of financial product than a home equity loan.
For example, many home equity loans have fixed interest rates and fixed monthly payments, some also do not charge fees. Discover Home Loans, for instance, offers home equity loans with zero application fees, zero origination fees and zero cash required at closing.
On the other hand, HELOCs tend to be more flexible in terms of how much you can borrow and how soon you must repay the borrowed amount. Sometimes HELOCs can charge additional fees (that home equity loans do not charge) to compensate the lender for this flexibility.
Be aware of these potential fees that might keep getting charged to your account for as long as you have your HELOC open:
Annual fees/maintenance fees: Some lenders charge an ongoing fee to cover the costs of managing your account. (Many lenders waive this fee during the first year of opening your account.)
Minimum withdrawal: Depending on the fine print of your HELOC agreement, there might be a minimum amount that you are required to withdraw whenever you decide to tap into your equity. This can result in an added, unwanted interest cost, because it might force you to take out more money than you need.
Cancellation fee/early termination fee: Some lenders will expect you to keep your HELOC open for a certain amount of time. If you close your account before this agreed-upon time has passed, there might be a cancellation fee assessed to you.
Inactivity fee: Some HELOCs require you to keep using your line of credit on an ongoing basis; if you don't have any activity on your account within a certain timeframe, you might owe a fee to your lender.
Fixed rate conversion fee: Some HELOCs are variable rate loan products – the interest rate that you pay on the money you borrow might change, up or down, depending on broader shifts in overall interest rates. This is different from a typical home equity loan, which usually offers a fixed interest rate. Some HELOCs allow you to convert your variable rate to a fixed rate—but there are additional fees for doing this. Make sure you understand your options and read the fine print before agreeing to lock in on a fixed rate HELOC.
Weighing HELOC Costs vs. Home Equity Loan Costs
Before you decide on a HELOC vs. a home equity loan, make sure you understand the total package of fees that you would have to pay. Depending on your financial goals, a home equity loan might be a better fit.
If you want to have the flexibility to tap into your home equity multiple times on an ongoing basis for recurring needs, then a HELOC account might be the best option. But if you have a one-time expense that you want to cover with home equity funds, such as a major home improvement or debt consolidation, a home equity loan might give you the right amount of money at a fixed interest rate with more predictable costs.
Check out the latest home equity loan rates from Discover to see if a fixed rate installment loan is the right choice for you.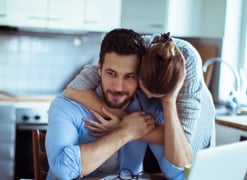 Find your low,
fixed rate

Use our Rate Calculator to find the rate and monthly payment that fits your budget.
Main

Start your application online or give us a call.