Getting your finances in order

Making yourself attractive to lenders
When you apply for a home loan to purchase your dream home, lenders will base their approval on two important factors:
Your ability to make a satisfactory down payment, and

Your credit profile, which indicates your likelihood to make the ongoing monthly payments on time.
Before you start the application process, it's important to get your finances in order so you can get the best deal possible on your home loan.
Down payment requirements
Depending on your lender and the type of loan you choose, your required down payment can range from 3% to 20% of the purchase price of the home. For example, the down payment on a $400,000 home can range between $12,000 and $80,000. With a significant lump sum due at the time of closing, you will need to build up your savings before you buy a home.
Saving for a down payment
Establishing a monthly budget will help you put away enough money for your down payment. Maintaining that monthly budget will also prepare you to begin making your monthly mortgage payment once you buy your home.
Once you've assessed what your budget will support, consider having money automatically deposited from your paycheck or bank account to a high-yield savings account to make putting money aside each month easier and more convenient.
You might also be able use money from other sources to help you make the down payment:
Some 401(k) programs allow you to borrow money for a new home purchase.

IRA accounts have provisions that allow withdrawals for a first-time home purchase.

A second loan can be taken out to provide the funds for a down payment.

A monetary gift from a relative or friend can be used as source of down payment.1
The importance of your credit score
Your credit score is what lenders will look at to measure how likely you are to pay your bills on time. It's one of the key factors that helps them decide if they will approve you for a loan to buy a home and what the interest rate on that loan will be. When your credit score is higher, you'll get better interest rates.
Your credit score is based on a credit report that contains information on your credit history, including the amount and type of debt you have and whether you've made any late payments. Credit scores range between 300 and 850. 
Obtaining a copy of your credit report
You should obtain a copy of your credit report before starting the home buying process. You will see what your credit profile looks like to potential lenders and can then take steps to improve your credit score if necessary.
You can receive one free copy of your credit report each year from each of the three major credit reporting agencies – Equifax, Experian, and TransUnion – by visiting Annualcreditreport.com. If you pay the fee required by the reporting agency, the credit report you receive will also include your credit score.
Improving your credit score
Improving your credit score will help you obtain a better interest rate and lower your monthly mortgage payment. To improve your credit score, credit reporting agencies generally recommend taking the following actions:
Correct any errors on your credit report by contacting the reporting agency

Reduce or pay off any debts you have


Establish a history of making all your payments on time

Continue to use at least one credit card and pay it in full each month

Avoid changing jobs or taking out any new loans

Ask lenders to reduce any large credit lines you have to trim your potential debt
It may take anywhere from a few months to several years to improve your credit score. But once you establish good credit habits, the negative information in your credit report will eventually be replaced with positive information that will make you look more attractive to lenders.
1Terms and conditions apply to gift funds depending on your loan program. Consult your mortgage banker for further details.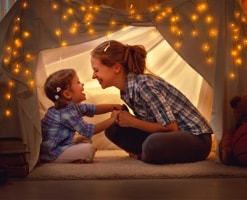 The home equity you've earned
can be used in a multitude of
ways. 
Main

Start your application online

or give us a call.
Main

Start your application online or give us a call.