Financing the Home Where You'll Spend Your Retirement

Financing what will likely be your last home purchase is one of the major components of long-term financial planning. Because it comprises a significant portion of your resources, it is just as important as deciding where to live and what type of house to buy. Read on for an overview of some options.
Buy your retirement home with the equity from your current home.
Many use retirement as an opportunity to downsize and simplify. Selling your larger home may free up enough equity to buy your new home outright or make a large down payment. While paying with the freed-up cash may be the easiest way to finance the purchase, taking out a mortgage could provide significant benefits, such as sheltering taxable income and keeping resources available for other needs. Talk with your financial planner to identify the best course of action.
Buy your retirement home as a second home while you are still working.
Obtaining mortgage approval could be easier while you have employment income than after you retire. This is an option only if you have adequate disposable income because you would have to qualify for both the mortgage on your current home and your second home. Although it requires more income since you won't be able to count potential rental income from the second location, buying the property as a second home rather than as an investment property will generally result in lower interest rates and down payment requirements and easier qualification. You may want to make this move five to ten years before you retire.
Obtaining a mortgage for your last home purchase.

Having ongoing adequate cash flow to cover mortgage and other home-related costs is the key to qualification.



While lenders will require adequate income to qualify, you may be retired, employed or self-employed. Some other sources of income include Social Security, pensions, interest and dividends and rental income. Having ongoing adequate cash flow to cover mortgage and other home-related costs is the key to qualification.
If you decide to take out a mortgage, consider some guidelines to help you choose the best type for retirement. For example, a fixed rate mortgage provides more protection for someone living on a fixed income than does an adjustable rate mortgage (ARM).
The appropriate length of the mortgage is determined by your cash flow and your individual goals. If you want to minimize annual cash outlays, you may want a 30-year mortgage; if you intend to pay it off, you may opt for a 15-year mortgage. As a general guideline, if you expect to earn more after tax on your investments than you pay after tax on your mortgage, it's a good idea to keep the mortgage.
In summary, buying a home for your retirement is much like financing your earlier homes. Meet with a trustworthy lender to find out what you can afford, get preapproved, work with a realtor to find the right house. Enjoy your retirement in your new home!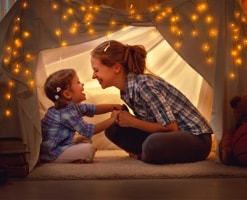 The home equity you've earned
can be used in a multitude of
ways. 
Main

Start your application online

or give us a call.
Main

Start your application online or give us a call.