The Factors That Determine Home Value

One of the intrinsic benefits of homeownership is the ability to not only have a place to live, but also an asset that may appreciate over time. There are many factors that will determine the value of your home and enable you to get the most out of your investment when the time comes to sell.
Purchasing a home is exciting—especially when you've found the perfect layout, in the right neighborhood, and at the right price. Additionally, remodeling and improving your home can provide a lot of enjoyment and possibly higher appreciation.
Your home's value is impacted by a number of factors, some of which you can control and others you cannot. A few key factors include the following:
Location is a significant factor impacting a home's value
Is your home located in a desirable neighborhood? Near good schools? Proximity to parks, a golf course, an arena or urban area shopping centers will impact home values. Today's homeowners should also consider  their neighborhood's walkability, meaning whether the home is within walking distance of local activities like shopping, restaurants or greenways. Close proximity to public transportation is also viewed as positive. Negative factors might include being too close to train tracks, treatment plants, a busy road or an airport. Location is one of the few home traits that can add tremendous value if you are in an up and coming area.
Maintenance and upgrades impact the home's value and are something you can control 
This includes fixing things as they wear out or break, as well as completing timely upgrades. Kitchens and bathrooms have the most impact on value, but are also the most expensive to repair. If appliances are old and the roof needs replacing, the home's value can diminish. Making necessary repairs or upgrades will maintain or improve the equity that is built in your home.
Home layout

The best layouts that add value include open concept living
Bigger isn't always necessarily better, and an open floor plan with open living space is becoming more and more in demand. The best layouts that add value include open concept living, which provides good flow and more spacious living with less square footage. Changing the layout of your home can be an expensive home improvement, but it may increase your home value in the end.
In-law suites bring additional value to the home 
As more families live in multi-generational situations—whether it's with aging parents or adult children—separate living quarters provide more privacy, independence and easier management. The other advantage is the ability to rent out the space for additional income. Some home layouts lend themselves to adding an in-law suite better than others. Consider this upgrade to add value that has a return in equity and possibly even income.
When considering upgrades, evaluate your neighborhood. It is harder to get more value out of your home if you have the most expensive property in the neighborhood. Over-improving can make it harder to recover the full cost of those improvements, so be sure to do your research so you can achieve your desired equity once the renovation is complete.
Keep Your Home in Good Shape and Up to Date to Maintain the Most Value
As a homeowner, maintaining your home is one of the most effective things you can do to boost its value. Fix things as they break and make upgrades as parts wear out. It is not always necessary to spend a ton of money on improvements to maximize the value of your home, but keeping your house in good working order will be rewarded with higher values when it is time to sell.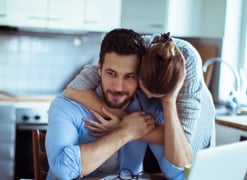 Find your low,
fixed rate

Use our Rate Calculator to find the rate and monthly payment that fits your budget.
Main

Start your application online

or give us a call.
Main

Start your application online or give us a call.