Compare cash out refinances, home equity loans and HELOCs

Home equity is the difference between the market value of your home and the amount that you still owe on your mortgage(s). It represents the portion of your home that you own without any obligation to a lender.
If you decide that you want to make use of the equity in your home—for debt consolidation, home improvement, college tuition or other needs—you have several choices of loan products. How do you decide which type of loan you want?
First consider the type of need you have. What is the purpose of the loan? How long will you need the money? Do you need a lump sum or will you have prolonged expenses over time?
In general, you will want to compare the interest rates, monthly payments, fees and the total interest paid over the term of the loan. Review these options to determine which loan is the best for your needs.
Cash out refinance
A cash out refinance with Discover® Home Loans is a new loan you take against your home for more than you owe on your mortgage. You get the difference in cash to spend on what you need.
A cash out refinance replaces your current loan with new terms, rate and monthly payment. Generally, cash out refinance rates are lower than home equity loans or HELOCs.
However, a cash out refinance may come with more up-front fees and costs. Switching from an adjustable-rate mortgage (ARM) to fixed-rate mortgage is another popular reason for refinancing to get a more stable monthly payment.
Home equity loan
A home equity loan is typically a second mortgage. It allows you to take out a lump sum from your home equity and establish a second loan with a separate repayment plan.
The cash can be used for debt consolidation, home improvement, college expenses or a variety of other expenses. Because the home equity loan is in addition to the original mortgage, the sum of the two loans is usually less than 90% of the fair market value of the home.
Home equity loan rates are often slightly higher than a first mortgage, but often come with fewer fees and closing costs. Repayment is made with fixed monthly amounts, often amortized similar to a home loan.
Home equity line of credit (HELOC)
The home equity line of credit is similar to a credit card that's secured against your home. The line of credit is established but there is no loan amount—or required repayment—until the home owner actually uses some or all of the allowed credit.
This type of loan is useful for irregular or ongoing expenses, such as paying a contractor for home improvement work or making college tuition payments each term. Most HELOC plans allow you to draw funds over a set amount of time known as the "draw period". At the end of this period you may be able to renew the credit line and keep withdrawing money, but not all lenders allow renewals.
Some lenders require borrowers to pay back the entire amount at the end of the draw period and but most others allow you to make payments over another time period known as the "repayment period" which can be anywhere from 5 years to 25 years.
Please note: Discover Home Loans offers home equity loan and cash out refinance products, but does not offer HELOCs.
Comparison of home equity options
All three types of loan are secured by the home, so the rates are generally lower than unsecured loans like credit cards or personal loans. This use of the home as collateral also brings the risk that nonpayment can result in loss of the home.
When determining what type of home equity loan is right for you, it's important to look at interest rates, monthly payments, fees/closings costs and terms. The combination of amount of loan, length of term and interest rate will define the monthly payment.
It will also determine the total interest you will pay over the life of the loan. Use cash out refinance and home equity calculators to help you get an idea. But it's also important to research interest rates and fees from different reputable lenders before you decide.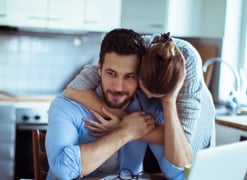 Find your low,
fixed rate

Use our Rate Calculator to find the rate and monthly payment that fits your budget.
Main

Start your application online or give us a call.