Buying a duplex to live in and rent out
Buying a duplex or multi-family unit to use as both a residence and source of income is different from buying a single-family home or single unit. If you are considering this strategy, you need to know a few things.
Consider the pros and cons of buying a duplex and renting it out
Consider the practical aspects of buying a home with an attached rental unit. One of the biggest benefits for buyers is that their tenant(s) can subsidize part or all of their mortgage.
Living mortgage-free has a very strong appeal. Many buyers are also planning for the future. When the mortgage is paid off, the rental income is likely to improve their standard of living in retirement.
One downside is that tenants will be living next to you. Also, you will carry the extra responsibility of maintaining two homes. In addition, you'll have to find the right tenants and deal with any issues that may occur.
The financial aspects
Buying a property with a rental unit comes with special financial concerns. First, you must consider how you will qualify for the loan. Don't automatically assume that the rental income will be counted. Unless you are a current landlord or have had success as a property manager, not all lenders will consider this potential income in the pre-approval process.
If this is your first time buying a rental unit, your other current income is likely all that will be considered. One exception to this rule is the purchase of a duplex that already has a tenant. Since you will begin receiving the rental income as soon as you close on the property, lenders may be willing to consider it when assessing your loan eligibility.
Consider how much extra cash you'll need for renovations on the rental unit to make it leasable. In addition, many lenders like to see several months of cash reserves in case you don't find a tenant right away.
Cost-Benefit Analysis of owning a duplex
To determine if you are ready to buy a duplex, do a financial analysis. Calculate the amount of money you receive from your tenant for your income, and then deduct the expenses.
Be sure to include any renovation work required to make the property suitable for rental.
Set aside a percentage for regular maintenance, repairs and insurance.

If property taxes are not included in your mortgage payment, add them in separately.
The remaining amount is what goes towards your mortgage payment. Compare this remaining amount with what the mortgage would be on a single-family property, and this will tell you whether buying a duplex will make you a homeowner at a lower cost.
Here is an example
You find a duplex with a price of $250,000. You put 20% down, which leaves $200,000 for financing. The estimated payment on a 30 year fixed mortgage with a 7.32% interest rate is $1,374 (using the mortgage payment calculator from Discover).

Based on comparable rents in the area, if you could get $1,000 per month for the rental part of the duplex, you would take half that amount and apply it to the mortgage (the other half would be set aside for expenses). Deduct $500 and you are left paying $874 for your half of the duplex. Compare this to what you would be paying for a single-family home.
Before proceeding with a purchase like this, be sure to determine the condition of the property and any necessary repairs or other expenses that could affect your bottom line. If this is your first time in the market, it's best to work with an accountant who is familiar with rental properties and can provide expert advice on the value of the property you are considering.
Owning a duplex for living in as well as renting out can be a golden opportunity or a hassle waiting to happen. The key is knowing how to tell the difference.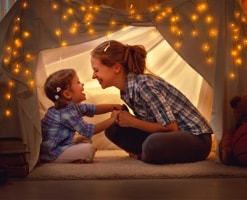 The home equity you've earned
can be used in a multitude of
ways. 
Main

Start your application online

or give us a call.
Main

Start your application online or give us a call.