Buying a duplex: An investment strategy
Buying a duplex or multi-family unit to use as both a residence and source of income is different from buying a single-family home or single unit. If you are considering this strategy, you need to know a few things.
What is a duplex?
A duplex is a type of residential property that consists of two separate living units under one roof. Each unit is typically designed as a mirror image of the other, with its own entrance, kitchen, bathroom, and bedrooms. Duplexes are considered a form of multi-family housing as they offer the advantage of accommodating two households in one building.
Why you might want to buy a duplex
Purchasing a duplex might be a wise investment decision for several reasons:
Rental income: One of the primary attractions of buying a duplex is the potential to generate rental income. By occupying one unit and renting out the other, you might be able to offset your monthly mortgage payments and potentially even generate a profit.
Affordability: You might find that duplexes tend to be more affordable than purchasing two separate properties. This may make them an attractive option for first-time buyers, investors, or anyone else looking to enter the real estate market.
Flexibility: With a duplex, you have the flexibility to live in one unit while renting out the other. This arrangement may be beneficial for those who value privacy, desire a separate space for a family member, or who wish to generate a passive income. If you're interested in renovating a property, a duplex gives you the flexibility to live in one unit while making improvements to the other.
Long-term investment potential: Real estate properties, including duplexes, typically appreciate in value over time. So, not only do you have the opportunity to potentially generate rental income in the short-term, but you may also benefit from long-term property appreciation.
Downsides to buying a duplex and renting it out
Like with all investments, it's important to consider the potential disadvantages before deciding whether buying a duplex is right for you. Some the downsides to purchasing this type of property might include:
Shared walls and interference: Living in clos proximity with your tenants may lead to noise or privacy concerns, which can often be difficult to manage. Additionally, you may be subject to legal disputes or conflicts, such as disagreements over shared property or noise complaints. If you want to buy a duplex and rent out half, it is important to find ways to have a positive relationship with your tenants, so that any potential conflicts can be resolved easily and in a friendly way.
Responsibility for property maintenance: As the owner of the property, you will be responsible for maintaining and repairing any issues that come up. This can include plumbing, electrical, and structural issues, as well as tending to common areas and outdoor spaces.
Tenant turnover: You may run the risk of having a high tenant turnover rate, which means that you may need to frequently search for new tenants to prevent income loss.
Limited control over rental income: The rental market is subject to fluctuations, which may impact your rental income potential. Additionally, rental laws in your local area may limit the amount of rent you can collect, making it difficult to adjust your income stream.
Weigh the pros and cons carefully before deciding to buy a duplex. Evaluate your financial situation, assess the property's value and income potential, and consult with professionals such as real estate agents, financial advisors, or lawyers to get answers to any questions you have about the process. With proper research and planning, owning a duplex may be a profitable investment.
How to buy a duplex
If you're interested in purchasing a duplex, here are some steps you can expect to follow to complete the process:
Evaluate your finances: Get a solid understanding of your financial situation including your income, savings, credit score, and monthly budget. Determine how much you can afford to spend on a down payment and monthly mortgage payments. Calculate how much of an emergency fund you might need to cover any repairs or periods when you're searching for a new tenant.
Research and identify potential properties: Browse real estate websites, consult with real estate agents, and visit open houses to find duplexes that suit your requirements. Think about factors such as location, size, condition, and rental market potential.
Secure financing: Unless you're planning to purchase a property with all cash, you will need to contact lenders or mortgage brokers to get pre-approved for a loan. This step is crucial in determining your budget and helping you appear credible as a buyer.
Perform due diligence: Hire a professional to thoroughly inspect the property's condition and identify any areas of concern such as problems with plumbing features, electrical systems, or the foundation. Also, review any applicable homeowner association regulations or zoning laws that may limit or prohibit rental activity.
Make an offer: Once you find a suitable duplex, make an offer to the seller. Negotiate the price, terms, and conditions with the help of your real estate agent.
Obtaining financing and closing the deal: Work with your lender to finalize your mortgage terms, provide the necessary documentation, and secure the funds. Once everything is in order, you can proceed to close the deal, which involves signing the necessary paperwork and transferring ownership.
Manage the property: Once you become the owner of the duplex, you will need to manage the property. This includes finding tenants, collecting rent, maintaining the property, and handling any repairs or issues that may arise.
Cost-benefit analysis of owning a duplex
To determine if you are ready to buy a duplex, do a financial analysis. Calculate the amount of money you receive from your tenant for your income, and then deduct the expenses.
Be sure to include any renovation work required to make the property suitable for rental.

Set aside a percentage for regular maintenance, repairs, and insurance.

If property taxes are not included in your mortgage payment, add them in separately.
The remaining amount is what goes towards your mortgage payment. Compare this remaining amount with what the mortgage would be on a single-family property, and this will tell you whether buying a duplex will make you a homeowner at a lower cost.
Mortgage payment example
Say you find a duplex with a price of $250,000. You put 20% down, which means the remaining $200,000 will be financed. The estimated payment on a 30-year fixed mortgage for that amount with a 7.32% interest rate is just under $1,374.
Based on comparable rents in the area, if you could get $1,000 per month for the rental part of the duplex, you could take half that amount and apply it to the mortgage and set the other half aside for expenses. Deduct $500 and you are left paying $874 for your half of the duplex. Compare this to what you would be paying for a single-family home.
Closing thoughts: Buying a duplex to rent out
Before proceeding with a purchase like this, be sure to determine the condition of the property and any necessary repairs or other expenses that could affect your bottom line. If this is your first time in the market, it's best to work with an accountant who is familiar with rental properties and can provide expert advice on the value of the property you are considering.
Owning a duplex for living in as well as renting out can be a golden opportunity or a hassle waiting to happen. The key is knowing how to tell the difference.
Please note: Discover® does not offer purchase mortgages. If you already own a home and are looking for a way to unlock the value of your equity, consider taking out a home equity loan to use for home improvements, debt consolidation, or paying for other large expenses.
The payment information provided is solely a payment example and not an offer to lend. Loan approval is subject to confirmation that your income, debt-to-income ratio, credit history and application information meet all requirements. Many factors are used to determine your Interest Rate/APR/Payment, such as your credit history, application information and the term you select.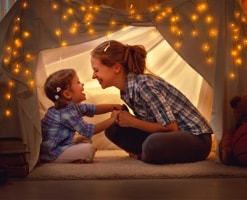 The home equity you've earned
can be used in a multitude of
ways. 
Main

Start your application online or give us a call.