Average cost for remodeling a bathroom

One of the most common ways of sprucing up a home and providing a more functional or attractive space is with a bathroom remodel. While a bathroom is generally a small space, remodeling this highly used room requires a lot of decision making.
Your bathroom remodel: functional, luxurious, or a bit of both?
The midrange bathroom remodel costs just under $27,164, according to Remodeling Magazine's 2022 Cost vs. Value Report. However, roughly 65 percent of those costs may be recovered if you choose to sell your home. An upscale bathroom remodel costs an average of $82,882, with about 59 percent recouped if the house is sold. As you begin planning how to remodel your bathroom, first think about the specific needs and wants of the people who will be using the bathroom now and in the future.
An adult working couple sharing a bathroom may need functionality:
More space

Double sinks for getting ready for work simultaneously

Privacy door for toilet area

In-room linen cabinet

Accommodations for accessibility issues
Alternatively, homeowners may want more luxury:
Much more space so the bathroom fits in with a large master suite

A larger shower size

Walk-in shower with in-home steam or spa capabilities

Updated bathtub (or bathtub removal, to provide more shower space)

Heated floor

Fashionable fixtures

Mood lighting

Electronics – sound system, intercom or TV
Fixing up a guest bathroom, or a Jack and Jill shared space, for multiple kids can offer additional fun and functional opportunities:
Multiple sinks to encourage space sharing

Separate toilet enclosure for privacy

Tub (rather than just a shower) in the kids' bathroom

Lots of color (through accents rather than permanent fixtures and features)

Additional closet space for linens and supplies
Your finished bathroom can be designed to look like a showroom, but remember, it will get regular daily use. Design your bathroom for your personal needs and wants, not what you think is trendy when it comes to resale appeal.
Before you move ahead with your remodel, clean and inspect the room. Now is the time to check for any structural damage, such as rot or mold in floors and walls, especially in areas closest to water supply or collection points. Make all necessary repairs before installing new features so you won't have to rip apart your newly completed bathroom if problems become evident later. Build time and money into your budget for this first step. Ideally, you'll have an alternate bathroom to use during the remodel so you can continue living in your home, even if there are any delays or unexpected problems.
Bathroom remodel products and costs
Once you have determined functionality requirements, start making decisions about specific bathroom remodeling products. These range from simple items that will make your bathroom more convenient or attractive, to expensive amenities to make the room more luxurious.
Fan: You'll want to protect and preserve any of the upgrades you make. One of the best ways to do this is by installing a powerful fan with minimal noise that can draw humidity and moisture out of the room before it can seep into walls and cabinets.
Cost: $285 to $774
Paint: Fresh paint can cover problems ranging from marks and gauges to dated colors. Look for washable paint that is specially formulated for bathroom use. Moisture can bead up on painted bathroom walls and leach out paint components, leaving yellowing drips and streaks as it dries.
Cost: $4.28 to $8.56 per square foot (less if you do it yourself)
Plumbing: Unless the inspection identifies problems, your basic water supply and waste lines should be adequate for new replacement products. Modifications may be needed for tankless water heaters, shower steam installations or heated floors. If your water heater is due for a replacement, consider doing it as part of the remodel project to avoid another disruption with a later install. You may save site prep and service call costs too.
Cost: Varies widely, depending on the project
Vanity, countertop and basin: The vanity is a major focal point as you enter the bathroom. Make it functional and attractive with plenty of workspace and an eye-catching countertop. Granite has become popular because it delivers a luxurious look at a reasonably low price, if you purchase a low grade product. Replace the basin if it has any stains or chips, or if it doesn't match the desired room décor.
Cost: Varies widely, depending on the project
Fixtures and hardware: Shiny chrome fixtures for faucets, lights, drawer pulls, towel racks and other items catch the eye, but make a bathroom look dated. Oil rubbed bronze and brass are popular modern options. You should also coordinate all the fixtures to match.
Cost: Around $388 to $569 per faucet
Shower or bathtub: While using a shower or bathtub is generally a personal preference, think about the long-term impact when you make this decision. Home buyers may expect every bathroom to have a tub with a shower head, not just a standalone shower. The exception is a luxury master walk-in shower, if a bathtub is available in another room.
If you have a bathtub, consider installing attractive tiles around the existing tub. You can also install a single unit shower and tub surround at a low cost. Shower rods and curtains are preferred over sliding glass doors attached to the tub, especially in bathrooms that may be used for bathing children. Think carefully about how high to install the shower head. A below-standard-height installation may work for you, but it may become an issue when you go to sell your home later.
Cost: Varies widely, depending on the project
Toilet: Even if you don't need a new toilet, consider replacing what you have with an eco-friendly, low-flow model to match your décor. The reduced water usage may deliver a payback before you sell your house. EPA-approved WaterSense toilets may save you more than $140 per year.
Cost: $595 to $1,063
Bidet: Some consider a bidet a luxury item worth installing, while others see it as a mysterious bit of bathroom furniture, or worse, an eyesore. If you expect to use a bidet on a daily basis, install it. If not, save the money and space for something else. If you do choose to install a bidet, you may incur additional costs for removal when you're ready to sell your home.
Cost: $941 to $1,815
Accessibility items: Many modern bathrooms are equipped with items to enhance accessibility like hand-held shower heads, a shower seat, curbless shower entry and non-slip tub or shower surfaces. These features are helpful for elderly and disabled users, but they can also be helpful for any member of the family. Plan a bathroom that allows you to "age in place." For example, you may not want to grab bars for the shower or tub now, but you should select a design that will allow you to add them later.
Cost: Varies widely, depending on the project
Flooring: Nonslip flooring is important. Replace old linoleum, carpet or other surfaces with tile. If this is a do-it-yourself project, be sure to account for the extra height tile will provide. If you don't, and you reinstall the toilet, you may end up with a major leak. For cost savings, use basic tiles and choose a few tiles with a more expensive pattern to use as an accent.
Cost: $15.76 to $22.79 per square foot
Lights and electric: You probably have an electrical outlet near the sink for a razor and hairdryer. Add a few more outlets for modern devices such as phones, laptops, notebook computers, and speakers. Install adjustable light fixtures that allow bright lighting for makeup application and dimmed lighting for a relaxing bath. Consider a wifi-enabled sound system, intercom or even a TV screen placed discreetly.
Cost: Varies widely, depending on the project
Steam, spa or sauna: What could be better at the end of a long workday than a relaxing steam or spa shower in your private luxury bathroom?
Cost: $4,000 to $15,000 for a custom steam shower
Finishing touches: Be sure to include enough money in your budget to make your finished bathroom glow. While the remodeling work is underway, do some shopping. Get rid of fraying bath towels and soap slivers. Invest in new coordinated bath linens, with backup sets for laundry day. Candles, soaps, flowers or plants, floor mats, trash cans, laundry hampers, wall hangings and decorative pottery will complete the look. Find these items at discount department and home goods stores, through mail order or at luxury bath stores.
Cost: Varies widely, depending on your choices
Overall costs and funding for a bathroom remodel
As you're working on a plan for how to remodel your bathroom, create a plan to pay for the project. Your remodel strategy should include a detailed budget based on realistic estimates of the full installation costs for all components.
Make sure you have the monetary resources available from start to finish; you don't want to run out of money and must stop in the middle of the project. Besides using dedicated savings, taking out a home equity loan is one method of obtaining the funds you need without maxing out credit accounts.
Save money with a bit of do-it-yourself work, such as painting and decorating. You may even find money-saving components at surplus stores. Take on carpentry, plumbing or other advanced tasks if you have the skills. For safety, make sure you have a licensed electrician make any modifications to electrical outlets and install GFI protection, as needed.
When all the work is complete on your bathroom remodel project, enjoy a steamy spa treatment by filling the bathtub with scented oil, lighting a few candles and slipping into the water with a glass of champagne so you can admire your brand new bathroom.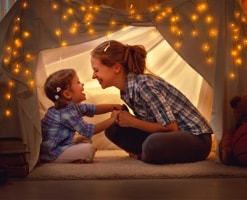 The home equity you've earned
can be used in a multitude of
ways. 
Main

Start your application online or give us a call.