Our People
Rohini,
Business Technology-
Fraud Systems
Discover is a great company to work for because it enables me to manage my family life and work life efficiently. Discover creates an environment for employees where they don't have to choose one over the other.
Mouse over
Thomas,
Business Network-
Core Products
Being invested in my work, caring about the result for a job well done and knowing that it's going to be useful to a business partner-- that's what gets me going and drives me to do more and do better.
Mouse over
Kim,
Card Personalization
When new credit cards are embossed and shipped out, I want to make sure each product is acceptable. When I do quality checks, I want the final product to be something I would want to receive.
Mouse over
Meeri,
Business - Network Product Development
Collaboration is an important corporate value at Discover, we continually work with internal and external partners to prodelop relevant products. We are constantly challenged to do better, think smarter and move faster.
Mouse over
Matt,
Fraud Investigations
We have the responsibility of protecting our cardmembers' accounts, so when fraud occurs we are committed to achieving a seamless and painless solution for the customer.
Mouse over
Rebecca,
New Product Development
It's refreshing to work with people who care and are knowledgeable and passionate about what they do. In my product development role, I constantly am looking for new ways to help translate our vision and mission into something tangible for customers.
Mouse over
Kadie,
Cardmember Services
It's very satisfying when a cardmember has that light-bulb moment gaining a better understanding of their account because of something I've explained. After we finish the call I like to think they say to themselves, "That's why I use Discover!"
Mouse over
Keith,
Fraud Investigations
I feel good working for a company that takes security as seriously as Discover does. As a Discover Card user I feel protected.
Mouse over
Frank,
Physical Security
What I like most about Discover is the overall attitude and collaboration of employees. We want to do our best, and we work together to accomplish our goals.
Mouse over
Mary Pat,
Administration &
Processing Services
My teams provide safe, pleasant and productive workspaces for employees, as well as serve and directly touch our customers over 340 million times per year through the statements and letters we print, the plastics we emboss and the payments we process.
Mouse over
Roll over for more
We are made up of amazing individuals.
Our employees are the reason Discover is a leader in the financial services industry. We provide them with an atmosphere in which families are valued, good work is rewarded and personal and professional growth is possible.
Company Events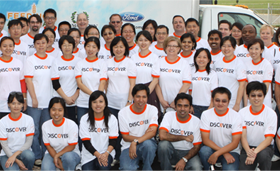 Discover Cares Month
Group Photo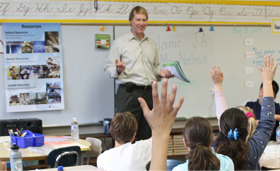 Junior Achievement
Teaching Future Leaders
See more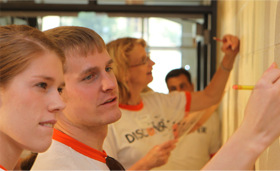 Discover Cares Month
Team Painting School Mural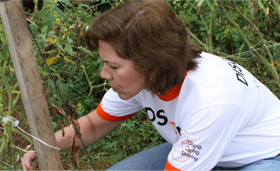 Discover Cares Month
Planting Trees